Popis úseku Z2 Dolní Lysečiny
---
Jediným stavebně dokončeným úsekem lehkého opevnění vz. 37 v Krkonoších je Z-2 Dolní Lysečiny. Měl zabránit možnému průniku nepřítele podél poměrně prostupného a otevřeného údolí Alběřického potoka ve směru Svoboda nad Úpou - Trutnov a tím do týlu obrané sestavy v tomto prostoru.
Pražské stavební Ženatý, Zunt a spol firmě byla na podzim sedmatřicátého roku svěřena výstavba prvních čtrnácti objektů prvního sledu. Pro některé finanční a organizační nesrovnalosti však byla betonáž první pevnůstky dokončena až na konci května roku následujícího, avšak i přes tuto skutečnost byla o několik dní dříve firmě zadána i výstavba části objektů druhého sledu, čímž počet budovaných řopíků stoupl na 20. Zbývající objekty druhého sledu byly pro plánovanou výstavbu těžkého opevnění zrušeny, avšak dodatečně došlo ještě k rozdělení lomených pevnůstek č. 10 a 210 na jednostranné typy D, čímž se počet skutečně budovaných kulometných hnízd ustálil na konečném počtu 22.
Jako všechny ostatní podúseky v oblasti Krkonoš byl i tento velice výškově členitý. Levé křídlo dvousledové uzávěry Lysečinského potoka, jejíž střed byl v necelých šesti stech metrech, vybíhalo na Dlouhý hřeben s nadmořskou výškou překračující tisícimetrovou nadmořskou výšku a to při vzdálenosti jen něco přes jeden kilometr. Proto se při plánování, stejně jako na Luční hoře, mělo využít služeb železničního pluku z Pardubic, který měl vybudovat provizorní lanovku pro dopravu stavebního materiálu. Ani zde, stejně jako na sousedních Rýchorách však projekt nebyl realizován a materiál dopravován na vrcholy klasickým způsobem.
Stavba i přes počáteční průtahy probíhala uspokojivým tempem a podle hlášení VSD z konce července bylo stavebně dokončeno prvních dvacet pevnůstek a poslední objekt tohoto úseku byl předán vojenské správě 15. srpna 1938.
Po mobilizaci v zářijových dnech osmatřicátého nastoupili do ne zcela vybavených pevnůstek příslušníci III. praporu 22. pěšího pluku. Brzy na to se ještě více přiostřily vztahy s místním obyvatelstvem a provokace ze stran jednotek SFK vyvrcholila přepadením celnice v Horní Malé Úpě (asi 5 km v předpolí) v noci mezi 19. a 20. zářím. Požáru, viditelnému tehdy prý z velké části okolních hor, předcházela od tří hodin intenzivní střelba z pušek a výbuchy ručních granátů. Sedm členů finanční stráže a osádka budovy se bránila útokům skupiny vzbouřenců až do rána, kdy museli před požárem ustoupit. Při tom byli zajati a na německou stranu hranice odvlečeni tři zranění obránci. Jeden z nich - strážmistr Šiman nepřežil své zranění a jeho tělo bylo krátce na to vyhozeno z auta u Schilerovy boudy.
V celém průběhu Lysečinského úseku lze pozorovat způsob, jakým se pracovníci ŘOPu a příslušného taktického dozoru, vypořádávali s náročným terénem, zejména prudkými svahy. Zejména na východním úbočí Dlouhého hřebene se lze setkat jak s objekty v šikmém provedení, tak se zajímavými objekty lomenými. Vzhledem k tomu, že zde svah spadal vpravo, musely být ve dvou případech použity poměrně neobvyklé pevnůstky typu A1 se vstupní chodbičkou zalomenou doleva (místo vpravo zalomené u běžných typů) a ve dvou výše zmíněných případech muselo dokonce dojít k rozdělení lomeného objektu na dvě sousedící výškově přesazená jednostřílnová kulometná stanoviště typu D.
Zdroje a literatura:
ARON L. a kolektiv: Československé opevnění 1935-1938, Náchod 1990.
LÁŠEK Radan: Opevnění z let 1936-1938 v Krkonoších, CodyPrint, Praha 2001.
---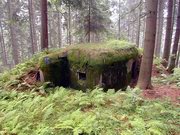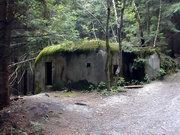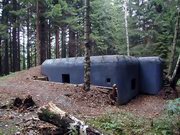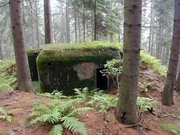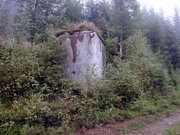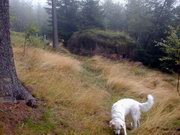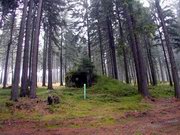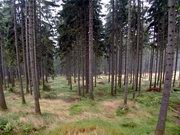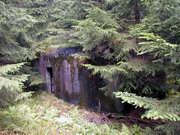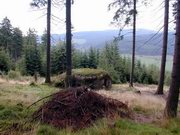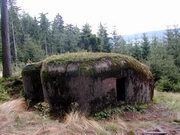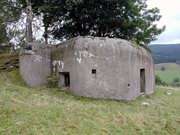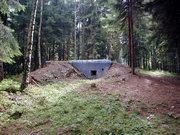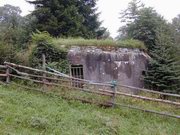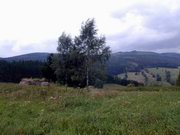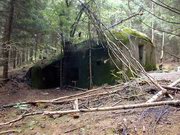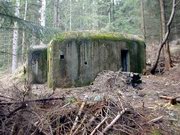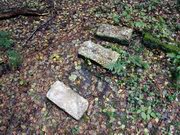 ---
---

Vloženo: 2.2.2004
Autor:
Tomáš Kamenský
---