Popis úseku VIII Staré Město p. Sn.
---
Úsek začíná severně od obce Hynčice, první řopík (lomený A-120Z) stojí pod asfaltkou vedoucí k chatě Návrší pár metrů v týlu za výkopem pro pěchotní srub StM-S 23. Tento lehký objekt vz. 37 je zajímavý nejen tím, že se jedná o vůbec první řopík, který jsem ještě jako malý kluk navštívil, ale hlavně nemá zídku uvnitř u ventilátoru umístěnou u čelní stěny, jak je to u jiných A-120 běžné. Od něho se dvousledová linie táhne přes louky pod kopcem Štvanice, sestupuje po pastvinách kolem kóty Hadcová až k severnímu okraji Starého Města. Zde se nalézá několik objektů, které svými čelními střílnami chrání přístupové komunikace od Stříbrnice a Malého Vrbna. Odtud linie vystupuje lesním masivem a posléze loukami do kopců a vede v týlu již vybudovaného TO směrem na Brannou. Úsek končí nedaleko kóty 798 Kutný vrch v návaznosti na LO z úseku IX Branná .
Náročný terén si vyžádal použití velkého množství lomených a šikmých objektů. Zajímavé je, že velkou část druhého sledu tvoří v celém úseku objekty typu B. V létě se hledají celkem špatně, jsou zarostlé ve všudepřítomných neudržovaných loukách, kde výška trávy dosahuje až 150 cm. JZD ve Stříbrnici už zkrachovalo, takže již nejsou problémem elektrické ohradníky či stáda krav. Všechny objekty jsou prakticky ve stejném stavu - až na mřížové dveře jsou úplně prázdné. Mřížové dveře vz. 38 byly osazeny do objektů v roce 1947, původně zde byly mříže vz. 37, o čemž svědčí uřezané závěsy. Vnitřní bednění vytrhali místní obyvatelé či zapálili naši vojáci, zachovalo se částečně pouze v nakloněném béčku poblíž fotbalového hřiště ve Starém Městě. V témže objektu jsem si všimnul, že vojáci vysekali do bednění u střílny svislé drážky, do kterých "zapadla" panoramatická mapa lafety vz. 37 v případě střelby v maximálním odměru. Lafety a ventilátory byly osazeny v drtivé většině objektů, které jsem navštívil, objekty byly zřejmě dobře připraveny k obraně. V několika řopících jsem narazil ještě na zbytky odměrového segmentu lafety vz. 37. Vlivem výstavby se ocitl řopík typu A-180 Z u Starého Města na zahradě jednoho domu v Květné ulici (č.p. 241), mě by se docela líbilo mít řopík hned vedle domu...
Zajímavé jsou samozřejmě i pěchotní sruby, které se v této oblasti nalézají, jejich fotky naleznete jistě na jiných stránkách. V poslední době jsou objekty TO rekonstruovány skupinami nadšenců.
---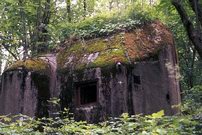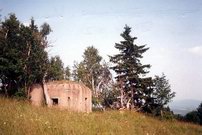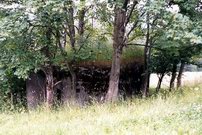 ---
---

Vloženo: 2.2.2004
Autor:
Jan Lakosil
---