Popis úseku XXXVI Červený Potok
---
Linie lehkých objektů vz. 37 byla v prostoru mezi horou Maliník a dělostřeleckou tvrzí Hůrka vytyčena již na jaře 1938. Původní návrh trasy počítal s výstavbou dvou sledů LO vz. 37, 1. sled měly tvořit pevnůstky č. 29 - 57, 2. sled pevnůstky 124 - 147. Taktické oddělění ŘOP však chtělo řopíky situovat tak, aby byla zajištěna dostatečná kontrola intervalů mezi pěchotními sruby. Nově vytyčené objekty vložené do linie TO by pak tvořili 1. sled. Tři sledy však nebyly potřeba, a tak byla výstavba řopíků č. 124 - 147 úplně zrušena a původní první sled se stal sledem druhým.
S výstavbou se tedy začalo až v červnu 1938. K 1. 10. 1938 se podařilo postavit 4 objekty v 1. sledu (č. 101, 104, 109 a 110) a 18 objektů 2. sledu (č. 29 - 33, 41 - 43, 48a a 49 - 57). Všechny postavené objety jsou typu A, pouze č. 29 a 32 jsou typu B. Tyto dva řopíky jsou situovány tak, aby mohly jednou střílnou přímo chránit povrch tvrze Hůrka. 5opík č. 30 chránil příjezdovou komunikaci Červený Potok - Králíky. Možnou zranitelnost pravé střílny projektanti vyřešili extrémním zesílením pravé stěny na 125 cm. Konec září 1938 zastihnul řadu pevnůstek ještě v nedokončeném stavu. Některé jsou po hrubé betonáži, nemají venkovní omítky a nejsou u nich žídné terénní úpravy. Toto se týká hlavně řopíků, které leží v polích za pěchotními sruby K-S 4 a K-S 5. Podařilo se také dokončit 4 výkopy pevnůstek č. 105, 106, 47 a 48. Dodnes se v terénu dochoval je jediný výkop pro č. 105 (leží v těsné blízkosti potoka nedaleko srubu K-S 5 a je u něj umístěna informační cedule).
Za mobilizace ještě nebyl úsek vůbec připraven k obraně a navíc v něm byly značné mezery. O montáži vnitřního vybavení se dnes mnoho nedozvíme, protože mnoho objektů má zabetonované vstupy. Vše bylo nejspíše řešeno provizorně. Pro boj byly asi nejlépe připraveny řopíky v západní části v týlu tvze Hůrka. Nesmíme však zapomínat, že lehkým objektům předcházela linie plně vyzbrojených pěchotních srubů a prakticky dokončený překážkový systém, což tento nedostatek zčásti vynahrazovalo.
Po záboru čs. pohraničí německou armádou byla více jak polovina objektů zkušebně postřelována a mnoho z nich je poškozeno průrazy. Dva řopíky úseku (č. 31 a 41) prošly v letech 1939 - 1940 stavebními úpravami pro zkušební střelby německého dělostřelectva. U č. 31 byl odstraněn zához a byl nahrazen 280 cm silnou stěnou z čedičových kvádrů ukládaných do betonové směsi. Pravá část stěny je dnes rozvalena výbuchem. Číslu 41 byl také odebrán zához a čelní stěna byla zesílena na 240 cm! Jeden granát ráže 200 mm je ve stěně dodnes zabořen.
Současný stav řopíků není příliš dobrý. Některé z nich mají zazděné vchody. To se nejspíš provádělo až po válce, ale příčiny neznám. Původní zához se dochoval pouze u třech objektů (č. 101, 42 a 54). O vybavení nelze vůbec hovořit. Dochovaly se pouze mřížové dveře osazované po válce a v některých objektech zůstaly uzávěry vchodových střílen typu 1. V řopíku č. 101 se dochovala velká část výdřevy a v současnosti je zde postupně zřizováno Muzeum lehkého opevnění Maliník. Pro tyto účely sháníme některé části výbavy (střelecké lavice, periskopové vložky, předválečné lafety apod.), pokud byste nám mohli s tímto vypomoci, napište mi. Další spravovaný řopík je hned za K-S 5. Jedná se o č. 49, které je spolu se srubem K-S 5 v péči KVH Kralka. Za rekonstruovaný řopík lze do jisté míry považovat také č. 109 u K-S 8.
---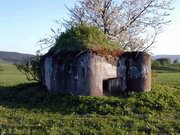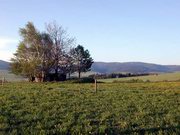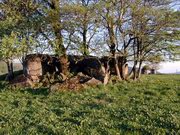 ---
---

Vloženo: 2.2.2004
Autor:
Jan Lakosil
---