Objekty S1, S2, Skluz a V
---
Rozhodnutím ze dne 25.6. 1937 vystavět několik cvičných pevnostních objektů nedaleko Žarovic se VVP Dědice stal druhým výcvikovým prostorem pro osádky TO u nás. Nedošlo zde k výstavbě celého pěchotního srubu jako v případě objektu CE v Brdech, ale byl zvolen ekonomičtější způsob, který zahrnoval výstavbu celkem čtyř jednodušších objektů. Výstavba všech objektů byla zadána firmě Hrbata a Smékal z Prostějova.
Objekty S-1 a S-2 v podstatě tvoří samostatné kasematy pěchotního srubu - v obdelníkovém objektu, do kterého se vstupuje jednoduchým nezalomeným vchodem se nachází střílny pro zbraně L1, M a N. Navíc jsou obě pevnůstky opatřeny zvony (z úsporných důvodů pouze betonovými ) pro zbraně D (S-2) a N (S-1). Stejně jako před skutečnou kasematou TO se před střílnami hlavních zbraní nachází diamantový příkop.
V nedávné době byla ze cvičného objektu S-2 vytržena střílna pro L1 a následně odvezena na tvrz Skutina. Je smutné, že nebyla zvolena jiná možnost, jak zrestaurovat zdevastovaný bunkr, než devastací dalšího objektu (navíc zcela unikátního).
Objekt V měl sloužit pro pozorování a řízení paleb a nacházel se zhruba uprostřed mezi objekty S-1 a S-2, kde jsou ještě dnes patrné zbytky betonu. Pravděpodobně byl zničen v 70. letech a na jeho místě dnes stojí poválečný podzemní kryt.
Objekt Skluz se nachází na hraně údolíčka, zhruba 50 m od ostatních objektů. V tomto objektu měla být nacvičována obsluha granátového skluzu, k tomu však pravděpodobně nikdy nedošlo.
Dochované objekty se nacházejí nedaleko Žarovic, několik desítek metrů jižně od silnice z Plumlova do Drahan. Ač tato cesta prochází VVP, je volně průjezdná a tato část újezdu je vojáky využívána jen minimálně. Krátkou návštěvu k volně přístupným objektům lze doporučit. Stinnou stránkou snadné dostupnosti je drancování těchto unikátních objektů ze strany některých bunkrologických "nadšenců".
---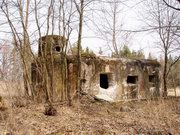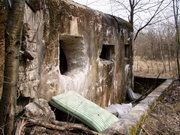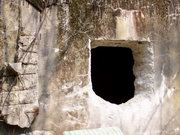 ---
---

Vloženo: 15.3.2004
Autor:
Petr Táborský
---