Die Bayrisch-tschechische Grenzstellung
---
O opevnění česko-německé hranice v Bavorsku toho zatím mnoho známo není. Kromě ojedinělého článku v časopise Novodobé Fortifikace o této obranné linii pojednává blížeji jen monografie R. Burkeho o východním valu, která je ovšem pro svojí cenu prakticky nedostupná.
Výstavba linie, zvané Die Bayrisch-tschechische Grenzstellung (BTG), byla započata v roce 1935 kdy zde bylo ohniskovitě vybudováno několik uzávěr čítajících nběkolik desítek objektů. Jednalo se prakticky o stejné typy pevnůstek, jaké byly budovány na hranici s Francií a s Polskem. Většinou se jednalo o objekty odolnosti B1(staré), případně v málo ohrožených místech i odolnosti C. Typologicky šlo většinou o jedno- či dvou střílnový objekt spojený s úkrytem pro družstvo pěchoty (MG-Schartenstand, MG-Schartenstand-mit Gruppe, Doppel-MG-Schartenstand...). Objekty s pancéřovými kopulemi zde stavěny zřejmě vůbec nebyly, stejně jako pozorovatelny, velitelské a další objekty známé z této doby například z postavení na Odře, či z východnho Pruska.
Důvodem opevňování bavorské hranice byla zřejmě obava z možného vstřícného útoku Československé a Francouské armády a jednalo se tak o protiváhu v té době budovaného západního valu. Postupně, jak rostla síla nově budovaného wehrmachtu, byl tento útok stále více a více nepravděpodobnější.)
V letech 1936-37 došlo navíc k budování takzvaných "blockhausů" v málo prostupných lesnatých oblastech, což byla vlastně opevněná strážnice jejíž stěny byly vyzděny z kamene (odolnost tak odpovídá zhruba označení D), opatřených několika betonovými střílnami, doplněných v důležitějších místech plošinami pro umístění protitankových kanónů. Objekty byly vesměs rozmístěny v místě důležitějších křižovatek lesních cest a při silnicích.
V roce 1938 byly stávající uzávěry doplněny ještě několika vloženými úkryty pro družstva pěchoty, avšak na podzim se existence opevnění v této oblasti stala zbytečnou. Krátce na to bylo započato s jeho likvidací, která byla prováděna s doslova německou důkladností, takže se z naprosté většiny objektů nedochovalo takřka nic. Dnes tak pravděpodobně nejatraktivnější oblastí je osada Ahornberg nedaleko Bärnau za hranicí západně od Tachova, kde se dochovaly všechny tři objekty a to včetně podstatné většiny pancéřových prvků (vchodové dveře, pancéřová deska střílny).
Zdroje a literatura:
PAVEL Jan, FILIP Ondřej: Německé opevnění proti Československuv Bavorsku, Novodobé Fortifikace č.2, Ústí nad Orlicí 1999
BURK Kurt: Die Deutschen Landesbefestigungen im Osten 1919-1945,Osnabrück: Biblio, 1993.
---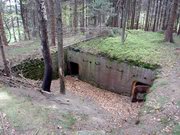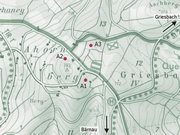 ---
---

Vloženo: 16.3.2004
Autor:
Tomáš Kamenský
---