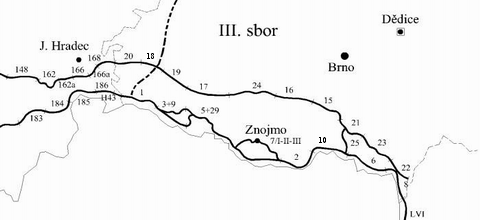 Opevnění III. sboru zahrnuje prostor jižní Moravy, tedy od zemské hranice u Slavonic až po hranici se Slovenskem u Břeclavi. Hranice s neutrálním Rakouskem nebyla považována za nejvíce ohroženou, avšak již v roce 1936 je zde zadáno v 5 stavebních úsecích 178 pevnůstek lehkého opevnění vz. 36, které chránily nejexponovanější směry předpokládaného nepřátelského postupu od Kadolce až po soutok Moravy sDyjí. Naše velení počítalo s tím, že by Němci mohli provést obchvat útokem z jihu a severu současně a tím republiku rozdělit na dvě části a znemožnit tak ústup čs. vojskům na obranné linie ve vnitrozemí a na Slovensku. S výstavbou těžkého opevnění se však počítalo až v pozdějších fázíchvýstavby.
Jihomoravské lehké opevnění vz. 36 budované v rámci ZVV Brno vykazuje mnoho stavebních rozdílů od objektů budovaných v I. a II. sboru.Objekty mají v týlové části skloněný strop, objekty mnohdy využívají i bočních paleb, vyskytují se zde kromě typů A, B a C i další varianty řopíků(jednostřílnový apod.). Ve vybavení pevnůstek nechybí granátové skluzy, větrací otvory, šlapací ventilátory či nádrže na vodu umístěné v podlaze. Jinakjsou objekty umísťovány dle známýchzvyklostí na místech s dalekým rozhledem (často v týlu na stráních přivrácených k jihu), naleznete je poblíž důležitých mostů (Vranovsko, Břeclavsko apod.), ale i v lužních lesích u Dyje. Obrana je často členěna do značné hloubky, využívajíc několika sledůtěchto pevnůstek (Hevlínsko, Valticko apod.). Do současné doby se dochovala drtivá většina pevnůstek, často i nepostižených poválečnými úpravami.
Najaře 1937 se na jižní Moravě rozbíhají práce na nové obranné linii tvořené nově projektovaným objektem opevnění - tzv. lehkými objekty vz. 37, nazývané řopíky. Nová trasa opevnění začíná přímo na zemské hranici u Slavonic a pokračuje směrem na východ ve směru: Písečné - Vratěnín - Vranov - Šatov - Strachotice - Hevlín - Novosedly - Mikulov -Hlohovec - Břeclav a soutok Moravy s Dyjí. Linie opevnění nyní více využívala terénních překážek. U Slavonic to byly lesní masivy, u Janova se linie přimyká k Moravské Dyji a kopíruje její tok do Písečného, od Uherčic míří střílny řopíků na hladinu Dyje a téžna hladinu Vranovské přehrady. ŘekuDyji opouští linie objektů u Novosedel na Moravě, ale k obraně otevřeného prostoru bylo nyní využito jižníchvýběžků pahorkatiny, která s kótou Ořechová horatvoří dominantu krajiny. Zde se obrana stáhla poněkud do vnitrozemí, avšak již před Mikulovem se vracík železniční trati a za městem již může využít k obraně vodní plochy rybníků kolem Sedlece u Mikulova a Hlohovce. Odtud se táhne opevněná čára skrzeborovvé lesy k Břeclavi, opět se přimyká k Dyji a sleduje její meandrovitý tok lužním lesem až k soutoku s Moravou, kde se stýkají nyní tři země: Česko,Slovensko a Rakousko.
Všech 8 stavebních úseků zadaných v roce 1937 bylo kompletně dokončeno již během první poloviny roku 1938, avšak v březnu 1938anektovalo Německo Rakousko a situace se poněkud přiostřila. Nyní hrozilo reálné nebezpečí útoku z jihu. K výstavbě byly zadány úseky, které zesílily stávající obranné postavení (7/III Znojmo, 9 Jemnice a 10 Březí) a urychleně se započalo s přípravami na výstavbu 2. obranného postavení, které probíhalo ve větším odstupu ve vnitrozemí zhruba takto: Perná - Pohořelice - Kubšice - Moravský Krumlov (mimo) - Rouchovany - Moravské Budějovice - Želetava - Budeč - Kostelní Myslová- Mrákotín. Zde se však podařilo dokončit stavebně pouze nejohroženější úsek u Pohořelic a vybetonovat část objektů uOlbramovic a Telče. Z narychlo zadaných 40 pěchotních srubů se podařilo v hrubé stavbě dokončit pouze 6 objektů.
Po stavební stránce se i v případěLO vz. 37 použilo některých zajímavých prvků. Jednak je to běžné používání různých kombinací odolností v rámci jednoho objektu (vznikly tak částečnězesílené či zeslabené objekty) a v kaňonu Dyje vyrostlo několik v republice poměrně vzácných zeslabených řopíků. Zcela originální a jinde nepoužité jestavba pěti objektů C-180 vprostoru Vranovské přehrady či dva dvoupatrové řopíky, z nichž jeden naleznete u tratě poblíž Dobrého Pole a druhý podVranovským zámkem. Jižní Morava oplývá i mnoha krásnými céčky (objekt vz. 37 typ C) s betonovou střechou, z nichž jedno je dokonce opatřen ventilací a lapačem zplodin. Vliv na svéráznou výstavbu v III. sboru měl bezpochyby jeho velitel gen. Hasal.
Na celé čáře od Slavonic po Břeclav je použit základní prvek obrany: dva sledy objektů vz. 37. Pouze v ohrožených místech byla obrana zesílena či naopak v málo exponovaných místech zůstal jedenřídký sled. Čtyři sledy pevnůstek můžeme spatřit např. u Rancířova na Jemnicku, mezi Dyjákovicemi a Hevlínem či na Valticku, kde hlavnímupostavenípředbíhá jakýsi obranný oblouk tvořený střídavě objekty vz. 36 a vz. 37. Jednosledová linie řopíků vede např. kaňonem Dyje mezi Vranovem aZnojmem, ale i ta je v některých částech opatřena druhýmsledem v týlu asi 2 km.
Opevnění III. sboru patří bezesporu mezi nejzajímavější a nejatraktivnější po stavební stránce. Bližší informace k úsekům, seznamy, mapy a fotografie některých objektů najdete u popisu jednotlivých úseků.
---