Hledání pěchotního srubu u Chebu
---
Když za mnou přišel Lakouš s naprosto věrohodnou zprávou, že jeho soused sloužil v šedesátých letech v Chebu a vzpomínal, jak vozili munici do nějakého "velkého bunkru se zvony na střeše", tak jsem neváhal asni vteřinu a ačkoliv byl čtvrtek, zařídil si dovolenou, nastartoval expediční vozidlo a spilu s ním a Stupíkem vyrazili do poněkud chladného podzimního dne.
Aškoliv zpráva působila pravděpodobně již jen proto, že v nedalekém okolí skutečně poměrně velké betonové bunkry jsou (jedná se objekty bývalého výcvikového prostoru Prameny - Kynžvart). Jenomže se ukázalo že pamětník měl buďto bujnou fantazii, nebo navštívil Dobrošov, takže jsme samozřejmě žádný pěchotní srub nenašli. Ale zase tak marná výprava to nebyla. V místě hledání jsme narazili na dva POKy, které byly poněkud jiného typu než ty které jsme zatím nalezli na Šumavě (jak se později ukázalo byla to starší varianta se zastropením typu "kobylí hlava"). Oba postřelují křížení silnice k hraničnímu přechodu a bývalé signálky.
Pro zpravění chuti jsme se přesunuli do klasické "poválečněbunkrologické" oblasti Tří seker a Cechu Sv. Šebestiána u Mariánských Lázní. O opevnění v této oblasti byla zmínka v jednom ze starších čísel časopisu Novodobé fortifikace včetně plánku, podle kterého jsme prolezli kromě několika POKú též jeden ze dvou zatím nalezených exemlářů objektu UPO, jeden standardní úkryt, pozorovatelnu z KŽ rámů a objekt protankovou věž. Ukázalo se, že v objektech bylo skutečně používáno některé vybavení z předválečných objektů - Lakouš nalezl součástky ze strakonické lafety, které v jednom palebném objektu sloužily jako "lígry" držící slonu před střílnou.
K večeru se přesunujeme k Tachovu a tam za přispění mísního pátrače zjišťujeme, že existují jakési zděné kamenobetonové kulometné pevnůstky rozměrů POKu (pracovní název ŘOPOK) a jsme z toho tři jeleni protože nám to nějak nesedí s představou, kterou jsme doposud o předválečném opevnění měli. Navíc byla v jednom z objektů navíc dochována takřka kompletní - i když ohořelá výdřeva a lafeta (UL-1) s panoramatickou mapou se zákresem dalšího průběhu opevnění.
---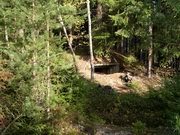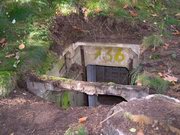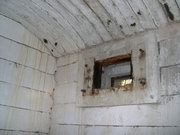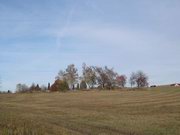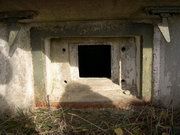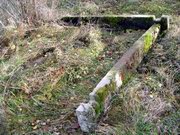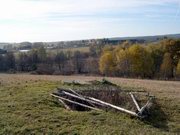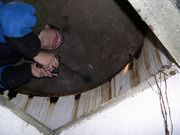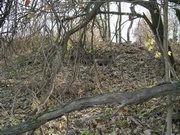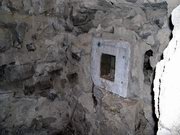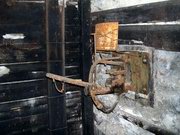 ---
---

Vloženo: 14.6.2004
Autor:
Tomáš Kamenský
---