Opevnění v Českém lese - uzávěra Lísková
---
V sobotu 12.6.2004 byla provedena historicky první průzkumná akce na opevnění v Českém lese. V 8:30 vyrážíme z Plzně v klasické "pokové" sestavě, tedy Kameňák, Martin Stupka a já. Za cílovou oblast průzkumu jsme si před odjezdem vybrali uzávěru údolí za hraničním přechodem Lísková.
Pro krátké rekognoskaci terénu zjišťujeme, že okolí hraničního přechodu chrání těžká baterie trpaslíků a dřevěné boudy Vietcongu, takže ustupujeme, parkujeme na kraji lesa a navěšujeme na sebe stativy, fotoaparáty, polní lopatky a mačety, takže daleko spíš připomínáme vánoční stromečky, než seriózní bunkroogy. Za debaty o tom, jak by bylo prospěšné zavést v naší skupině funkci nosiče se noříme do porostu, který kryje zbytky staveb a pokoušíme se hledat první palebné objekty.
To se nám bohužel moc nedařilo a na jižní straně uzávěry dosahujeme rychlosti asi 1 POK/ 1 hodina, což jak uznáte není mnoho. Ačkoliv jsme očekávali nějaké výraznější odchylky od typu objektů, kteé známe například ze Šumavy, šlo o klasické POKy s malou nebo velkou střílnou. Všechny byly dosud zakryté a jsou osazeny zarezlými lafetami UL1, v jednom případě i s bedničkou na příslušenství. Jako bonus podařilo narazit na skládku tzv. "dračích zubů", trojbokých jehlanů používaných jako překážky proti vozidlům během dob železné opony.
Po doplnění potravin a tekutin jsme se rozhodli dohledat objekty na severní straně údolí a dobře jsme udělali! Hned první nalezený objekt byla raritka, jednalo se o zděný objekt z roku 1953 zabudovaný do sklepa bývalého stavení. V šedesátých letech byl upraven a původní stůl pro předválečné kulomety byl nahrazen dnes již bohužel demontovanou lafetou UL1. Pozitivně naladěni tímto nálezem jsme pokračovali v hledání dalších objektů, které se v lini v malých rozestupech táhly krajem lesa. Postupně se podařilo najít většinu objektů typu POK i ŘOPOK. Objevit se podařilo i elektrifikovanou pozorovatelnu s palandami (dodnes nevíme, zda to nebyl současně úkryt pro družstvo s BzK) a klasickou pozorovatelnu z KŽ rámů. Poslední dva objekty na uzávěře jsme pro celkové vyčerpání již nenalezli.
Jako poslední "oddychovku" jsme se pokusili nalézt objekt panelové konstrukce (z důvodů upřesnění typologie) na kraji lesa u bývalé osady Mýtnice severně od Nemanic, ale opět jsme narazili pouze na klasický POK. Ovšem při hledání jsme objevili i zajímavou kamenobetonovou čelní stěnu s kulometnou střílnou - pozůstatek po staré kulometné pevnůstce, jejichž zbývající dřevěné stěny a strop se již rozpadly. Armáda tento objekt zřejmě opustila a jako náhradu postavila poblíž dříve zmíněný prefabrikovaný objekt srubové konstrukce (POK).
Teď již zcela vyčerpáni jsme se odtud stejnou cetstou vrátili do Plzně a já odtud dále do Prahy. Akci jsme hodnotili jako výbornou, avšak nepodařilo se nám nalézt dosud některé typy objektů, o kterých víme, že se budovaly. Snad tedy příště.
---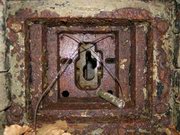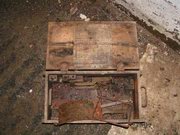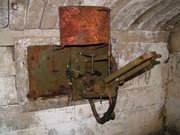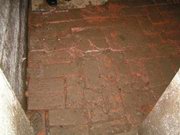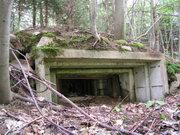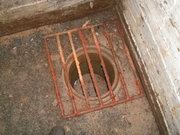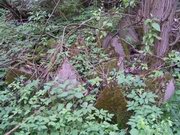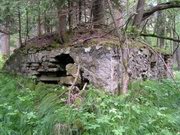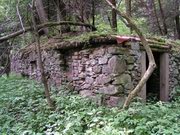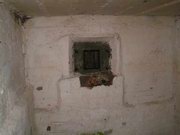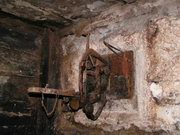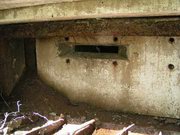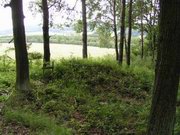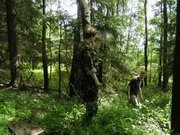 ---
---

Vloženo: 14.6.2004
Autor:
Jan Lakosil
---