Poznatky z akce ve Slavonicích budou určitě předmětem několika dalších článků na tomtoserveru, takže zde je jenom první stručné seznámení s jejím průběhem z pohledu pouze částečně zapojeného účastníka.
Vzpomínková akce Přepadení řopíkubyla pořádána Pevnostním areálem Slavonice a proběhla u příležitost 66. výročí vyhlášení všeobecné mobilisace československé armády a zahájení provozu Pevnostního areálu Slavonice, pevnostního muzea čs. opevnění z let 1935 - 1938. Areál se nachází asi dva kilometry západně od Slavonic na mírném zalesněném svahu nad skupinou rybníků a je tvořen pěti objekty typu A - vesměs ve druhém sledu a jedním déčkem působícím víceméně čelně. Jednotlivéobjekty jsou v různém provedení úprav - od ideálního stavu v roce 1938, přes improvizace až po reaktivovaný objekt z let padesátých. Velikým přínosem jefakt, že kromě samotných pevnůstek byl upraven i terén a porost v jejich okolí, takže lze obdivovat obnovené střelecké a pozorovací průseky a nově téži fragmenty různých typů překážkových systémů a doplněných několika okopy polního opevnění.
Moje role spočávala pouze v úkolu zaznamenat průběhboje uvnitř objektu ve středu areálu. Díky tomu jsem nemusel složitě shánět "mundůr", ale za to jsem byl po celou dobu uzavřen uvnitř, takže jsem zvelké části ukázky neviděl nic a dění venku jsem mohl odhadovat pouze pomocí zrcátkového periskopu Optikotechna a zvuků doléhajících dovnitř. Díky tomumusím upravit tradovaný (i můj) názor, že z objektu není nic vidět ani slyšet. Pokud je periskop v pořádku, nemá zkorodovaná zrcátka a pozorovatel jeobeznámen s terénem a navíc tento terén odpovídá stavu v roce 1938, pak je skutečně reálné pozorovat dění v oblasti palebného vějíře a jeho blízkého okolí. Bohužel umístění periskopu víceméně znemožňuje pohled jinam, ale pokud uvážíme že primární bylo řízení střelby, pak tento prvek zcela vyhovoval.Ačkoliv měřím standardních 180 cm, měl jsem pouze trošku problém s příliš vysokou polohou a navíc mírně překážel improvizovaný střelecký stolek v "naší" - tedy levé kasematě. Možná by to spravila bednička munice pod nohami.
Po provokacích ze strany Freikorpsu (v hlavě mi kromě běžných "čéská sepranka" utkvěl třeba originální výkřik "Masaryk papál moucha" :-), byl započat boj byl započat provokací jednotky Freikorpsu a přestřelkou s jednotkami SOS v předpolí, takže jsem měl dost času se seznámit s dalšími prvky vybavení. V levé kasematě byl instalován improvizovaný střelecký stolek a v oku střílny čep pro uchycení lehkého kulometu s přitlučeným "pravítkem" pro vedení kulometu přesně podle dobových pramenů a stop na dochovaném bednění. Pravákasemata pak byla osazena "brněnskou" lafetou. Překvapilo mě, jak efektivní bylo improvizované provedení a v sestavě s lehkým kulometem se mi dokonce jeví jako daleko lepší řešení, neboť umožňovalo podstatně rychlejší manipulaci se zbraní - ale k tomu by se měl vyjádřit některý ze střelců, kteří vtédoběbojovali v zákopech a pomalu se stahovali do opevnění.
A pak to přišlo. Do řopíku se narnulo šest spocených vojáků, zbraně byly zalafetoványa velitel dal rozkaz ke spuštění ventilátoru a palebné přehrady. Ačkoliv se to zdá nepodstatné tak z předchozích akcí byla zkušenost že ventilaci je vždy nutno spustit PŘED palbou a nikoliv až během jejího průběhu. Naprosto úžasná byla účinnost ventilátoru, neboť chvil kdy člověk dýchál a do plicnešelžádnýkyslík nebylo mnoho - vlastně byla jenom jedna, ve chvíli kdy obsluha bránila vchod. V normálním boji by musel na obranu vchodu působit někdo zpravé kasematy. Navíc točení klikou byla docela dřina, ale podle svěděctví diváků to byl úžasný pohled, když se z obou výduchů valil bílý dým (někteřídiváci si mysleli že uvnitř hoří a jedno dítě tvrdilo že to je "smrad z mrtvých němců" :-) Při boji by ale dým spolu se záblesky ve střílnách objektzcela demaskoval.
Zážitek z palby obou zbraní byl naprosto omračující a spolu se stresem, který uvnitř panoval šlo o docela silný adrenalinový zážitek. Navíc ve skutečnosti by byla uvnitř prakticky úplná tma - my měli k dispozici poměrně slušné osvětlení aby se dalo filmovat. Velice problematickou se ukázala komunikace obou kasemat. Působení do dvou směrů prakticky zapříčinilo rozdělení osádky do dvou skupin které si hrály na svémpísečku a myšlenka o jediném velení je tak zcela iluzorní.
Během prvních dávek byla podlaha plná nábojnic, což byl jeden z nejvýraznějších nedostatkůimprovizovaného střeleckého stolku a jelikož nebylo možné chladit hlavně teplota toupla skokově o nějakých dvacet stupňů. Povystříleníněkolikazásobníků začala zbraň v naší kasematě stávkovat, takže jsem slyšel Lakouše vypouštět z úst taková slova, které jsem ani já v životěneslyšel:-)
Po vystřílení celé dotace munice - prý snad okolo sedmi stovek nábojů, vyházení několika cvičných granátů skluzem a odpálením náložky ve vchodu,následoval protiútok během kterého jsem v bunkru opět osiřel a nafotil interiér obou kasemat. Venku zatím probíhal ústup z pohraničí a za chvíli dovnitř nakoukla první německá helma a skrz dým s úžasem pozorovala tu spoušť. Podlaha byla pokryta vrstvou vystřílených nábojnic a z obou kulometů se stáleještě kouřilo a bylo nutno je obcházetobloukem protože hrozilo popálení. Ukázka končila a já se tak můžu vyškrábat na čerstvý vzduch mezi proudícídiváky a děti sbírající vystřelené nábojnice.
Díky této veřejné ukázce se tak podařilo v praxi ověřit funkčnost jednotlivých komponent lehkého objektu vz.37. Překvapivě dobrá byla účinnost ventilace. Rovněž pozorovací možnosti nebyly špatné - pokud se ovšem cíl pohybuje v prostoru intervalových překážek. V případě průniku nepřítele do těsné blízkosti nebo na střechu objektu nemá posádka prakticky žádnou možnost zjistit jeho pohyb a musí takspoléhat na krytí sousedními objekty, což naráží na problém nemožnosti komunikace mezi jednotlivými osádkami v případě zadýmování bojiště nebo snížené dohlednosti. Překvapivé bylo, že se v objektu i během střelby dalo poměrně slušně domluvit (nebo spíše dokřičet) protože hladina hluku byla sice značná ale nepřesahovala účinnou mez a to zejména díky bednění, které zvuky částečně pohlcovalo.
Doufám že se zde brzy objeví kromě dalších fotografií a krátkých videosekvencí i postřehy z boje pohledem některého z dalších účastníků - například střelce, nebo útočníka.
---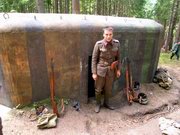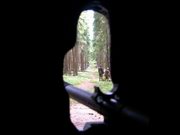 ---
---