Na rozdíl od opevnění těžkého, kde byly překážky budovány souběžně s výstavbou objektů, bylo o vybudování překážek v linii lehkého opevnění bylo uvažováno až od léta 1937. První práce však započaly až na jaře roku následujícího. Tato časová prodleva se však projevila pozitivně, neboť byly do té doby důkladně vyzkoušeny jednotlivé typy překážek a jejich prvky, takže mohla výstavba probíhat bez zbytečných prodlev. Navíc bylo na mnoha místech zimního období využito ke kácení příslušných lesních průseků.
Podle programu výstavby měly být do konce roku vybudovány následující úseky překážek:
I. sbor - typ C: pražská čára, plzeňská čára (Velhartice - Okrouhlé Hradiště), Staré Město pod Landštejnem - Český Krumlov
II. sbor - typ A: Králíky - Chrastava (před linií těžkého opevnění); typ C: Králíky - Chrastava (před linií lehkého opevnění), liběchovská příčka, jednou řadou rozsocháčů zatím přehradit úsek Chrastava - Labe
III. sbor - typ A: Znojmo - Břeclav (+ úpravy terénu v inundačním území); typ C: Slavonice - Znojmo
IV. sbor - typ A: Bohumín - Sušina (mimo Vrbno a Domašov), typ C: Vrbno, Domašov
V oblastech VI. a VII. sboru se v roce 1938 překážky neplánovaly, avšak později bylo i zde rozhodnuto o jejich výstavbě na úrovni pohraničního postavení.
Zatímco výstavbu překážek u těžkého opevnění zajišťovalo příslušné ŽSV (ženijní skupinové velitelství), překážky v lehkém opevnění spadaly do kompetence velitelství jednotlivých armádních sborů. V praxi však výstavba těžkého opevnění zaostávala a tak sbor přebíral jejich výstavbu tam, kde bylo opevnění těžké plánováno až na pozdější roky, kromě celé jižní Moravy to byla například část Orlických hor, Krkonoše a jinde.
Zadávání stavebních úseků překážek bylo prováděno obdobným způsobem jako u úseků lehkého opevnění civilním firmám. Základní materiál jako cement, ocelové prvky a drát, byl dodáván vojenskou správou, čímž bylo dosaženo výhodnějších podmínek při jeho nákupu ve velkém množství.
S rostoucím ohrožením bylo na zatarasování kladen větší důraz než na výstavbu objektů, neboť překážky poskytovaly větší okamžitý efekt, než nevybavené objekty. Přes to se však práce nepodařilo dokončit a lze odhadnout že do září stavební firmy vybudovaly sotva polovinu plánované délky. Během mobilizace tak musela armáda s využitím pracovních jednotek přistoupit k budování provizorií.
Zdroje a literatura:
ARON Lubomír a kolektiv: Československé opevnění 1935-38, Náchod 1998.
KOMANEC Zdeněk, PRÁŠIL Michal: Tvrze Československého opevnění 1935-1938, díl II., Brno 1999.
---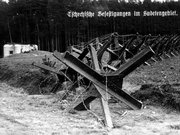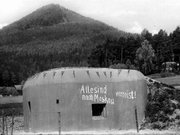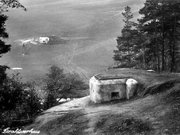 ---
---