Pravidelnou čtvrteční bunkrologickou akci, která byla přes léto díky počasí a vegetaci poněkud zanedbávána, se podařilo obnovit netradičně v pátek :-). Sedíme si takhle s Lakoušem v kanceláři a nebaví nás pořád mlátit do kláves a tahat myš po stole, venku je hezky a tak zamykáme kancelář a vyrážíme z Plzně na jihozápad vstříc novým objevům. A protože jsme po všech těch bojových ukázkách poněkud přeřopíčkování, míříme na poválku. Našim cílem tentokrátnebyly ani tak samotné kulometné a další objekty, jako vyhledání zbytků překážkového systému a samozřejmě, když už se podíváme do tohoto koutu Čech, taki poohlédnutí po stálých zařízeních z let 1935-38.
Do pohraničí dorážíme krátce po poledni přes Klatovy a Nýrsko. Po cestě krátcezastavujeme za obcí Uhliště, kde odkrýváme vzácný objekt UPO, ale bohužel ani v této pevnůstce se nedochovalo žádné vybavení, takže otázka jaká lafeta zde měla být užita(UL-1 to z několika důvodů být nemohla) zůstává nedořešena.
Dalším bodem průzkumu je oblast hraničního přechodu Svatá Kateřina severozápadně odnaších oblíbených Zadních Chalup. V kartografických mapách totiž sedlo hraničního přechodu v místě kde měla být protitanková překážka přetíná výrazný pruh lesa. Ukázalo se že je to skutečně pozůstatek překážky ve formě čelního valu, za kterým byl urovnaný pás - zřejmě pro betonové jehlany či nějakýdalší typ protitankového zátarasu, který se však bohužel nedochoval. Tak alespoň zkoumáme ŘOPOK, postřelující tuto uzávěru z týlu - z pastvinynadobcí.
Asfaltovou "signálkou" se přesunujeme do sousední rozbité vesničky Přední Fleky, na jejíž návsi necháváme auto a pěšky směřujeme k hraničnímu přechodu, kde měla být v roce 1936 postavena závora. Bohužel ani tady se nedochovaly žádné její zbytky, pouze poněkud v týlu se po stranách cesty nachází krátké příčné příkopy, které můžou (ale nemusí) s tehdejším zátarasem souviset. Na hraničním přechodu se k nám hrne z německé strany pohraničník, alenaštěstí si chtěl jenom pokecat, takže měl Honza možnost "prosvištět" si německá slovíčka. Pochytávám z toho jenom útržky rozhovoru typu šraňke,betonbunker a tak podobně. Bohužel ani on neví že by se v okolí nějaká závora Ipen nacházela.
Při zpáteční cestě se vrháme do průzkumu bunkrů. Přikřížení cesty s první signálkou je nevýrazná kóta pokrytá nízkou travou, po jejímž obvodu je několik POKů a díky vysoké trávě v místě vchodůse námdaří nalézt i jeden BZUK (čímž se počet dosud nalezených objektů tohoto nenalezitelného typu rázem zdvojnásobil :-). Díky nízké trávě lze vyjímečnědobře přehlédnout celou sestavu úkrytu s postavením pro střelce z tarasnice, která je doplněná jedním POKem umístěným níže po svahu.
Poté se přes elektrické ohradníky probíjíme na protější svah, kde ke velkému údivu nalézáme obdobnou protitankovou překážku jako u Svaté Kateřiny - opět čelní val kryjící urovnanou plochu pro překážky, zde navíc umístěnou pod výraznou mezí, takže celek vytváří dokonalou past na tanky. Vyhýbáme se zbytkům ostnatéhodrátu a ve stěně tohoto protitankového příkopu nalézáme jeden ŘOPOK, jehož střílna díky vyhnití dřevěné kulatiny a naopak vloženíprefabrikované nástavby dosahuje zcela impozantních rozměrů.
Zde pro nedostatek času akci končíme. Cestou zpět se ještě zastavujeme v zaniklé obci Červené Dřevo,která měla být obklopena mnoha palebnými objekty s pozorovatelnou typu 25-S (pracovně nazvanou "pětadvacet soudruhů"). U obnovenýchzákladů tamníhokostela potkáváme bandu Sudeťáků důchodového věku, kteří nás sveřepě pozorují a ani nezabučí v odpověď na náš pozdrav. Na druhou stranu sejimpodařilo poměrně pěkněopravit základy kostela a urovnat zbytky hřbitova, i když náhrobky srovnané při jeho stěně mi trošku připomínají postřílené zajíce po honu. Kromě obrovského klubka zrezivělého ostnatého drátu zde však nenalézáme nic a teprve při odjezdu nás doslova praští do očí kopeček (nebo POKeček?) na louce. Ale to už ujíždíme zpět do Plzně a necháváme ho na příště, stejně jako stovky dalších bunkrů které se odtud táhnou až do Aše.
---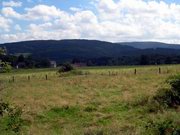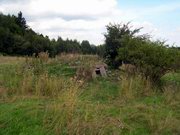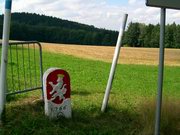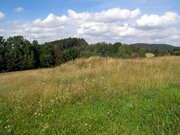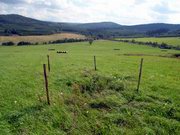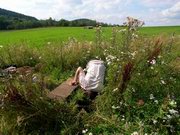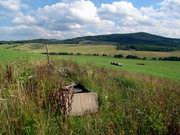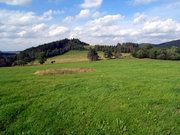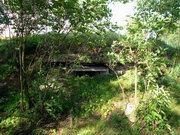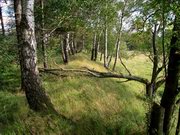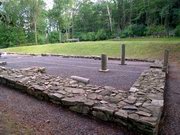 ---
---