Ventilátor v objektech sloužil na vytvoření přetlaku a tudíž výměně vzduchu. Přetlak byl v objektu nutný z důvodu nutnosti vytlačovat zplodiny ze střelby a proti vniknutí plynových chemických látek do objektu.
Zároveň se tím nasával čerstvý vzduch pro osádku.
Ventilátor se osazoval většinou vedle vchodové střílny na dvě konzole profilu U, osazené již při betonáži objektu (existují i výjimky, kdy se konzole dodávaly až po betonáži, nebo nebyl použit profil U). Nasávací trubka ventilátoru byla vyvedena do vstupní chodbičky a osazovala se také již při betonáži objektu. Trubka měla dvojité krytí a to mřížkou zabetonovanou před sání trubky a pak mřížovými dveřmi. Takže kdyby chtěl nepřítel toto nasávání zasáhnout, musel by dojít před objekt, který byl ale bráněn z vchodové střílny.
U vchodové střílny měly ventilátor objekty typu A, B1, B2, D1 a D2. Objekty typu E měl ventilátor umístěn vedle stěny s granátovým skluzem.
Ventilátor se do objektu dodával v sadě s patřičným počtem lapačů zplodin nad střílny. Ventilátor se přišrouboval na nasávací trubku pomocí příruby se šesti šrouby a toto se utěsnilo tzv. osinkovou šňůrou (touto šňůrou je utěsněn například spoj difusoru ventilátoru k převodové skříni), pak se ventilátor přišrouboval na konzole dvěma nebo čtyřmi šrouby. Takže v případě, že jsou v konzolích vyvrtané díry, znamená to, že zde byl ventilátor osazen.
V případě potřeby vytvoření přetlaku se začalo točit klikou a nasávací trubkou se začal nasávat vzduch. Ten se začal hromadit v objektu. Zplodiny ze střelby se hromadily nad střílnou v lapači zplodin a díky vzniklému přetlaku v objektu, byly vytlačovány výduchy ven z objektu.
Ventilátory se dají rozdělit na 2 základní druhy. Levotočivý a pravotočivý a ty pak existují předválečné a poválečné.
Levotočivý ventilátor se osazoval do objektů typu A, B2 a D1. Pravotočivý pak do řopíků typu B1, D2 a E.
Pozná se to na první pohled podle umístění šipky otáčení u kliky ventilátoru, nebo dle polohy difuzoru. Pozor! Šipka doprava znamená levotočivý ventilátor a šipka doleva pravotočivý ventilátor.
Předválečný ventilátor :
Základní rozlišení od poválečného je podle výrobního čísla, písmene Ř a vyraženého lvíčka.
Výrobní číslo je větší než u poválečných a čtyřmístné.
Mřížka difuzoru má pak kosočtvercové otvory. Je totiž tvořena nařezaným a nataženým plechem.
Ložiska ventilátoru jsou SKF vyrobené ve Švédsku, jsou kvalitnější a tišší.
Ventilátor byl natřen základní suříkovou barvou (oranžová) a poté přetřen světle šedou, ale dnes jsou i předválečné přetřeny na khaki.
Poválečný ventilátor
Výrobní číslo je menším písmem a jsou za ním, nebo před ním umístěny dva zkřížené meče.
Mřížka difuzoru je tvořena pletivem se čtvercovými otvory.
Ložiska ventilátoru jsou české - ČSN 6202, jsou méně kvalitní a hlučnější.
Na ventilátorech se vyskytují i další drobné rozdíly, jako např. jiné formy svárů, kvalita odlitků, apod.
Předválečné ventilátory byly vyráběné od roku 1937 až do zastavení výroby v září 1938. Poválečné pak byly vyráběné v letech 1953-1954.
Rozdílná byla také klika ventilátoru. Předválečná byla se zářezem pro pero na hřídeli ventilátoru. Díky zjednodušení pak na poválečné tento zářez nebyl a byl zde přidán zasunovací odpružený čep. Proto se kliky nedají zaměňovat.
Převodové ústrojí ventilátoru muselo být neustále promazáváno, proto bylo ponořeno z části do oleje. Stav hladiny oleje se kontroloval pomocí měrky, která byla zašroubována do horní stěny převodové skříně. Na dolní stěně pak byl výpustní šroub na olej. Ke každému ventilátoru musela být v objektu konev, nebo kanystr s rezervním olejem.
---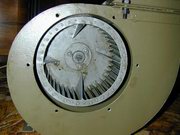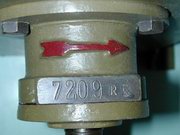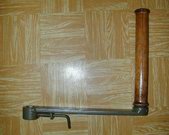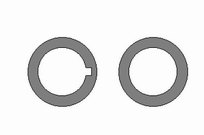 ---
---