O víkendu 18. - 19. září 2004 proběhly ve VVP Březina (pro bunkrology známější pod názvem VVP Dědice či spíše Vyškov) Dny výcviku a doktrín. Nebudu zde rozebírat do podrobností program, který sestával ze zajímavé prezentace AČR (vrtulníky, stíhačky, hasičská a záchranná technika apod.) a historického boje s tématem Dukla 1944, ale chtěl bych mluvit o činnosti malé jednotky složené ze členů KVH Kralka (K-S U potoka) a Pevnostního areálu Slavonice.
Na základě výzvy z armády jsme poskládali osmičlennou jednotku, jenž dělala čestnou stráž u vstupu do V.I.P. prostoru. I když šlo o čestnou funkci, naše palebná síla byla ohromující: 8 pušek vz. 24, 2 LK vz. 26 a jeden TK vz. 37, samozřejmě s patřičnou dotací munice.
Po pátečním příjezdu do srubového tábora jsme nafasovali vojenskou teplou večeři (nutno říci, že vynikající) a začali nacvičovat chování stráže - povely "K poctě zbraň", "K noze zbraň", střídání a další. Taktéž byly za světla reflektorů z. felicie připraveny tři nástěnky o pevnostní výstavbě ve VVP a o muzeu K-S 5. Celovečerní reprodukce německých písní v táborovém rozhlase byla tolerována s vědomím, že druhý den většina Němců stejně padne.
Sobotní budíček byl stanoven už na půl šestou, to abychom se stačili přemístit včas na snídani, připravit se do služby a doladit pár posledních detailů. Odvoz ze srubového tábora zajišťovala armádní tatra, na jejíž korbě se v přátelské atmosféře sešli vojáci Rudé armády, německé Wehrmacht, československé předválečné i válečné armády. Velké škále zbraní samozřejmě dominoval náš těžký kulomet. Po příjezdu na místo určení naši jednotku čekal ještě finální výstup na kopec, kde bylo naše strážní stanoviště. Nutno podotknout, že členové stráže teprve tady pochopili, proč se těžkému kulometu říká těžký a naopak spílali tomu, kdo vymyslel zcela zavádějící označení lehký kulomet.
Na místě po ohlášení u vojenské policie (mimochodem byli jsme označeni za "čestnou stráž sovětských jednotek"!!!) a nainstalování zbraní nastala perná služby. Vzhledem k dostatečnému počtu vojáků zvolili jsme střídání po hodině, takže na jednu dvojici připadala hodina hlídky a dvě hodiny odpočinku.
Nutno říci, že naše přítomnost jak u vstupu do V.I.P. prostoru, tak i mezi diváky, vzbuzovala všeobecný zájem, a tak nebyla nouze o focení se sličnými slečnami, jenž za tímto účelem neváhaly statné strážné oslovit a případně i dohonit. V době mezi službami jsme sledovali předváděčku na cílové ploše střelnice, popíjeli místní pivo a občas navštívili dva naše vojáky, jenž hlídali na parkovišti historické kolové techniky. Takto proběhl celý den až do 15 hodin, kdy kromě rautu se už ve V.I.P. prostoru nikdo nezdržoval, tak jsme se pozvali a nechali se obsluhovat eíšníkem, jenž poed malou chvíli obsluhoval nejednoho generála ei významného politika. Myslím, že se nestaeil divit jak rychle do nás toto pivo zadarmo padalo...
Cestu z bojiště do srubového tábora nám zajistil OT-64 SKOT, jenž byl všemi zúčastněnými hodnocen jako bezpečné taxi. Po celodenním trmácení v uniformách jsme uvítali opláchnutí a civilní šaty, ve kterých byla provedena inspekce vyškovských zábavných podniků. S pocitem dobře vykonané práce jsme celkem brzo usnuli.
Druhý den po nezbytném úklidu jsme ještě navštívili unikátní německý objekt s materiálem z čs. opevnění (viz článek v Novodobých fortifikacích) a vyrazili do svých domovů.
Celkově byl víkend hodnocen velmi dobře a to zejména díky faktu, že jsme toho hodně viděli a málo platili. Představitelé armády se opakovaně pochvalně zmínili o činnosti a výstroji čestné jednotky. Byla to další využitá příležitost prezentovat práci klubů vojenské historie, jenž je zatím ze strany AČR bohužel nedoceněná.
---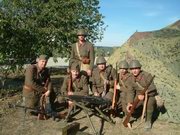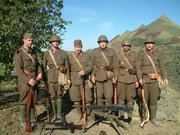 ---
---