V I.sboru, úseku C-13 se nachází objekt, jenž je zahrnut řadou otazníků. Jedná se o objekt č.22a a mělo by se jednat o A-160, údajně lomený. Někdo také tvrdí, že měl být údajně postřelován.
Tento objekt zmizel z povrchu zemského někdy okolo roku 1989, kdy byl při stavbě obchvatu Postoloprt odsunut ze svého místa a poté zahrnut a nyní se nacházel v náspu silnice a měl vykukovat jen malý kousek.
Na základě těchto údajů jsme se spolu s Mírou Švestkou rozhodli ho najít a půjde-li to i se do něj dostat..
Celou akci jsme zahájili v neděli 26.9.04, kdy jsme vyrazili s účelem prozkoumat dvě Déčka nedaleko a zároveň se pokusit najít tento objekt č.22a. Po průzkumu Déček jsme začali hledat zmizelý objekt. Moc jsem nedoufal, že ho najdeme. Ale nakonec se nacházel zhruba tam, kde Míra předpokládal.. Po tom velkém objevu jsem ho zavolal, bloudil někde v křoví :-) a začali jsme ho alespoň trochu odkrývat. A tak vznikly první fotky tohoto objektu. Ale vlastní výkop jsme si nechali na jindy.
Dva dny nato, o svátek 28.9.2004 jsem ráno dojel pro Míru do Loun a začali jsme vykopávat trochu víc. Vybaveni pořádným nářadím jsme postupně odkrývali více a více.. Snažil jsem se najít periskopovou trubku ve stropnici, ale byla příliš hluboko a Míra zatím našel zbytky háků. Míra určil zhruba kde by mohl být vchod a tak jsme tam začali kopat do hloubky. Asi po hodině kopání plného kamenů a kořenů jsme našli ve stěně prasklinu. Takže se začaly potvrzovat údaje o postřelování. Usoudil jsem, že prasklina půjde z pravého rohu vchodu. Asi za dalších deset minut měl rýč zvláštní dutý zvuk při zabodnutí do země. A náhle odpadl kus hlíny a objevila se dírka do bunkru :-). Nebyl to pravý horní roh dveří, ale levý. Byl to pro nás dlouho očekávaný okamžik. A tak vznikla první fotka interiéru. Potřebovali jsme totiž vědět, je-li uvnitř tolik místa aby se dalo do vnitřku vlézt. Vypadalo to že je. Míra se spustil do vykopané díry po hlavě a podíval se do vnitřku, vypadalo to, že vstupní chodbička není ani moc zahrabaná, ale víc neviděl.
Po chvilce radování jsme začali kopat hlouběji a více doprava. Asi po čtvrt hodince se nám podařilo vykopat dostatečně velký otvor aby se dalo do vnitřku objektu vlézt. No, jako ten starší (a méně potřebný :-) ) jsem měl přednost tam vlézt první.. Spustil jsem se po nohou do objektu..
V objektu bylo viditelně dost místa, ale hrozný vzduch!! To mi ale nějak nevadilo. Prozkoumal jsem vchodovou střílnu a nahlédl do levé střelecké místnosti. Zde se potvrdily zprávy o postřelování. Levá střílna byla propálena a vedle ní byla v objektu díra a vsypána hlína. Dál jsem postupoval. Přešel jsem do prostoru s ventilátorem. Ventilátor samozřejmě chyběl a byly i uřezány konzole na jeho připevnění.
Nyní již bylo jasné, že objekt je hodně lomený. Do pravé střelecké místnosti vedly tři schůdky. Pravá střelecká nebyla poškozena, ale nebylo zde také bohužel vůbec nic z vybavení. Kromě pěkných krápníků. Které se bohužel při doteku naprosto rozpadnou.. Ještě chvilku jsem prohlížel zbytky interiéru a dělal fotky. Nevím proč, ale foťák nějak nechtěl fotit.. blesk nebyl tak silný.. nevím jestli byl zamlžený, nebo tím hrozným ovzduším, ale fotky jsou tmavé..
Po chvilce jsem se už potřeboval nadechnou čerstvého vzduchu, tak jsem chtěl vylézt.. Jenže to nebylo tak snadné.. Po chvíli snažení mi před očima proběhl celý život a já sem očekával nejhorší.. :-) nemohl jsem totiž protáhnout svojí velkou tlustou zadek :-) Naštěstí Míra mi pomohl a já úspěšně vylezl z nejúžasnějšího objektu v jakém jsem zatím byl..
Následoval Míra. Ponořil se do hlubin objektu a vyfotil ještě zajímavou příčku na stropě u ventilátoru. Vzduch byl uvnitř hrozný, tak za chvíli už lezl ven, také mu to moc nešlo, ale daleko lépe než mě..
Úspěšně jsme ukončili naší akci zahrabáním výkopu. Vchod jsme zahradili aby se dovnitř nenahrnula hlína.
Výkop jsme museli zahrabat aby se zde nestal nějaký úraz, nebo něco podobného.
Takže závěrem:
Objekt č.22a je objekt A-160, lomený vpravo, takže vstupní chodbička byla do horní kasematy.
Lomení je 28-46% . Objekt byl postřelován, chybí levý granátový skluz a levá střílna je propálena. Pravá kasemata je bez poškození. Horní okraj vchodu je asi metr pod úrovní terénu. A objekt je skoro celý pod zemí.
Nyní není volně přístupný!!!
Rád poskytnu jakékoliv další informace.
---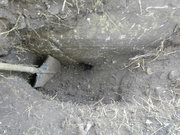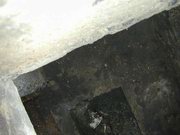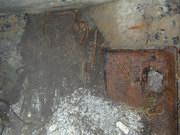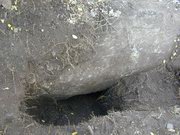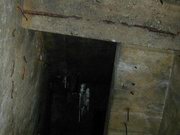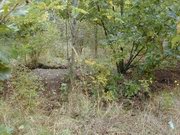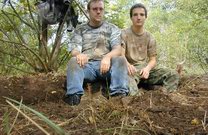 ---
---