Úvodem tohoto článku se předem omlouvám všem, kteří ho budou číst. Literární hodnota nebude na výši, hodnota vypovídací mizivá, vše vychází pouze z toho, co jsem viděl a nafotil. Zvláště se omlouvám všem modemistům, je toho trošku víc. Kdo se nebojí, může číst dál.
Při letošní dovolené v Chorvatsku jsem v okolí Zadaru viděl něco, co mě zaujalo. Vedle silnice Zadar - Biograd - Split vyčnívala z houští kulatá stropnice pevnůstky. Co to bylo? Válka v 90. letech zanechala v celé oblasti mnoho pozůstatků. Trosky jednotlivých budov i celých vesnic stále "zdobí" krajinu. Tohle ale bylo něco jiného. Srdce bunkrologa by zaplesalo. Bohužel pro nedostatek času byla možná pouze krátká exkurze.
Opevnění, které jsem navštívil, se rozkládá na jižním okraji Zadaru, po levé straně silnice na Biograd.Soustava pevnůstek se skládá z dvoustřílnových a třístřílnových objektů. Jsou umístěny ve svahu zvolna stoupajícím od silnice. Terén je chorvatská klasika - kamenitá krajina, houští jalovců a podobných pichlavostí.V době návštěvy bylo dost teplo - téměř 40 st. C - nezapomenutelný zážitek.
V této oblasti je opevnění zhruba ve třech liniích, pokud se to tak dá nazvat. Vzdálenost mezi liniemi je asi 300 m, vzdálenost mezi objekty 50 - 100 m ( odhad vzdálenosti ale není moje silná stránka). Střílny všech objektů jsou určeny pro čelní palbu. Pozůstatky dalších zařízení ( zátarasy, zákopy apod.), pokud vůbec byly, jsou zahlazeny. Záhozy některých objektů byly odstraněny. V některých případech byly jejich základy obnaženy, zřejmě při vyčišťování terénu.
Celá oblast je údajně odminována, takže pohyb mezi pevnůstkami by měl být bezpečný. To tvrdí ministerstvo turistiky. Asi na tom něco bude, protože jsem hned na první pokus našel ostrou pancéřovku. Podle vyjádření přivolaných policistů, se kterými jsem hovořil, opravdu proběhlo odminování a vyčištění celého prostoru. Přesto doporučovali pohybovat se jen po vyježděných cestách, protože mimo ně by stále mohla být nevybuchlá munice. Mimochodem, když se zajímali, co tam dělám a proč tam lezu, tak po mé odpovědi koukali, jako by spadli z višně.Vypadalo to, že o "betonofilii" slyšeli poprvé v životě. Na druhou stranu ale měli určité povědomí o československém předválečném opevnění. Musím ale říct, že se chovali velice profesionálně a vyřízení celého případu trvalo asi čtvrt hodiny. Netroufám si odhadnout, jak dlouho by to trvalo u nás.
Pokud by měl někdo cestu kolem Zadaru,stavte se tam, stojí to za to. Celá oblast je zřejmě průzkumem neposkvrněná a je opravdu na co koukat. Je to velmi pěkné a příjemné zpestření pobytu u moře.
Podrobnosti o objektech a fotografie v dalším pokračování článku.
---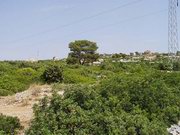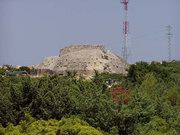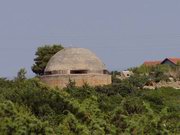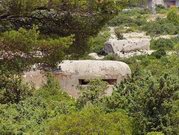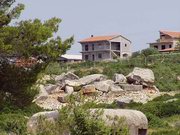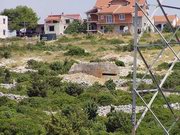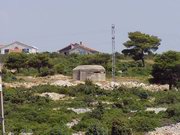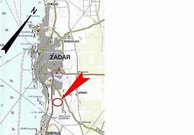 ---
---