Je sobota dopoledne. Prší. Vystupuju z autobusu v Hamru na Jezeře. Kopce nad rybníkem se ztrácejí v mlze a já vím jedině to, že za nějakých devět hodin mi odjíždí ze stanice Bezděz poslední zpáteční vlak. Od této stanice mě dělí vzdušnou čarou pětadvacet kilometrů území okterém se říká že "zde jsou lvi".
Účelem této akce nebyl nějaký podrobný průzkum, ale snažil jsem si pouze udělat představu o tom, jaké jsoupřípadnémožnosti výskytu nějakých zajímavých objektů na prostoru bývalého VVP Ralsko - Mimoň. Především jsem tajně doufal, že bych zde mohl narazitnanějaké varianty pixlí, které byly v poválečné době budovány v ostatních vojenských prostorech (Prameny, Libavá) neboť to že zatím neexistují žádnéinformace o bunkrech v této oblasti neznamená že zde nemohou existovat.
Bývalý vojenský prostor Ralsko (zvaný též Mimoň či Kuřivody) je dnesčasto mylně zaměňován za letiště Hradčany jižně od Mimoňě. Ačkoliv toto letiště bylo jeho důležitou součástí, vlastní rozsah prostoru bylněkolikanásobněvětší a jeho těžiště se nalézalo východně a severovýchodně odtud, v zalesněné oblasti ohraničeném pomyslným čtyřúhelníkem městeček Stráž pod Ralskem, Český Dub, Bělá pod Bezdězem a Doksy.
I když se dá nalézt tvrzení o založení vojenského prostoru ve třicátých letech, či v letech válečných, pravdaje taková, že v té době vznikl akorát prapředek Hradčanského letiště a samotný zábor celého území je nutno spojovat s dobou poválečnou. V té době bylo ze zdejšího i tak řídce zalidněného území odsunuto převažující německé obyvatelstvo. Zatím nevím zda prostor vznikl v první vlně v roce 1946 (s Boleticemi, Prameny a Libavou), či až po roce 1948 (s VVP Dobrá Voda).
Od odsunu sovětské armády uběhlo nějakých dvanáct let. Ještě o rok starší jsou mé vzpomínky na jeden vandr, který nás tehdy dovedl do prostoru VVP a které se mi podařilo vytěsnit z paměti, neboť se ta akce tenkrátzměnila v takový malý horor. Od té doby jsem nenašel odvahu se sem znovu podívat - ne že bych se bál min, nebo masožravých roupuch, ale prostě jsem si nechtěl připomenout ty staré události. Díky tomu jsem přišel o "zlatokopecké" období, kdy zde skutečně byla divočina...
Prvním mým cílem byl hrad Děvín vypínající se na čedičové homoli přímo nad Hamrem. Tento hrad je známý především svým rozsáhlým podzemím, jehož popis můžete nalézt na různých speleologických stránkách. Kroměznámé studny z které ústí vstup do několika podzemních komor je to také systém štol vedoucích pod vlastní hrad a souvisejících s pozdější těžbou železné rudy. Dosavadní déšť se tady mění v regulérní liják a tak se plazím do jedné zachovalé místnosti kde navlékámatombordel, který kromě mě a baťohu musí pojmout také foťák se stativem.
Mezi Děvínem a nedalekým skalním hradem Stohánkem byla před několika letyúdajně vyznačena modrá turistická cesta, jejíž značky už ovšem nejsou v terénu vůbec čitelné. A tak jdu po "čuchu" neboť mapu by mi zničil déšť. Dolepod Děvínem míjím poloopuštěné zařízeníuranových dolů a o kus dál na mě vybafne oplocený areál se třemi vybetonovanými štolami ústícími někam pod skalní stěnu. Myslím že jsem něco zaslechl opodzemních skladech PHM, ale zda jde o tento objekt nevím.
Lesní cesta mě dovádí k Sochorovu pomníku u něhož jsou čerstvě položené věnce - zřejmě v souvislosti s výročím Dukelské operace. Hrad Stohánek zaujímající temeno skály kdesi nad ním se mi v dešti podařilo minout a tak pokračuju bočním skalnatým údolím k jihozápadu s úmyslem dojít k zaniklé vesnici Novina, kde se mají nacházet zajímavé v pískovci vytesané prostory. Narážím však na oplocení obory, které musím složitě obcházet a tak volím přímý výstup na planinu Ostrovských vrchů. Při tom v jedné boční rokli nalézám krásné starépískovcové lomy. Hladké a kolmé skalní stěny mizí někam nad koruny stromů skrz které padají těžké kapky, takže stativ vytahuju až ve velkém převisu apokouším se dělat pár fotek.
Hustý déšť mě provází i po výstupu na roviny mezi Ostrovskými vrchy a Lánovým kopcem. Tam opět narážímna oplocení obory - nastěstí s otevřenými vraty díky kterým můžu pokračovat po asfaltce k jihu. Příjde mi divné, že po halasném zrušení a zpřístupnění VVP na počátkudevadesátých let, byla krátce poté velká většina prostoru opět v tichosti uzavřena - tentokrát myslivci, a stala se z ní továrna na zvěřinu kam chodí střílet panští myslivci. Je mi z toho na blití. Stejně zavřené jsou i sousední polomené hory, kde je obora ministerstva obrany. Dost dobře nevím, k čemu jsou pro obranu naší země potřeba jeleni? To jsem opravdu jediný člověk, komu vadí že si někdo pro sebe ohradí část lesa který mu nepatří? A to nám opravdu nestačí gigantická Lánská obora zabírající velkou část Křivoklátských lesů? Asi si holt zase budu muset do standardní vandrovací výbavy přibalitnůžky na drát...
Nyní mě čekal přechod Židlovské pláně, což byl gigantický výcvikový prostor o délce asi šest a šířce místyaž dva kilometry. Pocelé délce procházejí dvě asfaltové cesty a občas se dá narazit na sklepy po zaniklých obcích (Olšina, Židlov...). Je pozitivní žese podařilo odstranit veškeré fragmenty munice - alespoň pokud mohu soudit z okolí hlavních cest.
Na Předním vrchu nalézám osamocený ruskýprefabrikovaný bunkr, avšak jinak se zdá bohužel celá plocha bunkrologicky sterilní. Alespoň na první dojem.
Před Kuřivody opouštím oboru a skrzetoto poničené městečko pochoduji k bývalému skladu jaderných hlavic v prostoru U hájovny jihozápadně odtud. Pršet bohužel nepřestává a navíc už mě pomalu začíná tlačit čas, takže nějaký průzkum nechávám na jindy a sítí lesních průseků porostlých půlmetrovou travou se snažím mířit k Bezdězu. Nutno dodat že na bunkry už mistejně moc síly nezbývá, neboť veškerou energii, kterou nepotřebují na chůzi, používám k ohřívání vody která mi stéká po těle.
Za necelou hodinusena konci jednoho průseku objevuje silueta hory s hradem zahaleným v mracích. Jsem poněkud více k západu než jsem čekal a tak stoupám po loukách dovesničky na úbočí hradu a odtud pak mírným poklusem sbíhám k několik kilometrů vzdálenému nádraží kde chytám rychlík na Nymburk.
V kupé je smrádek ateploučko. Obzvláště když si sundám boty a z okna ždímám ponožky :-)
---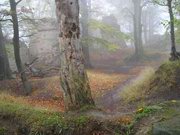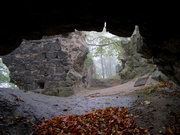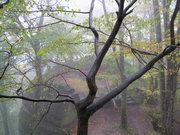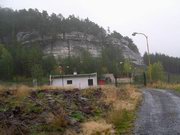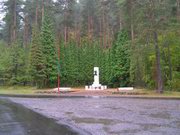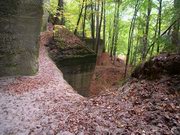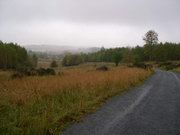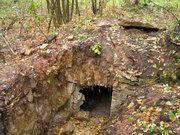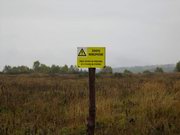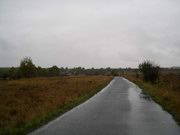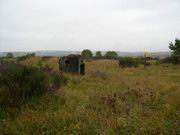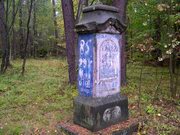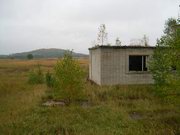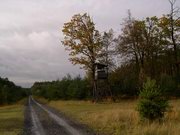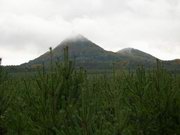 ---
---