V neděli 24. 10. proběhla ve Vyškově avizovaná akce na vyčištění diamantového příkopu německého objektu s prvky z československého opevnění (podle pracovního označení vzniklého při první návštěvě zvaný "Bomba"). I přes mohutnou propagaci na www.ropiky.net, jsme se nakonec sešli pouze ve třech: já, jakožto fotograf a přicmrndávač z řad civilů s modrou knížkou a Martin Urbánek s tátou jakožto zástupci armády. Počasí nám přálo - k takové práci jsme si nemohli přát nic lepšího, než bunkropočasí. Celý den se válela mlha, jemně poprchávalo a ani teploty se nevyšplhaly závratně vysoko.
Už cesta k objektu dávala tušit problémy - bylo nutno překonat cvičnou dráhu pro vojenská vozidla, která se podobala jedné velké kaluži plné bláta. Nicméně na tuto variantu jsme byli naštěstí připraveni, takže naše "civilní oblečení" putovalo do batohu a na světlo boží přišly pracovní věci, jimž nějaké to ušpinění nevadilo.
Po příchodu k objektu jsem musel s povděkem kvitovat terénní úpravy, jenž nechalo provést velitelství VVP na naši žádost. Nyní se okolí objektu skví krásně čisté od veškerých náletových dřevin a stavbu nehyzdí ani strážní domek postavený na střeše v průběhu poválečných let.
Po nezbytné fotodokumentaci jsme přistoupili k vlastnímu čištění. Z počátku šla práce rychle od ruky a došlo i na významné objevy. Hned v prvních vrstvách to byla téměř nepoškozená školní lavice, následovaná telefonním kabelem a zcela jistě původní lopatou i se zachovalou násadou. Později se ukázalo, že nález posledně dvou jmenovaných věcí nám významně pomůže při zdolávání materiálu naházeného do příkopu. Vzhledem k faktu, že dno "diamanťáku" se stále ještě nachází cca metr pod hladinou, musely být veškeré práce prováděny z hromady materiálu nakupené v jednom rohu, jenž vyčnívala nad hladinu. Při pozdějším rozebírání hromady se ukázalo, že se jedná o pytle cementu, jenž za roky uskladnění ztvrdl ve hmotu tvrdou téměř jako kámen. Dále bylo lze nalézt cihly, zbytky elektro a vodoinstalací a blíže neidentifikovatelných nechutných věcí. Sypký písek byl vyhazován z příkopu pomocí nalezené lopaty; k vytahování těžších věcí posloužil, dokud se nepřetrhl, telefonní kabel. Zatímco se výška nahromaděného materiálu v příkopu snižovala, začala se přibližovat vodní hladina. V momentě, kdy zbýval již jen malý ostrůvek, byla práce přerušena s tím, že před pokračováním musí být voda vyčerpána. To umožní nejenom odhalení skutečného dna příkopu a tím i jeho hloubky, ale taktéž tím získáme pevnou základnu pro vytahování nejtěžších věcí, jež na nás zatím trpělivě dole čekají.
Po nezbytné fotodokumentaci konečného stavu a celého objektu (dokonce i s adrenalinovým výstupem na opodál stojící notně zrezlou železnou konstrukci bývalého stožáru) jsme se vydali zpět ku svým domovům. Bylo dohodnuto pokračování práce ve větším počtu pracovníků a s lepším vybavením (kladka, lano) v příštích měsících.
Celkově se dá akce hodnotit jako velmi vydařená - viditelnou hloubku příkopu jsme zvětšili na cca 5 metrů, sedřeli jsme se a v konečném výsledku i docela parádně zmokli. Nicméně všichni měli fajn pocit z dobře vykonané práce a doufají, že příště se připojí i jiní zájemci o bunkrohistorii.
Zdroje a literatura:
vlastní zážitky
---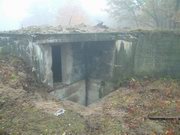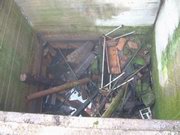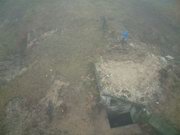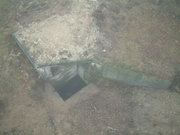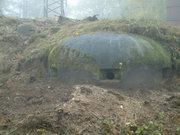 ---
---