Na úplný začátek dnešního příspěvku je nutno vypůjčit si z úst herců Divadla Járy Cimrmana jednu repliku, která přesně vystihuje včerejší akci ve VVP Dědice: "Předem upozorňuji, že všechny důležité objevy jsem učinil JÁ" :o)
Ve Vyškově se nám podařil významný objev, ve který jsme po nekonečných hodinách v terénu už téměř nedoufali: nalezli jsme cvičný LO vz. 37, jenž měl sloužit (a pravděpodobně i sloužil) k výcviku osádek lehkého opevnění.
Jedná se o cvičný objekt typu B1 (čelní a pravá boční střílna), jenž je poničen výbuchem a postrádá střílny (i když části jedné z nich jsme našli). Svou konstrukcí je dost atypický - především chybí klasické ochranné ucho u boční střílny a stěny jsou daleko tenčí než u normálního objektu. Obvyklou tloušťku mají pouze v místě obou střílen. Pro pozorování sloužil pouze jediný periskop ve středu čelní stěny, což odpovídá prvním betonovaným objektům tohoto typu. Podle pozůstatků konzol se dá určit, že byl osazen i ventilátor. Vzhledem k zarostlému okolí zatím nebyl další průzkum možný.
Na celém nálezu je nejzajímavější, že objekt stojí cca 20 m od hlavní silnice procházející VVP, a to v místě, kterým při zářijové vzpomínkové akci Dukla prošlo několik tisícovek lidí. Tak jako oni ani my jsme si doposud stojícího řopíku na tom místě nevšimli. Budiž nám omluvou, že cvičný objekt je možno lehce zaměnit za německé pixle, kterých je v tom prostoru několik desítek. Nález nám pomohl identifikovat nejen jeden z řopíků, ale také omezil prostor pro pátrání po dalších cvičných či zkušebních objektech ze zhruba 600 km čtverečních na pouhý jediný.
I když bych teď mohl povídat o tom, jak jsem zrovna já vlezl do toho inkriminovaného křoví a s vrozenou chrabrostí pronikl do zbytků tohoto objektu, nebylo by to ode mne zcela čestné. Není přece důležité kdo konkrétně byl v tu chvíli na místě, daleko důležitější jsou lidé, nebo řekněme tým, který na průzkumu tohoto VVP dlouhodobě pracuje. Zde je na místě jmenovat především Martina Urbánka, Petra Táborského a Tomáše Fice (i když posledně jmenovaní se zrovna v tu chvíli váleli někde v Brně v teple :). Stejný podíl na nalezení řopíku má podpůrný tým mladoboleslaváků ve složení Jarda Beneš, Libor Martinů a spol doplněný Martinem Novákem. Snažili jsme se sice klukům vysvětlit, že nález byl naplánován dopředu jako překvapení u příležitosti jejich návštěvy ve Vyškově (plánované několik let dopředu a uskutečněné až letos), nicméně věřit nám nechtěli.
Snad vám z této oblasti brzo přineseme další potěšující zprávy...
P.S.: Na závěr bych chtěl vyjádřit víru v to, že když už kolegovi Lakosilovi nacházím "jeho" cvičné lehké objekty, tak on mi na oplátku nalezne cvičný těžký objekt... :o)
---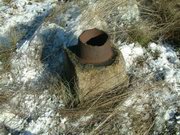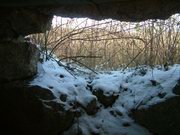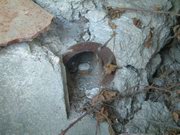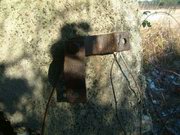 ---
---