Barokní cvičná pevnost u Týna nad Vltavou
---
Cvičiště na návrší východně jihočeského Týna nad Vltavou bylo založeno v roce 1709 a fungovalo až do roku 1866. Zabíralo plochu 110 740 čtverečních sáhů neboli necelých čtyřiceti hektarů, což bylo při dosahu tehdejšího dělostřelectva více jak dostačující. Tábor začínal na místě, kde je dnes barokní sousoší u táborské silnice, a končil při silnici vedoucí z Týna do Veselí nad Lužnicí. Zde se podle bývalé vojenské strážnice dodnes udržel název "Varta" nebo "Na vartě", zanesený i na mapách. Zachoval se také název "Šance", označující místo v cípu lesa nedaleko "Varty", kde jsou ještě patrné pozůstatky obranných valů a příkopů.
Toto místo je asi v současné době nejzajímavějším místem prostoru. Cvičná pevnost měla podobu korunní hradby s jedním bastionem uprostřed a dvěma půlbastiony po stranách. Od předpolí tuto hradbu odděloval široký, částečně zavodněný příkop, v jehož prostoru byl před jednou kurtinou vybudován ravelin. O podobě této fortifikace vypovídají asi nejlépe kartografické mapy a to nejen historického vojenského mapování, ale i současné. Bohužel areál je porostlý nepřehledným lesem a jednotlivé valy jsou dnes již na mnohých místech zničeny. Ale přesto se dochovala jedna drobná, avšak o to unikátnější maličkost - totiž sapa, neboli přibližovací příkop, která je doložena již na mapách prvního vojenského mapování z první poloviny 18. století. V současné době je to tak asi nejstarší zdokumentovaný zákop na našem území :-)
Z ostatního areálu lze shlédnout jen domy vpravo u silnice směrem z Týna na Tábor na místě s názvem "Bída". Větší statek s hospodářskými budovami sloužil jako honosný dům pro velitele a důstojníky cvičiště, za budovou je ještě neudržovaná vodní nádrž, bývalé jezírko, kolem něhož byl upravený park. Menší domek nedaleko statku je bývalá hospoda "Na Bídě", kam zacházeli dělostřelci po práci. Všechny ostatní stavby byly po zániku cvičiště srovnány se zemí.
Zachovalo se pouze torzo tzv. "epolementu", lapače kulí, který zlidověl do pomístního názvu Pulmont. Epolement je jakýsi kopeček hlíny chráněný z jedné strany umělým vodním příkopem. Jedná se o velmi vzácný a zajímavý pozůstatek barokní vojenské architektury. Nachází se cca 500 m severozápadně od sousoší, v lese za silnicí. Z pohledu od sousoší je místo dobře patrné, neboť modříny rostoucí na epolementu výrazně převyšují okolní porost. Bohužel pahorek je částečně "rozmrcasen" hledači pokladů s detektory.
Nejznámější stopou připomínající historii cvičiště je barokní kalvarie - pískovcové sousoší. Stojí na místě někdejší prachárny a připomíná katastrofu, která se zde stala ráno 21. června 1753. Tehdy zde došlo ke vznícení střelného prachu ve dvou laboratořích a k obrovské explozi, při níž zahynulo více jak 80 dělostřelců a dalších 40 jich bylo vážně zraněno. Zanedlouho po nešťastné události navštívila dělostřelecké cvičiště císařovna Marie Terezie na jejíž popud byly sochy vyrobeny a přeneseny na místo neštěstí.
---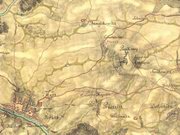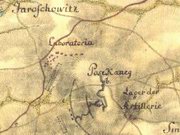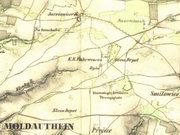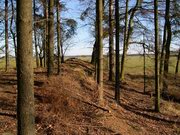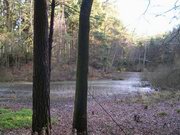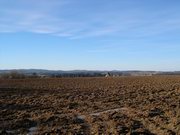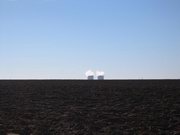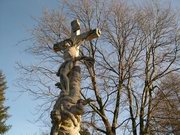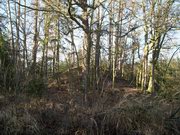 ---
---

Vloženo: 10.1.2005
Autor:
Tomáš Kamenský
---