Honza Lakosil, pan Lakosil starší a Martin Černý, se kterými jsem se celkem narychlo do mluvila na bunkrologické výpravě dorazili s minimálně půlhodinovým zpožděním. To by nebylo nic neobvyklého, za tu dobu co je znám, jsem si na jejich přístup mohla zvyknout. Honzova první věta, kterou mě obdařil bylo "Dělej!" místo něčeho jako "Ahoj" či "Dobré ráno", čímž mě utvrdil v tom, že se na nic nečeká a jede.
A tak jsme se vydali ze Znojma směrem k Šatovu. Náš program byl následující: Šobes - průzkum vinařské oblasti jižní Moravy protkané mnoha LO, identifikace dobové fotografie LO vz. 37, cvičná demontáž lafety UL1 z řopíku a nakonec mise "Po stopách Ippenu v pohraničí". Vcelku nabitý program se nám podařilo splnit do 16. hodiny a to i včetně oběda, zastávky na benzince (druhý oběd) a zhotovení několika fotografií na Šatovském MJ-S 3. Cesta tam byla v pohodě, ale trochu nás zneklidňovalo blikání všech protijedoucích aut. Poté co Martin zkontroloval všechna svá svitla, nám poi pohledu na pár milých eerných pánu policistu došlo, co tím všichni ti oidiei chtili naznaeit (bohužel pozdi). A tak jsme se jen modlili aby nechtili vidit kufr...
Má první otázka byla ke kterému LO-čku že se to chystáme, ukázání prstem někam na kopec přes celé údolí mě víc než vyděsilo. A tak jsme se v minusových stupních a slušně zasněženém terénu hnali z kopce a do kopce, přešli přes Dyji a tím zároveň ze znojemského úseku do vranovského a cestou navštěvovali některé řopíky. Poté co mi muj starostlivý doprovod pujeil všechny šály, jsem vypadala sice jako terorista (viz foto), ale bylo mi teplo:). Kromi focení interiéru, exteriéru a okolí bunkru, pohledu zleva a pak zprava a ješti z támhletoho úhlu (...?) jsme nafotili i jejich obyvatele, kteří byli v lepším případě čerstvě umrzlí, tedy ještě lehce identifikovatelní (tuším otakárka kopřivového), v tom horším jsme druh zvířete hádali podle jeho kosterní stavby (zajíc Zaza, jak ho nazval Honza). V opevnění obydlovaném tímto zajícem jsme pak demontovali lafetu UL1, kterou jsme si za chvíli s úsměvem odnášeli.
Během našeho průzkumu jsme narazili i na objekt, ke kterému se nejen dost špatně lezlo, ale byl i zasypán ve vchodové části nyní zmrzlou hlínou, tudíž jsme se nemohli dostat dovnitř a střílnami pozorovatelné pancéřové dveře zcela neznámého typu (něco mezi 37 a 38) nemohli odnést. Snad někdy příště a za lepších povětrnostních podmínek, jelikož kopat do zmrzlé země se nám opravdu nechtělo..
Identifikace hnánického bunkru dobové na fotografii, kterou se nám podařilo sehnat, proběhla vcelku rychle, podle několika vytipovaných možností jsme na ten správný narazili napoprvé, což potěší.. Po zdokumentování výkopu nedostavěného těžkého objektu MJ S-1 (taktéž u Hnánic), jako jediného zachovalého na JM, jsme podle mapky pokračovali dál k hranicím, k místu, kde byla v roce 38 postavena ocelová závora Ippen s ochrannými zídkami. Nyní už tam bohužel není, ale cesta to jistě nebyla zbytečná (i když dlouhá), alespoň jsme se o tom přesvideili. Co dodat, než že nic z toho nemohlo vyjít líp...
Podle fotek mužete hádat jak nám asi bylo... zima nám byla.
---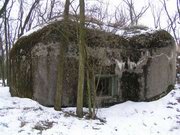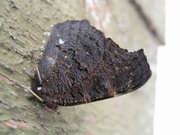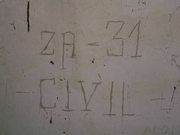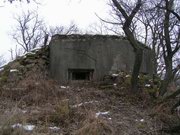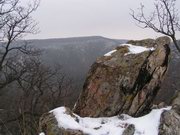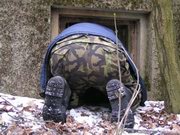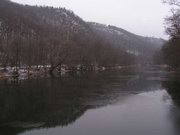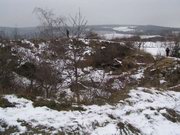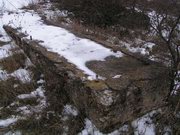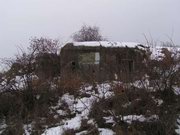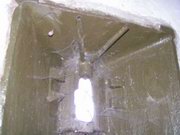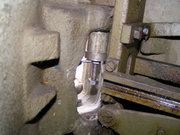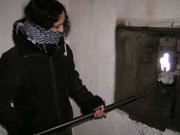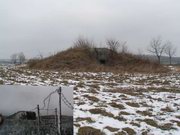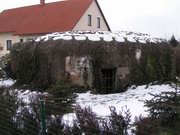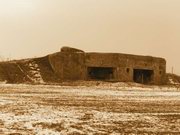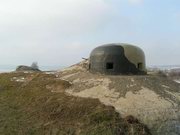 ---
---