Podobně jako před válkou se nepodařilo ani v 50. letech všechny reaktivované objekty plně stavebně dokončit a vybavit. Na rozdíl od doby předválečné je však nedokončených avšak částečně vybavených řopíků jen velice málo a dají se považovat za raritu. Nicméně v některých případech, pokud majitel nechce příliš zasáhnout do exteriéru nedokončeného nereaktivovaného řopíku, je tento způsob úpravy spadající do 1. etapy reaktivace možný.
Exteriér objektu možno zanechat v libovolném stavu, bez záhozu či se záhozem, není nutno provádět venkovní omítky či týlové záhozy. Pokud je objekt ve stavu TPB (těsně po betonáži), je však vhodné osazení poválečných mřížek výdechů ventilace a nasávání ventilátoru. Střílny natřít několika nepříliš kvalitními nátěry khaki, venkovní plochy betonových zdí opatřit příp. kamuflážním nátěrem z práškových barev (např. zeleno-černě), zelená by měla časem přejít vlivem změny pigmentu do odstínu modré.
Vchodová chodbička vybílena několikanásobnými vrstvami vápna, nezapomenout na nezbytné VEČ (vojenské evidenční číslo), které bývá 2x změněno a přepsáno. Vnitřek objektu nahodit vápennou omítkou, zbytky bednění možno ponechat, zbytky drátů usekat avšak celý interiér vybílit vápnem. Na vhodných místech doplnit o vyškrábané nápisy vojáků, kteří znechuceně prováděli údržbu: "za 151 civil" atd. Podlahu možno nechat v nevyrovaném stavu či ji dodělat.
Mřížové a pancéřové dveře musí být osazeny z poválečné produkce (ne upravované předválečné). Zárubně na pancéřové dveře osadit nově (jednoduché poválečné z L úhelníku) a vysekat kapsu na zámek. Pokud zárubně jsou osazeny z předválečné doby, stačí pouze vysekat kapsu na zámek. Na vnitřní stranu pancéřových dveří přivázat jednostranný klíč č.24 s logem ŠZ.
Na uražené periskopické trubice možno použít nástavce, osadit poválečné závěsy periskopů i s periskopy libovolného původu (před- nebo poválečné). Našel jsem i objekty bez osazených periskopických trubic a závěsy položenými uvnitř. Ventilátor poválečné produkce osadit na zabetonované konzole, lapače zplodin osadit pomocí nově zadělaných šroubů. Dále je nutno vysekat otvory pro manipulační stolky a kladky strakonické lafety, avšak tato zařízení nezabudovávat! Do střílen uchytit improvizované závěsy LK26 bez podpěrných stolečků, možno i uvažovat o uzávěrách střílen (malá a velká). Vchodovou střílnu osadit uzávěrem.
Veškeré vnitřní součásti byly původně přetřené šedou barvou, khaki nebo černá barva se na ně dostala až při udržovacích pracech. Tu ale vojáci většinou natírali na mastný povrch konzervovaného vybavení a proto se snadno odlupuje. Velice směšně působí v muzeích pečlivě provedené nátěry, čím víc to odfláknete, tím víc to bude realističtější (šmouhy na stěnách, chybějící nátěr na těžko přístupných místech atd). Totéž platí i o kotevních šroubech na lapače.
Pokud by osádka objekt aktivovala k boji, krom truhlíků na střelivo (7,92 mm) by si donesla i oba lehké kulomety vz. 26, osobní zbraně (pušky vz. 98, samopaly vz.24 (vz. 26) nebo ruského (Špagin) či německého původu (MP40), signální pistoli, tarasnici apod. Dále pak počítat s velkou polní osádky.
Později mohlo dojít k výměně závěsu LK 26 za novější lafetu UL1 s příslušenstvím.
---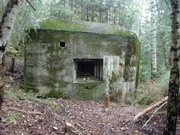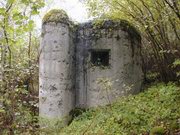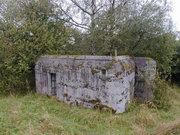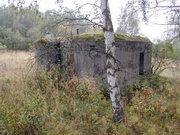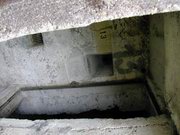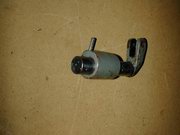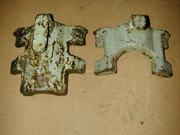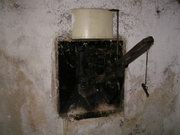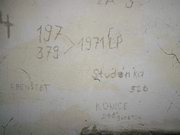 ---
---