Na sobotu 19.3. jsme s Tomášem naplánovali další průzkum linie LO. Při našich úvahách o cíli akce jsme vyšli z předpokladu, že bysme chtěli vidět alespoň 10 x víc než na K-5 (rozuměj pěchotní srub u Dolní Moravy). Pro vyřešení tohoto nelehkého úkolu jsme sestavili tuto rovnici:


X = K-5 x 10
(argument X značí hledaný úsek LO a K je univerzální pevnostní konstanta)


Řešení rovnice je samozřejmě snadné: X = K-50 Kadaň


Naše kroky a auta směřovaly tedy na linii LO poblíž podkrušnohorského města Kadaň, kde byl postaven úsek LO vz. 37 K-50 Kadaň a LO vz. 36 zastupovaly pevnůstky úseku Va. Již předem mohu napsat, že nás zdejší oblast v ničem nezklamala.
Sraz účastníků byl v 9:30 na nádraží v Kadani, pouze došlo k informační mýlce a polovina účastníků dojela na nádraží Kadaň město a druhá polovina na žst. Kadaň u elektrárny Prunéřov. Díky mobilní komunikační technice jsme se nakonec sešli u nádraží ve městě a v následující sestavě: Jirka Fuchs, Martin Stupka, Tomáš Kamenský, Ondřej Vonka, J. a D. Lakosilovi jsme nedočkavě vyrazili na průzkum linie, ačkoliv počasí zprvu nevypadalo nikterak příjemně.
Průzkum jsme začali v prostoru Královského vrchu pod "velkou gulou". Jak jsme posléze zjistili, podkrušnohorské linie LO vz. 36 jsou typické výskytem tzv. 36-kových kopečků (obdoba poválečných užatkových kopečků). Tyto zdejší kopečky se vyznačují nadměrnou koncentrací objektů vz. 36 (tři objekty po obvodě tvoří kruhovou obranu vyjma týlového prostoru). V případě kopečku u Kadaně byla obrana zesílena i několika řopíky, které stojí doslova pár metrů od LO 36. Velice vhodná oblast pro areál LO!
Naopak řopíky nás pro změnu překvapily provedením s nezvykle "plochými uchy", s Jirkou jsme se podivovali např. nad neobvyklou hrdlovou trubkou pod nasáváním ventilátoru. Některé řopíky i LO 36 byly poškozeny, většina z nich je bohužel znečištěna nejrůznějším odpadem. Největší překvapení nám způsobily stovky krabiček od cigaret v objektu č. 3. Naopak řopík č. 1 je pravděpodobně rekonstruován a okolí je částečně vysekáno a interiér vyčistěn. Celkově jsme v prostoru severovýchodně od Kadaně prozkoumali 5 objektů vz. 36 a 7 objektů vz. 37. Neméně zajímavé bylo i tzv. "kadaňské vřídlo", které vyvěrá poblíž objektu č. 5.
Po odebrání dostatečného množství "vzorku" z okolí Kadaně jsme se tedy přesunuli do Klášterce nad Ohří. Zde se dochoval opět velice unikátní 36-kový kopeček (objekty č. 23, 24 a 25) , tyto tři objekty jsou umístěny v nezvykle malých rozestupech po obvodě vyvýšeniny. To nelze popsat, to se musí vidět! Jelikož nám ještě zbyl čas, zajeli jsme se podívat na objekty č. 18 a 19, taktéž nedaleko Klášterce. Oba jsou nechutně zarostlé, ale přístroje GPS vedly neomylně naše kroky k cíli i přes trnité křoví. Po znovuzaměření a zdokumentování těchto objektů jsme se rozloučili a vyrazili do svých domovů. Plzeňáci pravděpodobně ještě stačili po cestě prozkoumat nějaké řopíky, avšak v době psaní tohoto článku mi jejich další kroky nebyly známy.
Celá akce se skvěle vydařila, po celou dobu panovala skvělá nálada a zcela jistě se do zdejší oblasti ještě vrátíme.
---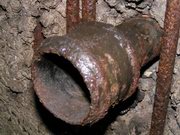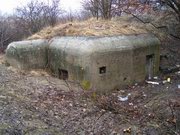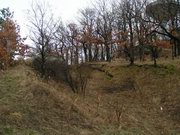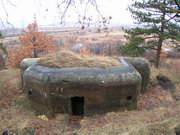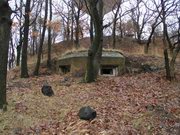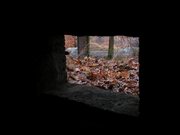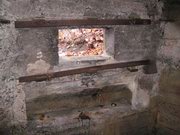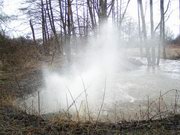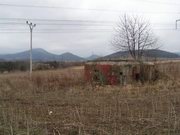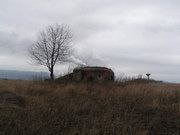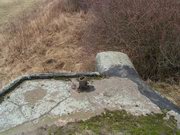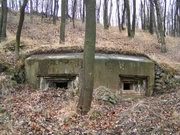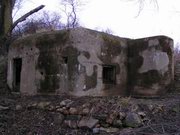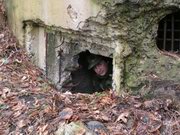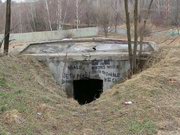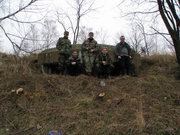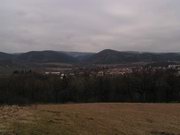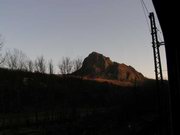 ---
---