Poválečné úpravy vybavení (prováděné v souvislosti s reaktivací LO( se nevyhnuly ani předválečným periskopům LO vz. 37.
Asi nejznámější úpravou jsou adaptace litinových periskopických trubic, které uráželi v některých objektech Němci v průběhu války nebo naši vojáci při ústupu v roce 1938. Nově vyráběné nástavce se dělily na horní a dolní, tvarově byly prakticky shodné s příslušnými konci periskopické trubice, pouze byly upraveny pro přichycení ke stropní desce, a to pomocí přírub, ve kterých byly 3 otvory pro kotevní šrouby M12, které se předem zabetonovaly na patřičných místech v objektu kolem ulomené trubice. Horní nástavec se navíc kolem dokola obetonoval. Tyto nástavce se nejvíce používaly na plzeňské čáře, v menší míře pak na Šumavě a jižní Moravě.
Výjiměčně se k opravě používaly i uříznuté nepotřebné periskopické trubice, které se ke stropu přichytily pomocí přivařených úchytů (okolí Kladrub).
V jednom objektu LO na Záhorie jsem si všimnul i poválečné úpravy, která řešila problém opačně zabetonované periskopické trubice. Horní konec, který byl nyní uvnitř objektu, neumožňoval zavěšení periskopického závěsu DZ-25. Proto bylo na trubici navlečeno mezikruží a to zajištěno na trubici třemi šrouby. Bohužel fotografii nemám.
Úpravám se nevyhnuly ani závěsy periskopů. Po válce se začala systematicky řešit otázka zajištění závěsu proti násilnému vytažení zvenku. Trubice byly v patřičných místech provrtány otvory různých průměrů (dle oblastí) a to zepředu i z boku (častější). Pro zajištění se používaly nejrůznější kolíky nebo ohnuté dráty s očkem. Pro jižní Moravu bylo typické použití kolíku, který byl k závěsu přichycen řetízkem. Spojení zajišťoval ocelový kroužek (stejný jako se používá běžně na klíče). Ten byl volně přichycen k závěsu pouze provlečením stahovacího šroubu, který byl součástí každého závěsu (rukojetí). Druhý volný konec řetízku byl (ne vždy) opatřen závlačkou a po protažení kolíku periskopem sloužil jako pojistka proti vypadnutí kolíku. Na Šumavě se požíval k zajištění pouze jednoduchý ohnutý drát s očkem na konci, podobně tomu bylo asi i na plzeňsku. Za poválečnou úpravu lze považovat i používání nově vyrobených poválečných stahovacích šroubů, jejichž použití jsem v několika případech též zaznamenal (viz fotografie).
Samotné periskopy z předválečné produkce byly podobně jako závěsy provrtávány kvůli zajištění proti vytažení zvenku. Tyto úpravy však byly zřejmě prováděny až v objektech a otvory v závěsech a periskopech z různých objektů málokdy správně pasují.
Pro muzea LO prezentující stav z roku 38 tedy plyne, že používání oblíbených kolíků s řetízkem je v tomto případě nepřípustné, stejně tak jako provrtaných závěsů DZ-25 a periskopů (u těch dodatečné provrtání není při zasunutí v závěsu tolik patrné). Jakým způsobem se však periskopy zajišťovaly před válkou není zatím jasné. Z archivních podkladů pouze plyne, že v některých oblastech I. sboru vojáci provedli jednoduchou úpravu proti vytažení. Dle ŘOPu měli zbrojíři vyrobit a osadit rozpěrky, jejichž tvar mi však není zatím znám.
Pokud v objektu nebyla osazena periskopická trubice, otvor byl v horní části ucpán vhodným kulánem a zespod proti vytažení zajištěn drátem a vzpěrou. Podobně se to řešilo pravděpodobně i před válkou pokud periskop chyběl.
---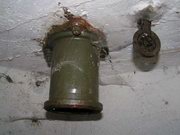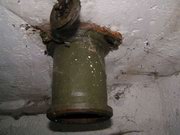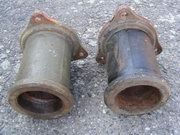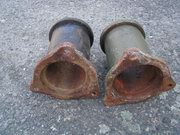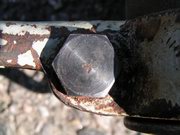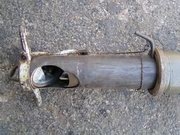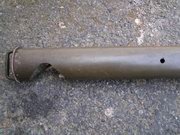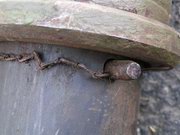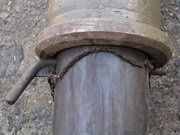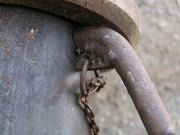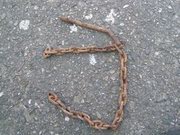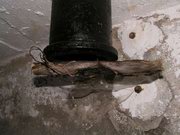 ---
---