Kabelový vstup
---
Od dob, co jezdíme na Boudu a do jejího okolí asi všichni známe řopík s diamantovým příkopem. Mnozí z nás ho navštívili nesčetněkrát. Tento objekt je a byl zajímavý po mnoha stránkách. Například já jsem zjistil až po letech, že je vlastně taky šikmý. Dobu, kdy měl téměř kompletní výdřevu si asi vzpomíná už jen málo lidí - jo, už tam není, někdo ji před lety vytrhal... Taky měl mřížová i ocelová dvířka (i když poškozená), ale to už je taky dávno. No a nesmíme zapomenout na ten diamanťáček s odvodem nábojnic...
Před 2 lety jsem poctivě fotil všechny objekty LO v okolí Boudy a tak jsem nevynechal ani tento řopík. Když jsem jiným předváděl tyhle fotky, zjistil jsem, že není zcela známa skutečnost, že z trubky kabelového vedení vyčnívá původní kabel. Nutno dodat, že u jeho souseda je tomu stejně (objekt č. 59). Takže fotky předkládám.
Ke vstupům pro kabel toho víme málo. Bylo odpozorováno v terénu, že většina objektů z roku 1938 má trubku pro kabel a pro "vzdušné vedení". Píšu že většina objektů, protože některé objekty "vz. 38" tyto trubky nemají a některé mají místo těchto dvou třeba jednu silnější cca nad otvorem pro nasávání ventilátoru (říkáme ji tajemně trubka "T"). No a pak jsou vyložené raritky - například Karel Krchov kdysi objevil objekt, který má trubku pro kabelové vedení umístěnou ve výši zámku mřížových dveří - spekulace bunkrologa pak může hovořit o tom, že během betonáže na trubku zapomněli a tak ji osadili, až si na to zase vzpomněli...
Archivní podklady k této problematice zatím nejsou. Máme jen jeden - ze Slovenska, který určuje "Osazení trubky pro vývod telefonního kabele" (sklon 1:4, vyústění nad hladinou nejvyšší záplavové vody apod.). Nicméně umístění trubky u jednotlivých typů objektů nesouhlasí s tím, co známe - alespoň tedy v Čechách a na Moravě. Faktem je, že na Slovensku tomu tak může být a tak se na to zaměříme, až najdeme zase nějaký stojící objekt z roku 1938 (byť výkres je z roku 1937...). Howgh.
---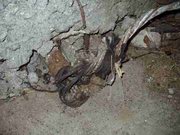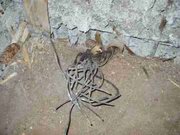 ---
---

Vloženo: 27.3.2005
Autor:
Tomáš Svoboda
---