O velikonočním víkendu jsem s bunkry opravdu nezahálel, ačkoliv s průzkumem polských opevnění se to srovnávat nedá :-). Na sobotu byla již naplánovaná akce na Znojemsko, o jejímž průběhu podává zprávu moje asistentka Markéta, která se aktivně zúčastnila průzkumu a pořád nás nutila i přes naše celkové vyčerpání zkoumat další a další řopíky.
Po zimní výpravě na Šobes, zákonitě následovala výprava jarní, a to doslova. 24. března, kdy jsem se s Honzou Lakosilem a jeho tátou vydala opět na průzkum, bylo krásné jarní teplé počasí, a tak největší námahu dávalo odhazování svršků.
Program byl jako vždy pestrý a náročný. Nejprve bylo v plánu nalezení střeleckých lavic v řopíkách u Strachotic, které byly, jak jinak, co nejdál od civilizace a v krásně rozoraném poli. Jediné, co mě na tom poli potěšilo bylo to, že jsme našli podkovu pro štěstí, a štěstí jsme opravdu měli, jelikož lavice, pro kterou jsme měli namířeno, skutečně byla tam, kde jsme ji čekali. Do objektu VEČ 478 s protiatomovou úpravou, se mi ale vůbec nechtělo. No jo, ale zase mě zlákali, a je pravda, že tu lavici jsem si nemohla nechat ujít. A tak jsem při vstupu (pádu), smetla všechny ty pavučiny, kterými šachta oplývala a skončila mezi dvěma žábami a kostrou srnce – fakt zážitek. Při škrábání se ven, jsem se ale bohužel už moc nesmála, kdybych tam totiž byla sama, respektive s obojživelníky, asi bych tento článek ani nemohla napsat, snad by mě tam někdo z bunkrologů někdy našel… A tak jsem s pomocí statných mužů vymetla ten pavučinový zázrak znova. Lavici jsme tam ale, pro mě zprvu z nepochopitelných důvodů, ponechali. Takže kdo o ni má zájem, může si ji ve výše jmenovaném objektu vyzvednout. Kdo dřív přijde, vyhrává zkrácenou střeleckou lavici pro levou místnost.
Po průzkumu dalších řopíků (do kterých jsem v případě jejich vchodu v podobě šachty odmítla znovu vkročit), jejich zdokumentování a propípání okolí detektorem, jsme se vydali do Slupi. Tam jsme navštívili opět několik objektů vz. 37, které se opět všechny nacházely v poli. Nejdůležitější misí v tomto úseku byla demontáž nástavce periskopické trubice z řopíku obydlovaném divokou kočkou, která se naštěstí v místě bydliště momentálně nenacházela (ale svým doprovodem jsem na to byla patřičně připravována) a také prohledávání několika objektů detektorem.
Jenže českému bunkrologovi se jen tak něco nelíbí, "to je moc zrezlý, to je takový a to taky neberem"… No jo, člověk se pořád učí, a bunkroložky o to víc. Demontáž periskopického nástavce se tentokrát konala bez mé účasti, zaprvé kvůli již zmiňovanému vchodu, zadruhé kvůli možnému návratu kočky, zatímco já z dálky pozorovala auto před případným vykradením velice podezřelými blízkobydlícími. Poté co si pánové s úsměvem odnášeli součástku, zamířili jsme k Vrbovci hledat řopík zdokumentovaný na jedné z našich dobových fotografií. Jedná se o LO vz. 37 A- 180 zničený Němci a Rakušáky v roce 1938. Naše radost při jeho objevení se nedá jen tak popsat, naše částečné zklamání v tom, že byl časem doplněn i o jiné betonové kusy bůhví z čeho, také ne. Přesto nás jeho nález ve stavu identifikovatelném podle fotky po tolika letech potěšila. Náš průzkum byl tedy završen velice příjemně. Kromě skvělých zážitků jsem si odnášela dokonce dvě podkovy a paroh… Kdo by to čekal, že. Zároveň jsem dospěla k názoru, že bunkrolog se může kromě problematiky objektů vzdělávat i v oborech biologie a "kostrologie" (viz námi objevená noha žabí, srnčí a prasečí – fakt super).
Neděle byla odpočinkový den, ale přesto jsem kolegovi Černému cvičně rozebral lafetu vz. 37 do posledního šroubku, aby ji mohl pořádně vyčistit a natřít. Též jsme opravili posuvný uzávěr z LO vz. 36 a dohodli se na dalších bunkrologických aktivitách na JM.
V pondělí měli rodiče v plánu návštěvu babičky v domově důchodců ve Velkém Újezdě nedaleko Jemnice. Ačkoliv většina jiných mužů pobíhala tou dobou s pomlázkami (a s alkoholem v krvi), my jsme vyrazili ráno směr JM. Po splnění návštěvních povinností a doplnění stravy v Moravských Budějovicích jsem po obědě zavelel směr Vratěnín, neboť blízkosti linie LO úseků 3 a 9 Jemnice nešlo odolat. V řopíku ve Vratěníně se mi konečně podařilo demontovat zbytek lafety vz. 37. Posléze jsme se přesunuli k Mitrovu, kde jsem si nafotil dva reaktivované řopíky z úseku 9 a u jednoho z nich (VEČ 233) jsem identifikoval poválečně zazděnou střílnu. Jinak se toho od mé poslední návštěvy před 5 lety moc nezměnilo, obě ramena lafet vz. 37 v objektu VEČ 232 stále odolávají všem pokusům o demontáž.
Dalším cílem byl průzkum Podhradí nad Dyjí. Zdejší řopíky jsem už kdysi několikrát procházel, ale opakování je matka moudrosti. Velice zajímavý je objekt vz. 36 se dvěma bočními střílnami, či pěkné očistěné déčko, z něhož nejmenovaní kolegové z řopíků v Karlštejně a Berouně odnesli pancéřové dveře :-). Podhradskou lahůdkou jsou však vykloněné střílny u mnoha objektů druhého sledu a též zřídka se vyskytující objekt typu E-1, které jsem si nemohl nechat ujít. Objekty se navíc díky vegetačnímu klidu výborně hledaly.
Musím uznat,že to byly příjemně strávené Velikonoce, ale asi jsem se zase přebunkroval. A to zítra odjíždím na několik dní na Slovensko hledat řopíky kolem legendární kóty Piesok západně od Lučence. Pokud bych se náhodou nevrátil, najdete mne v ústavu pro choromyslné, neboť se z těch bunkrů asi brzo zblázním...
---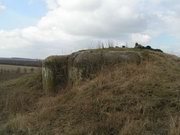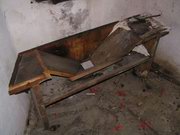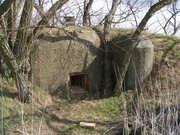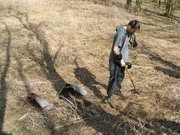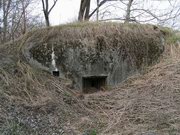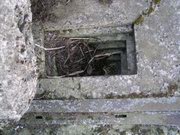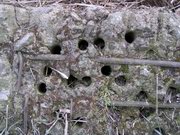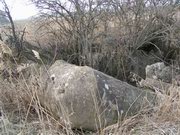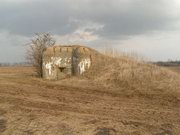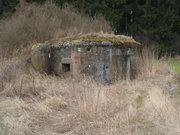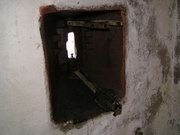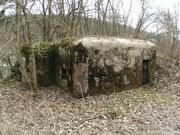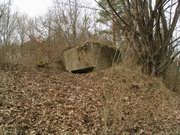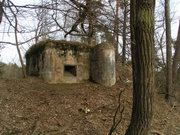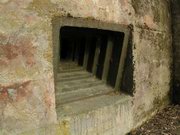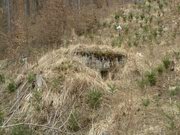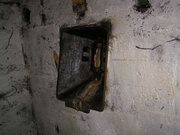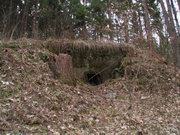 ---
---