Podzemí v Měcholupech
---
Takže pánové. Nejdříve bych měl napsat, že se jedná o článek napsaný "horkou jehlou". Je to spíše aby se čtenáři natěšili na jeho pokračování, resp. zdokonalení, které přijde po víkendu..
V neděli 10.4.2005 jsem byl na návštěvě za mojí kamarádkou Markétou a vznikla otázka co dělat.. Ještě s náma byl jeden kamarád, který navrhnul jít do podzemí. Už jsem v něm párkrát byl, ale jen bez baterky, takže na krajích.. Takže jsem byl pro. Kamarádka zůstala venku.. prý jí tam nikdo nedostane ani párem koněů.. a popravdě jsme to zkoušeli, ale marně. Tak jsme se ponořili do útrob podzemí jen s kamarádem a zalezli asi do půlmetrové díry v zemi..
Upozorňuji, že většina fotek vznikla díky tomu, že jsem sebou měl dost chabou baterku a svítil jsem si bleskem abych někam nezahučel.. Ale v pohodě.
Takže, jedná se o komplex chodeb a prostor, vykopaných a vybudovaných v kopci uprostřed obce Měcholupy (u Žatce). Kdysi to bylo prý skladiště piva pro blízký pivovar a předtím se tam údajně snad i pivo dělalo.. zjistím. Na co jiného by byla řada komínů, která z koncí chodeb vedou nahoru.. Mimochodem komín je na obrázku znázorněn tečkovaně a vyplněn tužkou. Nákres je zatím jen dost orientační.. upřesním. Chodby mají obloukové stropy, takže dost vydrží a vypadají dost neporušeně. Propadliny nebo něco takového nikde není..
No je to tam dost zajímavé a už se těším na pátek až tam zase zalezu s pořádnou baterkou.. a kámoška prý půjde taky, to bude legrace.. :-) Má dědu kronikáře, takže zjistím něco víc..
Pokračování příště.
Zdroje a literatura:
http://www.mecholupy-sc.cz/
---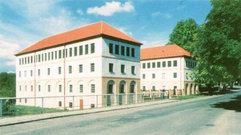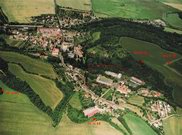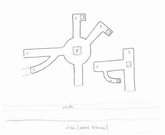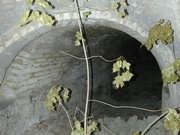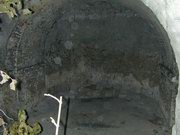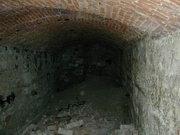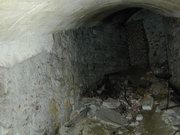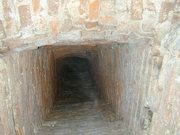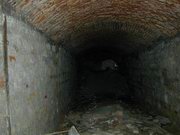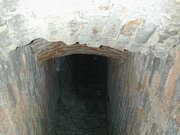 ---
---

Vloženo: 11.4.2005
Autor:
Ondřej Vonka
---