Z praxe všichni známe situace, kdy lze najít objekty se šikmo osazenými střílnami.
Podle archivu tato situace měla jakýsi vývoj, který je zajímavé poznat. Zvláště bunkrologovi zabuší srdíčko, když může najít i objekty, kde výjimky potvrzují pravidlo…
Vertikálně nakloněné střílny:
Čj. 21987 z 23.2.1937:
Tam, kde by se nevystačilo s depresí –20 stupňů, což bude výjimkou, skloňte při osazování střílnu o potřebný počet stupňů.
Čj. 31400 z 26.7.1937:
Postupnými zkouškami bylo dokázáno, že naklonění střílny způsobuje změny odměru i náměru, které jsou tím větší, čím je úhel sklonu střílny větší. Proto až do konečného vyřešení příslušné speciální střílny zastavte osazování skloněných střílen.
Z archivu bohužel není zcela jasně doloženo kdy byla zavedena speciální (velká) střílna (+20/-30 st.), takže neznáme přesně dobu, odkdy se tyto střílny měly instalovat. Každopádně se jich podařilo osadit více než dost, není tedy taková vzácnost je v objektech najít.
Aby to nebylo jednoduché, lze najít o objekty se skloněnou střílnou, které byly stavěny prokazatelně v době, kdy již byla k dispozici speciální střílna.
Poznámka: S velkou střílnou se pojí i následující věc: oka pro upevnění lafety jsou dál od sebe (střílna je všeobecně vyšší, i střílnový otvor je vyšší) a tak tyto střílny vyžadovaly použití jiného druhu lafety.
Horizontálně vykloněné střílny:
Především na jižní Moravě se setkáváme s velkým počtem střílen, které byly při betonáži vykloněny do strany. Jako ostatně u více zajímavostí u III. sboru neznáme zatím žádné podrobnosti k této skutečnosti.
U Mikulova je dokonce objekt, který má osazenou střílnu více v týlu, tj. téměř do rohu mezi boční a týlovou stěnou, celkově dělá odchylka asi 12 st., takže z původního A-180 vznikla jakási "A-192". Faktem je, že je to ojedinělé řešeníčko.
Kdo by chtěl přesně změřit odchylku šikmo osazených střílen, může použít jednoduché matematické pomůcky, kterou najde v "Pokynech k vedení průzkumu lehkého opevnění" na této adrese: http://sweb.cz/khvbrno/zajem.htm (pomůcku vůbec doporučuji minimálně k pročtení). Nebo si zkonstruujte jednoduchý úhloměr…
Zdroje a literatura:
Fota já a Lakous
Směrnice pro budování LO
---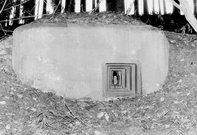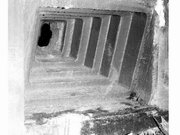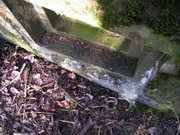 ---
---