Již dříve se podařilo zjistit, že jsou výjimečně k nalezení objekty s osazeným pouze jedním periskopem. Tyto raritky pochází s první výstavby řopíků. Normální by tedy měly být řopíky s dvěma periskopy. Jenže aby to vše nebylo tak jednoduché, postarali se nám pánové z ŘOP o ještě jinou lahůdku a to u objektů typu B.
Zase by se dalo říct, že osazení periskopů u béček je normální tehdy, pokud boční střílna má svůj periskop a čelní střílna pak má periskop také, ale umístěný mezi čelní střílnou a středem objektu (my to označujeme jako periskop "uprostřed"). Pro ilustraci můžete nalistovat na tomto webu typologii LO 37 typu B.
No a tak je nasnadě, že uvidíme periskop pro čelní střílu umístěný i jinak – a to na druhé straně od střílny, tj. na boku objektu. Objektů není zase až tak málo, aby se nad tím mávlo rukou, že jde o omyl.
Osazování periskopů u řopíků - konkrétně u typu B - mělo jakýsi vývoj:
Béčka byla zpočátku ochuzena o vymoženost pozorování periskopem, neboť bylo psáno, že "objekt je vybaven čelní stěnou a touto je možné také pozorovat, takže nepotřebuje periskopu" (Čj. 17700 taj. hl.št.ŘOP 1936 ze 7. ledna 1937).
Další vývoj byl osazovat jeden periskop na jeden objekt – i to mělo dle původních rozmyslů postačovat k potřebě pozorování. V tomto případě se periskopy osazovaly dle Čj. 21987 z 23.2.1937 (vždy byl perikop u typů A a B osazen poblíž stěny s ventilátorem ve vzdálenosti 35 cm od čelní stěny).
Čj. 28576 z 8.7.1937 hovoří již jinak: pro zlepšení pozorování a možnosti řízení palby u objektů LO nutno dáti obsluze každé zbraně jeden periskop …. Kdyby se snad dočasně trubic pro periskopy nedostávalo, ponechejte ve stropu příslušný otvor…. Sbory hlásí počty objektů, které budou míti dřívější úpravu – jeden periskop.
A od té doby mají béčka periskopy dva.
Kdyby však někdo hodlal napsat ságu o osazování periskopů, jistě může mít velkou naději na úspěch: blšanské okolí nabízí hned několik objektů na poměrně malém prostoru, kde z nejasných důvodů došlo k osazení periskopových trubic (troub, trub, rour…???) vzhůru nohama. Nezkoušel jsem to, ale asi by periskopický závěs v trubici nefungoval nejlépe. Další tip pro hledače anomálií je úsek D1b (doufám, že se nepletu), kde jsou osazeny periskopové trouby špatně – ze stropu čouhají méně a více, než mají. Asi nějaký stavařský šotek /Capoušek! :-) :-) :-)/, či co.
Zdroje a literatura:
Foto já
Směrnice pro budování LO
---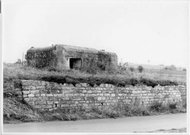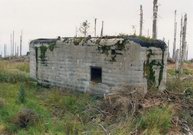 ---
---