Detaily osazení hlavní střílny
---
K problému detailu osazení rámu střílen několik poznámek:
Dle "Směrnic …" Čj. 17700 taj. hl.št.ŘOP 1936 ze 7. ledna 1937 není stav nijak podrobněji rozebírán, je konstatována pouze skutečnost, že v objektech zůstává vnitřní bednění. O osazení střílen nebylo blíže pojednáváno a především ještě nebyl hotov ani definitivní projekt hlavní střílny, protože první náčrty objektů naznačují jiné tvary střílen a i v textu teprve čekají na detaily projekty střílen a lafet. Každopádně je zde například zmíněna možnost dodatečného osazování střílen při nedostatku střílnových rámů v době výstavby (což někteří popírají, že by to vůbec bylo možné).
Již však výnos Čj. 23423 z 24.3.1937 přináší informaci o tom, že "střílny….budou lícovati s vnitřní stěnou objektu".
Příloha Čj. 28576 ze dne 8.7.1937 pak již uvádí vše na pravou míru a to velmi podrobně: " Při nynějším osazování rámů střílen s vnitřním lícem bočních zdí v krajních polohách odměru naráží mapa pro zajištěnou střelbu na zdi a proto nelze využiti plný rozsah odměru. Aby v budoucnu nebylo nutno zeď vysekávati, rozhoduje MNO hl.št. ŘOP, aby při stavbě dalších l.p.o. byl osazován rám střílny tak, že jeho zadní plocha bude tvořiti jednu rovinu (lícovati) s vnitřní plochou bednění.
Čj. 36309 z 10.9.1937: jak bylo rozhodnuto (dle Čj. 28576), vznikne u zdí 50 a 60 cm silných u vnějšího líce odstupek 33 mm (síla bednění). Tato změna NEBUDE provedena v polírních plánech a provádějí ji přímo stavební dozory na stavbě.
PS: u zesílených řopíků není zmiňována přítomnost dvou odstupků po 10 cm (někde třeba i jen jeden odstupek 20 cm)
Zdroje a literatura:
Foto já a Lakous
Směrnice pro budování LO
---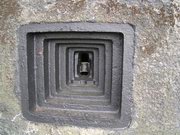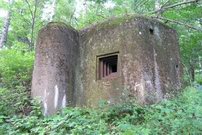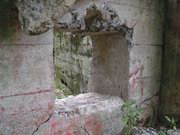 ---
---

Vloženo: 14.4.2005
Autor:
Tomáš Svoboda
---