Improvizované zavěšení LK 26 v LO
---
Při prohledávání řopíku v Lenoře, který minulý rok odkopal a částečně vyprázdnil kolega Hromádka (viz článek Bojovali jsme u Lenory), jsem narazil na háčky zašroubované ve stropu do výdřevy v obou střeleckých místnostech. Nebyl bych to já, kdybych nezačal koumat, k čemu tyto mohly sloužit. V úvahu připadá několik možností: pokud jsou z reaktivace - byly tam umístěny pro zachycení lanka štítu. V tom případě by ale nejspíše byly ve více objektech na stejných místech, ale tak tomu není. K uchycení držáčků protizávaží se na Šumavě v 50. letech používaly S háčky,kterými se oba držáčky vzájemně spojily nebo vruty zašroubované šikmo do bednění. Osobně jsem se přiklonil k variantě 1938 a po provedení praktické zkoušky v muzeu na Vranově, kde jsme háček instalovali podle lenorského vzoru, jsem o tom přesvědčen.
Pokud byl v objektu osazen závěs LK a ve dne nebylo osazeno zařízení pro nepřímou střílnu, bylo nutno kulomet zachytit, aby byl v pohotovostní poloze a "neskácel se" a hlavní nenarážel na rám střílny. To bylo možno provést pomocí řemenu k LK a právě onoho háčku. Posuďte z fotek sami. Netvrdím však,že můj závěr je 100% správný, ale je vidět, že je stále co objevovat a nad čím koumat. Na fotkách samozřejmě chybí podpěrný pultík.
Na závěr bych ještě rád poděkoval kolegovi Pavlovi Hromádkovi , že i přes jeho ujištění, že řopík č. 13 v Lenoře zcela vybral (aby mi prý nic nezůstalo), zanechal v objektu tyto zajímavé artefakty. Největší radost mi však udělal vrut na přichycení podpěrného stolku LK, který tamtéž také přehlédl. Jako zajímavost lze ještě uvést, že pevnůstka č. 13 v Lenoře měla po sousedním objektu č. 15 nejvyšší krychelnou pevnost ze všech objektů I. sboru. Stavební firma Jelínek a synové z Berouna zde dosáhla neuvěřitelných 738 kg/cm2.
Zdroje a literatura:
Nález v objektu 191/13/A-140Z
Kulomet ZB vz. 26 s řemenem :-)
---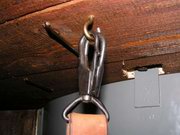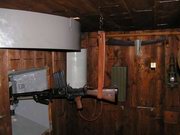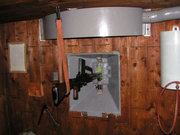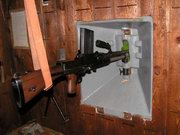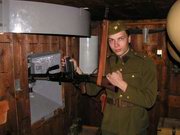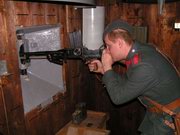 ---
---

Vloženo: 2.5.2005
Autor:
Jan Lakosil
---