Fotili a šli jsme v průvodu na Letné
---
Když už bylo jisté, že se zůčastním slavnostního pochodu na Letné,byl jsem rád,že po dlouhé době opět provětrám můj bycikl,který někdy používám k uniformě jako čs.cyklista.
Cesta do Prahy proběhla v pohodě až do chvíle, než jsme se v Praze optali jednoho mladíka, (který asi šel z restaurace) kudy se jede na Ruzyń. Místo doprava nás poslal doleva a tak jsme si nechtěně z auta prohlídli půl Prahy a ztratili časový plán. Nakonec jsme to našli i když některé situace na křižovatkách už byly doslova infarktové.
Po zaregistrování (dostal jsem na kolo i samolepku,prý technika jako technika) jsem byl příjemně překvapen, jak organizátoři bravurně zvládali takové množství jednotek a techniky. Pokoj jsme měli v desátém patře a výtah nejezdil,ale to nám nevadilo, protože na místě panovala dobrá nálada i díky polákům a rusům,kteří asi vyhlásili soutěž Ruzyń hledá superstar:-) Zábavné byly taky ruské motocykly, na kterých byla válečná kořist jako pytel brambor a nebo rádio. Samotná přehlídka podle mě dopadla na výbornou, velmi mě překvapil i častý potlesk od lidí (200 000) To je důkaz,že ostudu jsme tam rozhodně neudělali,ale protože jsem byl účastník, tak fotky z této akce nejsou moc na vysoké úrovni.
Bonbónkem pro mě bylo i setkání s našimi politiky anebo s generálporučíkem Františkem Fajtlem, prezident se dokonce zájimal i o naše uniformy a nejčastější otázka byla,jak se nám v tom pochodovalo:-) Odpoledne jsme se pokusili jet z Letné na kolech až do Ruzyně a ted´už jsem rád, že jsem doma a prohlížím si pamětní minci vydanou k šedesátému výročí ukončení druhé světové války v evropě, kterou dostal každý účastník této velkolepé podívané.
---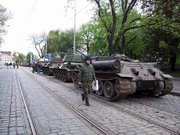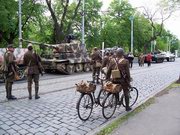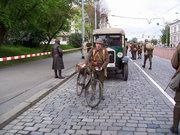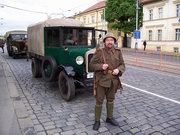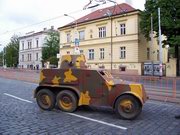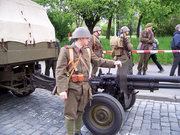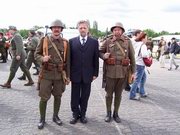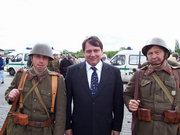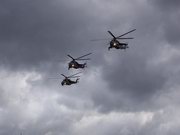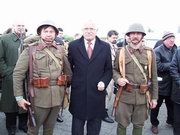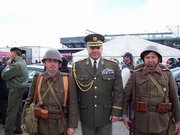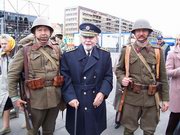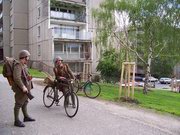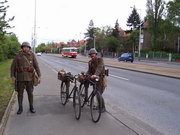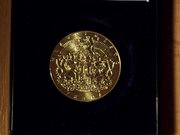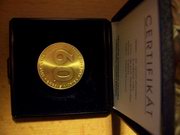 ---
---

Vloženo: 8.5.2005
Autor:
Roman Kubeček
---