Překážky v linii poválečného opevnění
---
Aby byla zajištěna vyšší neprůchodnost terénu, byly na vybraných místech linií palebných objektů budovány překážkové systémy podobně jako před válkou. Tyto jsou zatím stále ve fázi zkoumání a podařilo se nám najít jen několik zbytků na různých místech, takže v tomto nemáme příliš jasno.
Zdá se, že před některými liniemi kamenobetonových pevnůstek byly v první polovině 50. let stavěny klasické protipěchotní překážky z prasečích ocásků či z kol ostnatých drátů. Zda byly stavěny i v liniích POKů mi není zcela jasné, ale možné to je. Jisté však je, že na hlavních útočných směrech byly stavěny překážkové pásy s řadami betonových trojhranů (rohatek). Tyto pásy bývaly doplněny valem u čelní strany a zřejmě i ostnatým drátem, aby ji nebylo tak snadné zlikvidovat. Na fotkách dole je jen příklad použití jedné řady, překážky byly asi širší. I tak lze ale o jejich kvalitě polemizovat. Podobné překážky používaly Němci za války na Westwallu. Použití ocelových rozsocháčů v liniích opevnění nemám zatím potvrzené, ale v dobách železné opony se používaly kolem ŽTS běžně.
Narozdíl od železobetonových objektů překážky velice rychle mizí a většina jich byla zlikvidována při pádu železné opony či ještě dříve. Ač se to zdá neuvěřitelné, je dodnes možné najít dochované pásy protipěchotních překážek, které jsou dlouhé i několik set metrů.
---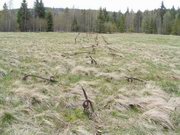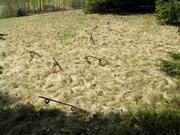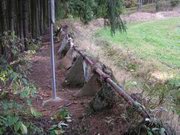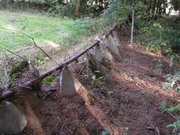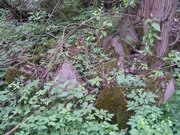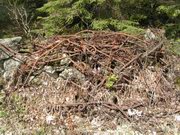 ---
---

Vloženo: 18.5.2005
Autor:
Jan Lakosil
---