Hned při první návštěvě mne na skořápce zaujalo použití betonového pilířku mezi I-profily. Později byla skupinkou nadšenců očištěna skořápka lomeného "áčka" č. 276. Když jsem ještě později uvažoval o objektech v Jitravském sedle, uvědomil jsem si, že se skořápek pro objekt typu E není asi mnoho a že by stálo za trochu práce ji vyčistit.
První akci jsem uskutečnil 9.1.2005. Leden byl relativně teplý a bez sněhu a tak šlo kopat i v tomto nestandardním termínu. Vybavil jsem se hliníkovou lopatou a na kopání si vzal lopatku polní. Zdánlivě dostatečné vybavení mne ale nakonec donutilo skončit-krvavé mozoly od polní lopatky překonaly veškeré odhodlání. Podařilo se mi očistit alespoň přední část skořápky až po pilířky pod stěnou s vchodovou střílnou. Přitom jsem zjistil,že beton je dost narušený, čelní stěna je dokonce vyvalená. Očistil jsem ale toho dost a plánoval další výpravu.
Další "brigádu" oddálila nejdřív pořádná nadílka sněhu a potom i jiné aktivity. Nakonec jsem vyrazil oslavit prací Svátek práce 1.5.2005. Protože jsem chtěl odkopat sesutý břeh zakrývající zadní část, vzal jsem si tentokrát mimo hliníkové lopaty i krumpáč a na očištění smetáček. Počasí bylo slušné,docela teplo a mouchy za chvíli kolem mne jen vířily. S chutí jsem se vrhl do kopání a odhazování. Drny, kořeny, kamení a těžký jíl jen lítaly-asi půl hodiny. To jsem se prokopal k pilířkům u vchodové části, ale jen ze mne lilo a záda také nějak protestovala. Snažil jsem se odkopat zadní část výkopu a tak jsem očistil profily v prostoru vchodu. Každý byl zalit samostatně a beton byl nalit přímo do vykopaných děr, o čemž svědčil nepravidelný tvar patek. To už jsem toho měl ale opravdu dost. Vykopal jsem ještě od vyhloubené zadní části odvodňovací rýhu v místech levé stěny a odházel se zatnutými zuby většinu sesutého břehu. Chtěl jsem jednak najít poslední pilířky u týlové stěny a taky udělat co nejvíc hrubé práce,abych se příště mohl více věnovat dočišťování této zajímavé skořápky.
Na definitivní dočištění jsem vyrazil 12.6.2005. S vědomím, že většina sesutého břehu už je mimo výkopu, jsem lehce stoupal s nářadím k objektu. Nejdřív jsem odstranil zbytek sesutého břehu a pak začal odkopávat celý povrch skořápky. Postupně jsem očistil všechny patky kolem profilů a pilířku a také opatrně odkopal hlínu kolem čelního betonového soklu. Ten je velmi narušený, betonová vrstva byla slabá a navíc asi místy dost nekvalitní. Nakonec jsem ještě prokopal odvodňovací stružku a mohl začít s měřením a detailní prohlídkou.
Vlastní výkop byl zarovnám do úrovně betonu patek distančních sloupků. V místě čelní stěny byl odkopán asi 20cm vysoký schod. Pro jednotlivé profily pak byly vykopány jednotlivé díry. I-profily byly zřejmě před zalitím betonem zatloukány, o čemž svědčí ohnutá horní část stojiny profilu. Pro čelní sokl byla použita jako bednění pravděpodobně jediná fošna široká 20cm umístěná zhruba 7cm před odkopaným schodem. Po zalití betonem tak vznikl "úhelník" se svislou stěnou vysokou 20cm o tloušťce kolem 7cm a vodorovnou plochou širokou kolem 50cm, silnou ale pouze 2-3cm. Vzhledem k značnému narušení lze těžko určit, zda vodorovná plocha byla po celé šířce skořápky.
Zajímavý je nalezený uražený betonový pilířek. Nikde jsem nenalezl k němu žádnou patku, pouze v levé přední části fragment betonu, který má v půdorysu obrys pilířku. Jedná se o tenkou "šlupku", navíc alespoň částečně z dost nekvalitního betonu. Ta ale dokazuje,že pilířek použit byl. Lze spekulovat o tom, že při výstavbě pro něj nebyla vykopána díra, ale byl jen zapíchnut oběma pruty do země a kolem nalito trochu betonu. O nějaké fixaci pak sice nemohlo být ani řeči, ale na první pohled to nikdo nepoznal…..
---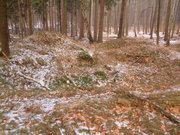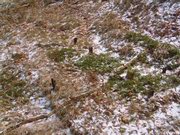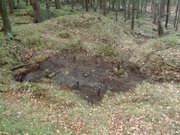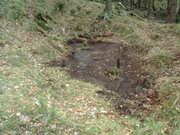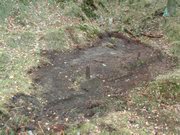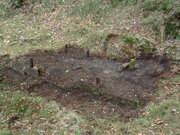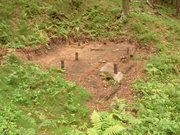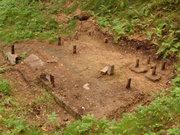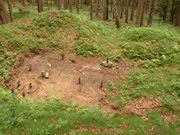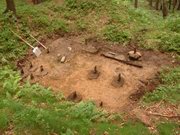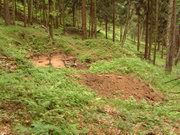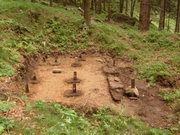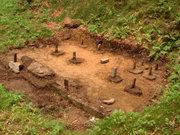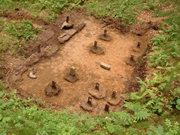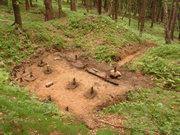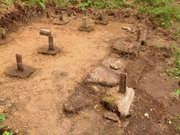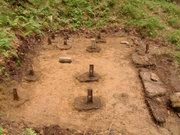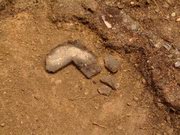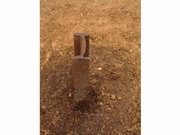 ---
---