Za řopíky v Krkonoších
---
Opevnění v Krkonoších pro mne stále bylo velkým lákadlem. Úskalím jsou dlouhé přístupové cesty a omezení KRNAPu. Základem pro výpravu proto byla předpověď celodenního pěkného počasí pro možnost fotografování teleobjektivem a přijatelných podmínek pro chození.
V noci na 18.6.2005 sice pršelo, ale den měl být slunečný. Vybaven foťákem, mapami, knihou "Opevnění v Krkonoších" a lahví minerálky jsem vyrazil autobusem směr Špindlerův mlýn. První zádrhel se vyskytl při přestupu ve Vrchlabí, protože jsme měli zpoždění a plánovaný přípoj byl pryč. Naštěstí za chvíli jela další linka a v 9.30 jsem mohl vyrazit z centra Špindlu. První zastávkou bylo opevnění kolem Dívčí lávky. Objekty úseku H-2 č. 68 A-140Z a č. 246 D1N jsou zazděné. U déčka je stručná informační tabule. V textu se píše o 2 kulometech a 7 mužích osádky, ale na náčrtku je déčko. Ale lepší než nic. Za ohybem cesty jsem objevil dva betonové pilíře a za nimi kamennou zeď-možná tady byla lanovka pro dopravu materiálu.
Následovala turistická část cesty Labským dolem na Labskou boudu. Nejdřív se jde po asfaltu a od přítoku Pudlavy navazuje pěkná kamenitá stezka. Převýšení cesty na Labskou boudu je asi 540m, ale není to vcelku nijak náročné. Byl pěkný výhled na Železný vrch, kde měla být postavena linie LO a zaujmou i srázy Labského dolu s Pančavským vodopádem.
Na Labské boudě už začalo dost foukat a žádný teplý větřík to nebyl. Poučen zkušeností před několika lety, kdy jsem na Harrachových kamenech v triku a krátkých elasťákách za stejného počasí umrzl tak, že jsem nebyl schopen ani fotit, jsem se tentokrát dobře vybavil. Vyrazil jsem po Bucharově cestě směrem k Vrbatově boudě a kromě nádherných výhledů pátral po "betonu". Cesta míjí zesílený řopík č. 40 a u něho je opět informační tabule a ohrazená cestička. Vnitřek ale nijak čistý není. Pro turisty je to dost atrakce, udělat pár fotek bez pobíhajících lidí mi chvíli trvalo. Odtud k Vrabatově boudě a potom cestou k rozcestí U čtyř pánů je stále na co se dívat. Cestička odbočuje ještě k druhosledovému objektu č. 221 A-180N, kde jsou krásně zachované špalíky pro šrouby lapačů a lafet. Vpravo od cesty se pak nalézá výkop těžkého objektu KrK-K-S II a vlevo od něho střelecký okop.
Z rozcestí U čtyř pánů jsem pokračoval po České cestě. Jsou z ní opět pohledy na obě linie kolem Harrachovech kamenů a také objekty na Kotli. Cestu přetíná protitankový příkop, který měl být postřelován z pravé kasematy objektu KrK-K-S I, jehož výkop s deponií štěrku je rovněž vidět pod cestou za Růženčinou zahrádkou. Po obejití úbočí se nade mnou vynořil dominující objekt č. 213 A-140N a vpředu z kleče vystupovaly stropnice objektů v Kotelském sedle č. 212 a 211 A-140N. Pořídil jsem ještě několik fotek a začal sestupovat dost otravnou cestou přes Dvoračky do Harrachova. Tady už přestalo foukat a tak oblečení skončilo zase v batohu.
Poslední "ohnisko" řopíků jsem minul na Rýžovišti. Z časových důvodů jsem ale nemohl už po ničem pátrat,a tak jsem to odložil na další výpravu. Prošel jsem Harrachovem a zamířil k vlakovému nádraží. Jeho význam se dnes proti předválečnému stavu blíží nule a tomu odpovídá i jeho stav. Při čekání jsem vcelku náhodou objevil mezi plakáty malé upozornění, že do konce června je výluka a jezdí náhradní přeprava autobusy. Bohužel podle popisu staví v Novém světě u hospody, která ani není na mapě. Vzhledem k tomu, že je to vzdáleno asi 3km zpět na kraj Harrachova a do odjezdu zbývalo sotva 15 minut, rozhodl jsem se raději pokračovat až do Kořenova a přitom ještě obhlédnout železniční most přes Jizeru. Přes počínající šero se mi povedlo i pár fotek a po 20.00 hodině jsem už seděl ve vlaku.
---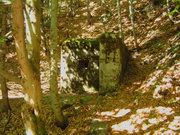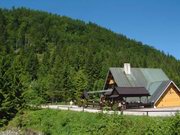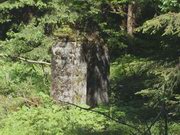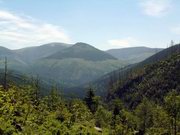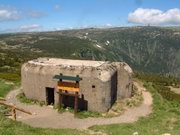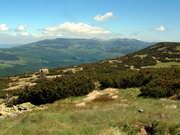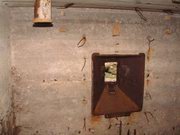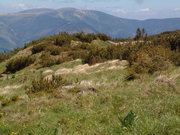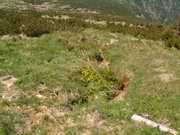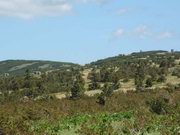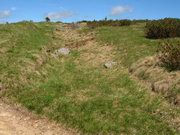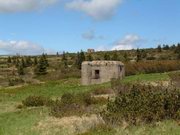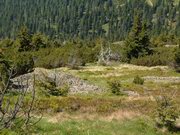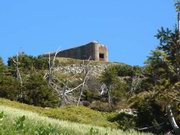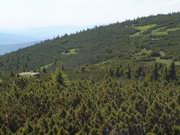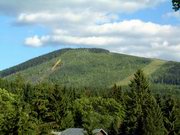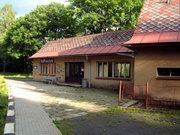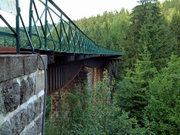 ---
---

Vloženo: 19.6.2005
Autor:
Libor Martinů
---