Palebné stanoviště
---
Stanoviště z kterého byly prováděny postřelovací zkoušky betonových terčů v roce 1935 jsem hledal několik let. Jak už to bývá hledáš-li něco v lese, najdeš to u cesty a tak když jsem byl při nedávné návštěvě cílové plochy Brda přiveden k "nějakému základu věže" zajásal jsem, neboť se nejednalo o žádné základy ale fortelně provedený palpost.
Postavení se nachází prakticky přímo ve středu pomyslného oblouku, který půdorysně vytváří obě řady terčů (slengově zvaných pro svojí podobu "velké kulové"). Kromě samotného betonového podstavce na první pohled zaujmou především zabetonované profily, sloužící k ustavení správné polohy lafety zbraně.
Více informací o betonových terčích a postřelovacích zkouškách najdete zde. Ze shodného místa však byly pravděpodobně postřelovány i zkušební objekty vz.36 postavené na vzdálené cílové ploše Jordán, neboť uvedená vzdálenost na kterou palba probíhala - 5600 metrů přesně odpovídá vzdálenosti těchto objektů z tohoto místa. Jenom pro zajímavost možno uvést, že z tehdy vystřelených čtyř stovek ostrých nábojů, jen dva dopadly do blízkosti zkoušených pevnůstek a to i přes to že obě místa byla pečlivě geodeticky zaměřena. Tím se potvrdila velmi malá zranitelnost malých bodových cílů nepřímou střelnou.
---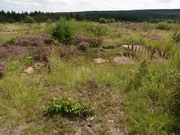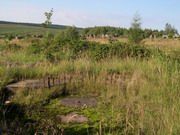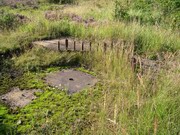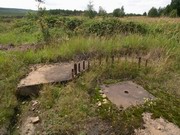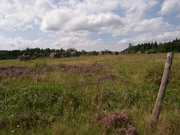 ---
---

Vloženo: 6.10.2005
Autor:
Tomáš Kamenský
---