Před asi 1 rokem jsem se začal věnovat fotografování interiérů lehkých objektů. Za tu dobu jsem postupně zdokonaloval metodiku této činnosti a tak se ji pokusím shrnout v tomto článku.
Důvodů, které mne vedly k této soustavné činnosti, bylo několik. Jednak jsem během minulého roku prakticky nafotil exteriéry všech objektů, které se nacházely v rozumném dosahu. Dále to byla soustavná devastační činnost "sběračů kovů", po jejichž nájezdech zůstávají jen betonové skelety ( ještě že zatím neexistuje žádný Betonšrot s.r.o., to by brzy mnoho úseků připomínalo Pražskou čáru) a avizovaná snaha AČR zbavit se opevnění a s tím související pravděpodobnost zániku mnoha pevnůstek nebo jejich nedostupnost. Objektů i nyní stále ubývá a tak se za nějakou dobu možná budeme jen dohadovat, jak vlastně v detailech vypadaly. Nakonec je to snaha získat dostatek podkladů pro identifikaci historických fotografií, kde je často nutný i detail pro určení objektu.
Základní myšlenkou toho projektu je nafotografovat každý objekt tak, aby na základě této dokumentace bylo možno zjistit jeho celkové provedení. Jako podklad jsem použil "Tabulku pro průzkum LO. Při vlastním fotografování neuvažuji, zda ten který prvek je něčím zvláštní, ale o faktu jeho existence a nutnosti zaznamenání.
Nyní k vlastní metodice. Jako příklad uvádím typický objekt typu A z II. sboru, kde z kovových prvků najdeme maximálně mříž a dále jen holý beton. Ačkoli mluvím o interiérech, s focením začínám už venku. Pořizuji detailní snímky střílen, obou výduchů, vyústění granátového skluzu, háků pro maskovací sítě (z různých úhlů), rour periskopů, případně okopů, průseků nebo celkové konfigurace umístění v terénu. Poté pokračuji průchodem objektem. Začínám celkovým záběrem vchodu, následuje celkový snímek mříže a detaily jejího horního závěsu (kapsy) a západky. Pokračuji vchodovou střílnou, mřížkou sání, trubkami u stropu i u podlahy a gulou (pokud zrovna vchodová chodbička není zasypaná vším možným). Následuje rám pancéřových dveří-horní a spodní závěs, případně otvory pro jazýčky. Omítnutá stěna za tímto rámem si rovněž zaslouží snímek. Nyní jsem v pravé střelecké místnosti. Pořizuji celkový záběr od vchodu a od čelní stěny a dále detaily roury odtahu se šrouby (kapsami) lapače a čepu pro zavěšení nádržky pro vodu na chlazení hlavní. Vlevo od střílny fotím detail roury periskopu opět se šrouby (kapsami) lapače. Zdokumentovat je třeba i šroub (kapsu) lapače ve stropě. Dále pořizuji celkový záběr střílny se šrouby (kapsou) lafety,detail středu střílny, aby byla patrná eventuelní přítomnost špalíku a detail závitů ve spodní části. Pokud jsou v podlaze žlábky pro chlazení hlavní a gula, pořizuji další snímky. V pravé místnosti končím záběrem podél čelní stěny do levé místnosti. Ve spojovací chodbičce zdokumentuji ze dvou směrů vchodovou střílnu a konzoly ventilátoru (aby byly patrná existence otvorů pro ventilátor). Buď na těchto nebo samostatných snímcích zachycuji polohu trubek u stropu i podlahy. Přecházím do levé střelecké místnosti, kterou zabírám stejným postupem jako pravou, navíc přidávám granátový skluz.
Toto je taková základní "kuchařka". V mnoha objektech ale lze dokumentovat další detaily: čísla vyražená na střílnách, čísla na vchodových střílnách, čísla na víku granátového skluzu, zbytky výdřevy, otisky popisek, pilířky v nedokončených podlahách nebo nejrůznější poškození. V oblastech, kde se nalézají reaktivované objekty, je škála záběrů často daleko větší-prefabrikované chodbičky, pancéřové dveře, lapače, pozůstatky lafet a jejich čísla (ta jsou mimochodem velmi fotogenická), stolky na výměnu hlavní nebo nastavené roury periskopů.
Nyní je tedy hotova základní fotodokumentace a přistupuji k další části a tou jsou fotografie rozměrů. Za tím účelem přikládám bílý skládací metr a pořizuji většinou záběry v režimu makro. Tímto způsobem dokumentuji například zahloubení ve stěně za pancéřovými dveřmi,výšku hlavních a vchodové střílny od podlahy,výšku a délku konzol ventilátoru, vzdálenost trubek zemního a vzdušného vedení od stěn, výšku GS od podlahy nebo polohu čepů pro nádržku.
Na závěr ještě několik technických poznatků. Pořízení dokumentace jednoho objektu obnáší zhruba 50-80 fotografií a je tedy náročné na kapacitu záznamového média, baterie i čas-kompletní dokumentace 1 objektu (včetně exteriéru) se může protáhnout až na 45 minut! Provozování této činnosti s klasickým přístrojem je prakticky nereálné. Osobně používám Fuji Finepix S 6900 (nově S9500 s objektivem o ohniskové vzdálenosti 28mm) s externím bleskem Metz 36 C-2. Vestavěný blesk nemá dostatečnou výkonnost a používám ho pouze při režimu makro na snímky např. čísel nebo znaků. Pokud je beton vlhký, pohlcuje daleko více světla a i při použití přídavného blesku je třeba měnit často nastavení. Rovněž pokusy s odrazem světla od stropu lze doporučit jen při existenci omítky. Protože prostor je dost omezený, je daleko výhodnější širokoúhlý objektiv. Při samotné kompozici snímku platí jedno velice nevhodné pravidlo: stíny, které vytvoří blesk, jsou vždy na záběrech, kde je nepotřebujeme a naopak. Například dokáží zcela devastovat snímek mříže, ale při fotografování kapes pro šrouby pro neosazenou vchodovou střílnu je získáme jen velice obtížně. Při pořizování detailů nesmíme zapomínat na celkový záběr-sebelepší záběr trubky nad vchodovou střílnou nám nic neřekne o jejím umístění a velikosti bez nějakého dalšího určujícího prvku. Pro účely archivace snímků je vhodné si stanovit určitou následnost záběrů-při přebíhání z jedné strany objektů získáme řadu snímků (hlavně detailních), které nedokážeme s jistotou určit. Pro "rozměrové" snímky je vhodné použít bílý skládací dvoumetr. Někdy je jeho přiložení poněkud obtížné-má tendenci různě se sklápět. S výhodou lze použít různé svěrky, ale ani to není všelék. Rolovací se sice lépe přenáší, ale jeho umísťování je ještě obtížnější a navíc většinou dochází k jeho lámání a tím nízké životnosti. Musíme také vyzkoušet, na jaké rozlišení fotoaparátu a jakou vzdálenost jsou ještě rozeznatelná číslo na metru a také hlídat nežádoucí odrazy, aby na snímku nebyla jen přepálená bílá šmouha.
Jako příklad jsem použil fotografie L1/270/A-120N lp, dále z několika objektů v okolí Stříbra a "měřicí" jsou z K-3 Dlouhá hora.
Pokud se někdo nechá inspirovat, mohu mu jen popřát hodně úspěchů a nových poznatků při této bezesporu velice ujeté činnosti.
---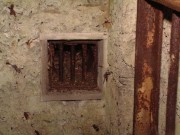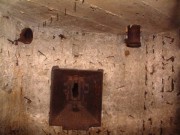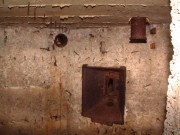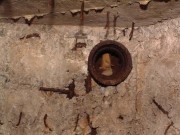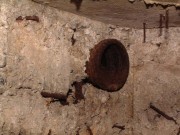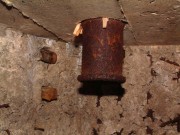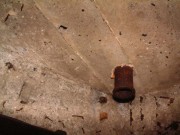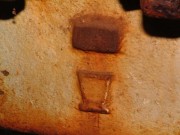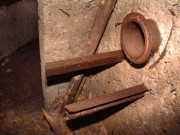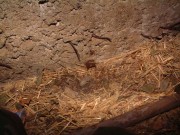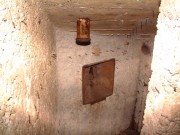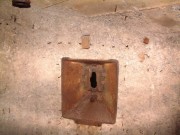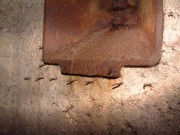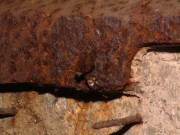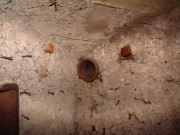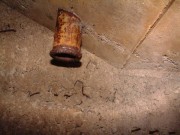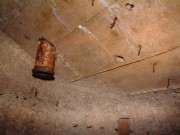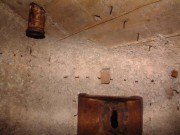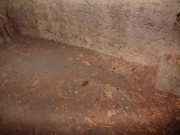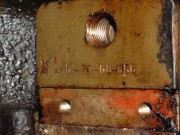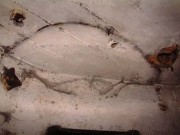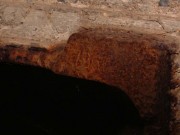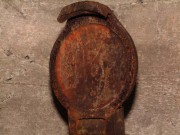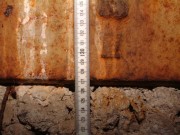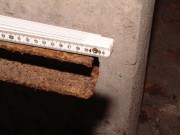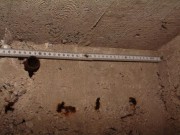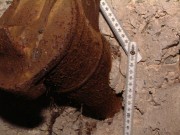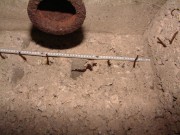 ---
---