Originál je vždy lepší, než kopie
---
Šatov – 24. června 2006 - Avizované slavnostní otevření Areálu vojenského opevnění Šatov shlédlo nakonec několik stovek účastníků. Rozhodli jsme se s Honzou, že při této příležitosti musíme "vypusinkovat" i náš řopík č. 2121 aby vedle kvalitně zrekonstruovaného srubu MJ-3 nepůsobil jako přivandrovalec potažmo chudý příbuzný J. Pro tento plán jsme zneužili firemní automobil Mercedes Vito, které na rozdíl od mého osvědčeného Opela Henleina bylo schopné převézt najednou tolik materiálu z Vranovského béčka do Šatovského áčka. Z Havlíčkova Brodu vyrážíme po páté hodině ranní, což Lakouš provází brbláním a v sedm jsme již na Vranově. Tam nás čeká nemilé překvapení v podobě vykradeného areálu (ztráta v přepočtu 6000,-) Nicméně nakládáme zbylé věci do auta a upalujeme do Šatova.
Srub je již v obležení členů KHV Brno i návštěvníků a proto nacouváme k našemu Flekáčkovi (objekt 2121) a začínáme vykládat interiér vranovského béčka do Flekáčka. Vše jde dobře až na drobné zdržení s instalací lafety vz. 37, jejíž spodní rameno Honza montuje asi půl hodiny (nakonec vše vyřešilo několik úderů kladivem). To se ale nelíbí prvním návštěvníkům, kteří se před objektem hlasitě dožadují vstupu, musíme užít i měně populárního opatření v podobě uzavřených pancéřových dveří. V této chvíli doráží i kolega Jallitsch. Když je vše namontováno a připraveno, zálibně si prohlížíme naše dílko. Levá střelecká místnost je klasika: UK vz. 59, lafeta UL1 a další komplet vybavení – 60. léta. Pravá střelecká místnost byla naopak vybavena do 50. let minulého století. Skví se v ní lafeta vz. 37 s lehkým kulometem vz.26 a dalším komplet příslušenstvím. Aby byl dojem z interiéru co nejpůsobivější, veškeré vybavení v osazené v objektu je opatřeno původním nátěrem, pouze očištěné od konzervace. Naše touha po originálu zachází dokonce tak daleko, že svítíme originálním petrolejem z 50. let, který v původní plechovce našel v nedalekém řopíku Lakouš v roce 2000 (v řopíku byl tedy dobový smrad:-). Návštěvníků přibývá a atmosféra v objektu houstne. Oba jsem překvapeni úrovní chování návštěvníků, kteří nepovažují ani za slušnost pozdravit při vstupu do objektu. U skupiny dětí poletujících objektem a střílejících po sobě kuličkovými pistolemi nakonec musím pořádek tvrdě zjednat sám, protože rodiče je evidentně nezvládají a bázlivě jim ve všem ustupují. To se již přiblížila 14. hodina a plánovaná bojová ukázka u pěchotního srubu MJ-S 3. Zanecháváme tedy provázení, převlékáme se do dobových prvorepublikových uniforem a ztrácíme se v publiku. Ukázka nebyla upřímně nic moc. Drtivá většina diváků nepochopila, co mají pobíhající postavičky na srubu znamenat a v okamžiku, kdy jsem si již myslel, že vše propukne, začali pořadatelé vykřikovat, to je vše a děkujeme za pozornost. Však také zatleskali jen asi 3 členové KHV Brno. Vracíme se na řopík a do 15. hodiny provázíme. Pak vyrážíme na nešťastný vranovský areál, kde teprve zjišťujeme celý rozsah škody. Když jsme se vrátili zpět do Šatova, malinko si zpravujeme chuť "U Fandy" Odtud také moje víkendová hláška, kdy jsem si objednal "Prase a pivo" a večer bezezbytku využíváme k fotografování. Stavíme stran a PL postavení a oblékáme se za tímto účelem opět do dobových uniforem.
Neděli dopoledne využíváme k dalšímu fotografování hlavně interiéru. Poté všechno sklízíme a zbytek dne věnujeme opětovnému zabezpečení Vranovského areálu. Co na závěr? Snad několik postřehů.
1 – Žádná, byť přesně míchaná barva Ticurelli, se nevyrovná originálu. Řopík nám už také zvenku pomalu ale jistě začíná charakteristicky modrat.
2 – Někteří návštěvníci pevnostních muzeí by zasloužili zavřít v interiéru a nechat provádět minimálně po dobu 5 hodin, aby viděli jaké to je.
3 – Technické muzeum vzalo rekonstrukci MJ-3 opravdu vážně a vzniklo tak unikátní muzeum, které v republice nemá obdoby.
---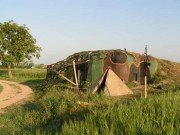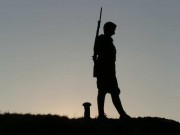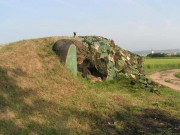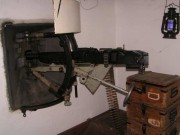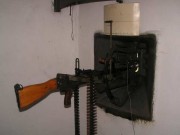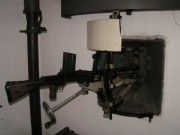 ---
---

Vloženo: 28.6.2006
Autor:
Martin Černý
---