Jižní Morava - Podmolí
---
9.9.06 proběhla akce do Podmolí na Moravě. Na této myslím velmi vydařené akce se sešlo zhruba 25 lidí, z čehož jedna byla asi 60ti letá důchodkyně, dva byli 5ti letý kluci a pak to bylo po různu.
Začínalo se v obci Podmolí, kde se samozřejmě čekalo na posledního, což jsem byl já :).
Sešlo se nás asi 10 bunkrologů pan Kratochvíl z NP Podyjí a zbytek turisti, kteří tam šli spíše kvůli přírodě.
Martin Černý a Honza Lakosil se opravdu projevili jako zdární průvodci.
Jako první bylo na cestě jedno Déčko. Normálně zachovalé vzhledem k Jižní Moravě , na severočeské poměry luxusně vybavené :). Po asi dvoukilometrové chůzi jsme došli až k řece, tedy hraniční čáře a pak i k jednomu zeslabenému Ačku. Po břehu řeky jsme šli k dalšímu Ačku, na kterém si němci zahráli na "malého pyrotechnika" a trošku ho pomlátili. Díky tomu nebylo po válce reaktivováno. Další několika set metrová chůze a došli jsme k troskám Novohrádeckého mlýnu, který bohužel dopadl stejně jako všichni jeho kolegové v pohraničním pásmu. I když tento byl "docela" zachovaný. Ostatní mlýny Rusové v 48 roce vyhodili do vzduchu a tak z nich nezůstalo vůbec nic.
V různé vzdálenosti okolo něj byly 4 objekty typu C.
Zde jsme akci "Podmolí" zakončili a vydali se na cestu zpět. Po nutném odpočinku a čekání na kolegy, kteří se ještě kousek vraceli, aby z cesty vydolovali jeden prasečí ocásek, jsme jeli "naše bunkrologické jádro" 5ti lidí do vranovského muzea opevnění, kde nás Martin Černý provedl po dvou objektech.
Samozřejmě celý den byl zakončen návštěvou srubu MJ-S 3 a nákupem "Pevnostního vína". To bylo aby se nám lépe řídilo zpět :)
Celá akce byla jak jsem již řekl velmi vydařená. Počasí má asi rádo bunkrology, takže bylo celý den krásně. Doufám, že si to někdy zase zopakujem.
Zdroje a literatura:
Vlastní fotky a zážitky z akce
---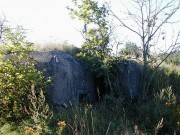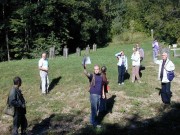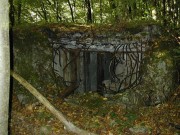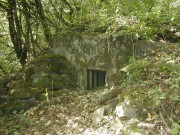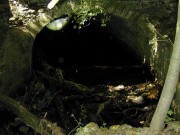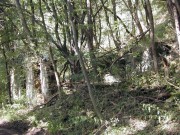 ---
---

Vloženo: 13.9.2006
Autor:
Ondřej Vonka
---