Kulometná pistole vz.38
---
Náš první samopal (v předválečné terminologii kulometná pistole) není moc známý, ale měl se stát důležitou zbraní našeho lehkého opevnění. Proto zde v tomto článku přispěji trochou stručných informací a fotografií.
KP38 byla zbraň celkově dlouhá 810mm s bubnovým zásobníkem na 96 pistolových nábojů ráže 9mm s kadencí 200 ran za minutu, počáteční rychlost střely byla 370m/s a zbraň vážila 3,9kg,
Zbraň vyvíjela Strakonická zbrojovka a její zkoušky proběhly v červnu a srpnu 1938 a dopadly výborně a proto mohla být zavedena do výzbroje, což se stalo (návrhem) 30.srpna 1938. To potvrdil náčelník hlavního štábu arm. gen. Ludvík Krejčí 18.září 1938. Jak ale již datum schválení napovídá, samozřejmě se nepodařilo ani jednu zbraň dodat a plánovaná dodávka až 4000 kusů pro ŘOP se nakonec smrskla jen na 15 již vyrobených kusů, jejichž zkoušky proběhly dokonce až za okupace v červnu 1939.
V těžkém opevnění měla být KP38 používána jen ve vchodových střílnách, možná ve zvonech. Za to daleko hojnějšího uplatnění by našla v opevnění lehkém, kde měla nahradit LK26, kde by tento kulomet nenalezl většího uplatnění – především v nepřehledném terénu, hlavně v lesních průsecích. Až do 300m totiž byla výkonně s LK26 srovnatelná, navíc měla větší zásobník (96 ku 20nábojům), zabrala v objektu méně místa a také produkovala méně zplodin. A především byla podstatně levnější – její pořizovací cena měla tehdy být 560Kč.
Lafetovat se měla KP38 do lafety vz.38, na což bylo vyřešeno i uchycení: To bylo řešeno pomocí tzv. předního a zadního lůžka. Přední lůžko na KP38 zapadá do vyfrézovaných drážek na hlavni těsně za muškou, spodní čep předního lůžka pak zapadl do závěsu LK26. Zadní lůžko se pak navleklo na pouzdro závěru KP38 mezi zásobníkem a pažbou, na spodní části se lůžko upnulo do čelistí svěrky lafety na náměrové tyči. Byl navržen i odpad nábojnic.
Ještě připomeňme, že maketa KP38 byla po válce skutečně zkušebně upnuta těmito úchyty do lafety vz.38 v úpravě pro LO36. Lafetace LO36 je však již jiná kapitola.
Na barevných fotografiích je maketa KP38 zapůjčená od kolegy Jiřího Kozla.
---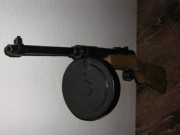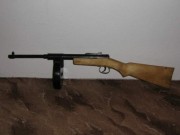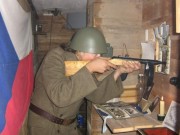 ---
---

Vloženo: 7.11.2006
Autor:
Jan Ciglbauer
---