Pistole raketová vz. 30
---
Spojení mezi lehkými objekty bylo možné smluvenými dávkami z kulometů, polním telefonem (později měla být dodávána i radiostanice), el. svítilnou Daimon, později Palaba (připomeňme, že nejdříve byly zakoupeny pro opevnění svítilny Daimon v Německu, ale to bylo velmi zkritizováno v tisku a tak se dále nakupovaly domácí svítilny značky Palaba) – ať už by bylo signalizováno venku před objektem nebo pomocí periskopů morseovou abecedou nebo smluvenými signály; dále pak prostředky lehké signální soupravy – a to různobarevnými praporky na dvoudílné tyči, nebo svítilnou vz.35 s různobarevnými skly. Posledním způsobem byla signalizace pomocí signální raketové pistole vz.30. Rakety se vystřelovaly mřížovými dveřmi a kromě signalizace byla pistole používána i pro osvětlení bojiště.
Raketovou pistoli (dobové označení – Pistole raketová vz. 30) vyráběla Strakonická zbrojovka a od roku 1937 závod v Uherském Brodu. Víme, že v březnu 1939 měla naše armáda těchto pistolí celkem 24 353. Po okupaci byla užívána i slovenskou armádou a německou Wehrmacht – už 8.září 1939 bylo 7 000 pistolí odesláno do říšské zbrojnice Berlin-Schöneberg.
Pistole byla ráže 26,5mm s pevnou hlavní a závěrem odklopným do strany; vážila 0,97kg; jednalo se o jednoranou zbraň na signální náboje a pořizovací cena pistole byla 800Kč – dodávala se s 20 bílými, 5 červenými a 5 zelenými světlicemi.
---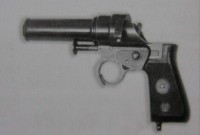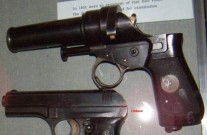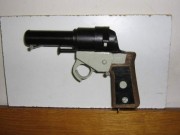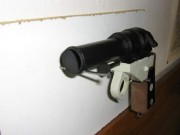 ---
---

Vloženo: 11.11.2006
Autor:
Jan Ciglbauer
---