Rozpěrka
---
Před nějakou dobou zde na foru probíhala debata jak byly, pokud vůbec byly, za první republiky zajištěny periskopy proti nežádoucímu vytažení z vnějšku objektu. Po nějaké době se zjistilo, že k tomuto účelu byla ŘOPem vyprojektována tzv. rozpěrka. Objevilo se i několik návrhů jak by taková rozpěrka mohla vypadat, ale to byly pouze naše představy bez opory v archivním dokumentu. Stále tedy nebylo jasné jak tato originální rozpěrka vypadala natož pak jak se měla osazovat.
Nedávno když jsem se s kolegou Honzou Žabkou probíral ve VÚA v Karlínské Invalidovně kartony s dokumenty vypadl na mě jeden velmi zajímavý. Byl to nákres periskopové rozpěrky.
Vlastní rozpěrka je konstrukčně velmi jednoduchá. Tvoří ji vlastně dva kusy plochých želez velikosti 4x27x360mm, které jsou navzájem spojeny dvěma kusy pružných spon. Každé z plochých želez je na jedné straně v délce 15mm ohnuto čímž se vytváří jakási patka, která se opírá o ručky závěsu DZ-25. Provedení je dobře vidět na přiložených obrázcích.
Plánek rozpěrky má označení výkresu Per.1. a tak sem pro zajímavost přidávám ještě druhý dokument, který má označení výkresu Per.2. Jedná se o návod jak se má správně vkládat do závěsu (v dokumentu doslova uvedeno závěsné roury) zesílený "Periskop l.o. vz.37".
Zdroje a literatura:
VÚA: Fond "Velitelství sboru I".
---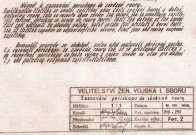 ---
---

Vloženo: 21.11.2006
Autor:
Martin Nič
---