Objekt II/A/60/A-160 šikmý
---
Úsek A-Mladkov A-160šikmý/č60
Tento objekt se nalézá v Orlických horách nedaleko města Žamberk ve vesnici Mladkov a náleží do stavebního úseku A-Mladkov, tento úsek je nejspíš nejdelší stavební úsek LO.vz.37 v republice. Po dokončení měl obsahovat 123 "řopíků", úsek začíná kousek za pěchotním srubem R-S 59 a dále vede přes hluboké údolí Divoké Orlice a směřuje směrem k Českým Petrovicím, kde přechází důležitou silnici z Petrovic do Klášterce nad Orlicí, dále stoupá ke kopci Adam (se stejnojmennou tvrzí), který obchází z týlové strany okolo vchodového objektu K-S 43a. A pomalu klesá do vesnice Mladkov, kde přehrazuje silnici Králíky-Žamberk a železnici Dolní Lipka-Letohrad. Dále úsek šplhá do prudkého kopce na kotu Mlýnský vrch a Vysoký Kámen, až dojde na kopec Bouda, kde se nachází stejnojmenná tvrz a kousek od tvrze končí. Celý úsek vede v týlu pěchotních srubů.
Jednou ze zajímavostí zdejšího úseku je jeden objekt LO.vz.37 A-160šikmý/č60, objekt se nachází nedaleko dělostřelecké tvrze Bouda kousek za týlem srubu K-S 26. Tento objekt je zajímavý tím, že jako jediní "řopík" má prvek typický pro těžké opevnění a to je diamantový příkop pod pravou střílnou. Toto řešení je uděláno kvůli tomu, že LO.vz.37 A-160šikmý/č60 z pravé střílny postřeluje dlouhé sedlo, které vede až ke K-S25. A proto sem dali těžký kulomet, který je zde osazen jako v těžkém opevnění. Toto řešení si vynutilo, že místo střílny pro lehký objekt má střílnu z těžkého opevnění a to pro sólo těžký kulomet vzor 37 (zbraň D) samozřejmě i s lafetou a příslušenstvím, a proto má tento objekt diamantový příkop, do kterého by měly být svedeny vystřelené nábojnice. Diamantový příkop je 125cm hluboký, 70cm široký a dlouhý 150cm, mimo diamantového příkopu se jedná o normální objekt LO.vz.37 A-160šikmý bez jiné zvláštnosti.
Do dneška se objekt zachoval v dobrém stavu a je normálně uzavřen, protože je zde muzeum, které patří společně s K-S 25 klubu vojenské muzeum Vysoký kámen . Objekt se nachází na naučné stezce Betonová hranice.
Nejlépe se sem dostanete od tvrze Bouda po červené turistické značce, která vede do Mladkova, objekt je vzdálen asi 2,5km od vchodového objektu K-S22a tvrze Bouda a leží přímo na značce
Druhá možnost je jít po žluté (naučná stezka Betonová hranice) či červené z Mladkova směr Bouda a asi po 4km se nachází tento objekt.
Zdroje a literatura:
Val na obranu republiky
Internet
Vlastní průzkum 2004 a srpen 2006
---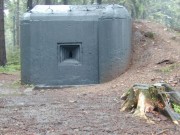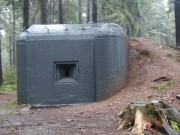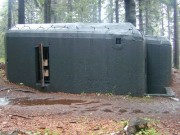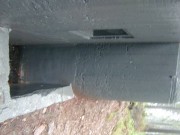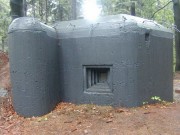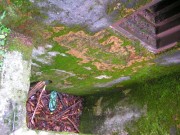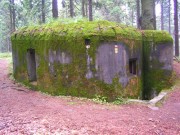 ---
---

Vloženo: 22.1.2007
Autor:
Ivan Fuksa
---