II/A/60/A-160
---
Objekt se nachází u kóty Vysoký kámen,z Mladkova po žluté turistické značce na Vysoký Kámen a pak 400m dále-objekt je přímo na cestě.Anebo od dělostřelecké tvrze Bouda cca 2km k Vysokému Kameni.
-číslo ŘOP 60
-typ A-160
-odolnost Normální
-krycí název "U tří buků"
-betonáž 8. 9. 1938
-pevnost betonu 521kg/cm2
-prvosledový objekt
-objekt měl chránit hřbet pod Vysokým kamenem
GPS - N 50° 07´ 75,4´´
E 16° 66´ 05,7´´
Výstavba úseku A byla zadána stavební firmě Ing. Josef Drahoš z Vysokého Mýta za úhradu 4 692 647,78 Kč a to poměrně pozdě - až 1. září 1937. Velitelem vojenského stavebního dozoru byl škpt. pěch. Jindřich Šilhánek. Během zadávání došlo k místnímu posunu hranic mezi II. a IV. armádním sborem v oblasti budované tvrze Bouda.Jedná se o dvoustřílnový prvosledový objekt typu A-160N v šikmém provedení (rozevření os střílen 160º)pro vedení boční palby,střílny jsou z pohledu nepřítele kryty tzv.uchy na prodloužené stěně.Posádku tvořilo sedm vojáků,z toho dva poddůstojníci. Jedná se o stavebně nejvíce používaný typ objektu lehkého opevnění,které jsou lidově nazývány ,, řopík,,.Tento však je unikátní vybudováním diamantového příkopu do kterého jsou svedeny vystřílené nábojnice z kulometu.Jedná se o jediný objekt LO na kterém bylo toto řešení použito.Beton byl vyráběn z armádou dodaných složek,které vyhovovaly těm nejvyšším kritériím.Pevnost betonu se pohybovala od 450kg/cm2.Cena jednoho objektu bez zbraní a munice se pohybovala okolo 70000,- tehdejších korun.Výstavba objektu se pohybovala okolo 60dnů.V objektu se ponechávalo vnitřní bednění,které chránilo posádku před úlomky betonu v případě zásahu,bednění tvořila smrková prkna tloušťky 33mm,která byla připevněna dráty k armatuře objektu,kterou byl celý objekt pečlivě provázán.Čelní stěna řopíku měla tloušťku 80cm,boční stěna se střílnou a strop 60cm a týlová stěna 50cm,váha objektu se pohybovala okolo 160tun.Bednění bylo v barvě dřeva,které bylo napuštěno proti hnilobě a škůdcům.V době odstoupení pohraničí se objekt nacházel těsně před zahájením prací na omítkách a izolacích.Němci objekt použili v rámci zkoušek čs.opevnění.Zabetonovali konzole ventilátoru (německá konstrukce odlišná od čs.provedení),mříže,vstupní dveře (v obráceném provedení!!!) a dokončili vstupní chodbičku.V době zkoušek byl objekt vybaven ventilátorem,v obou střílnách lafetami vz.37 (v pravé se zkoušel TK37,do výdřevy byly vydlabány i drážky pro panoramatickou mapu).Objekt byl propojen s pevnostní kabelovou sítí,do dnešní doby se dochoval čtyř žílový kabel vycházející v objektu. Vstup objektu nesl před rekonstrukcí stopy zásahů od pěchotní munice (5-10zásahů).Celý objekt němci natřeli z vnějšku tmavošedým nátěrem.Zárubně dveří,stejně tak jako dveře byly poškozeny násilným otevřením.Pravděpodobně se tak stalo pomocí nálože přiložené na dveře v místě zámku.Jestli se tak stalo v rámci německých zkoušek anebo po válce je dosud nejasné. V nedávné době z objektu zmizela mříž vz.37 a předválečné těžce poškozené dveře.Levá periskopická trubice byla v horní části uražena.V květnu 2005 byla zahájena celková rekonstrukce objektu.Objekt je v exteriéru rekonstruován do podoby jakou měl v době jeho zkoušek němci.V interiéru je obnovena výdřeva a to i se zachovanými původními prvky!Objekt je jinak kompletně vybaven a to včetně atypického prvku v pravé střelecké místnosti.Stále ještě zbývá dokončit část výdřevy……..
více na www.vhtm.kvalitne.cz či ve článcích na tomto serveru
---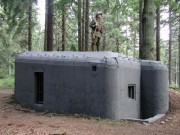 ---
---

Vloženo: 10.2.2007
Autor:
Vladek Vácha
---