S nejhlubším zármutkem v srdci Vám oznamujeme, že ve věku nedožitých 70 let nás tragicky opustilo zvláštní zařízení č. 19 na obecní cestě Mitrovice – Unter Thürnau v oblasti III. sboru v prostoru úseku 3 Jemnice. Jednalo se o poslední unikátně dochovanou závoru Ippen délky 3,5 m stojící v původním stanovišti na území bývalého Československa.
Skromné rozloučení a odhalení pamětní desky proběhlo v okruhu přátel Pevnostního muzea Vranov dne 10.2.2007 na místě skonu.
Za pozůstalé:
Dvě ochranné betonové zídky s průběžným základem
Tři vyvažovací závaží
V našich srdcích bude žít věčně!
Tímto netradičním úvodem bychom rádi upozornili na fakt, že ve III. sboru byla nedávno zlikvidována poslední závora dochovaná v původním stanovišti a současně jediná dochovaná závora pro průjezdnou šířku 3,5 m v celé ČR. O likvidaci jsme se dozvěděli od jednoho z kolegů a zprvu jsme tomu ani nevěřili, neboť vzhledem k jejímu umístění mimo civilizaci jí nehrozilo žádné nebezpečí ani násilné odstranění kvůli rozšiřující se infrastruktuře (viz zničená závora u Bořího Lesa). Ačkoliv nám to připadalo velmi nepravděpodobné, později jsme zjistili, že tento rozporuplný čin, který znamenal zničení 1/3 všech dochovaných závor na původních místech, spáchali dle všeho kolegové angažující se v rekonstrukci objektů čs. opevnění.
Podle našeho názoru lze tento zavrženíhodný čin přirovnat snad jen k vytržení kanónové střílny ze cvičného objektu v Žárovicích. O to horší je fakt, že oba podstavce byly uřezány autogenem, pravděpodobně bylo nutno kvůli transportu i odříznout břevno od zvedacího stojanu. Tento způsob likvidace a odvozu spíše ukazuje na pracovníky kovošrotu, než-li na skupinu nadšenců snažící se tyto historické hodnoty chránit. Doposud byly všechny podobné demoliční činnosti spojovány pouze s provozovatelem muzea opevnění na Skutině, že však k takovémuto zákroku přistoupili i další kolegové nás nemile překvapilo.
Objekty zvláštních zařízení budovaných v letech 1936-1938 jsou v dnešní době velmi vzácné, celkově se dochovalo v republice v různém stavu kompletnosti 7 závor (z celkového počtu několika stovek kusů!), z toho byly donedávna pouze tři v původním stanovišti. Nyní už bohužel si můžeme prohlédnout pouze dvě závory dochované na původním stanovišti a obávám se, že nebude trvat dlouho a zmizí i tyto poslední unikáty. Nevyčíslitelná historická hodnota této jihomoravské závory spočívala především v jeho kompletnosti, tj. ocelové břevno s oběma podstavci, protizávažími a i ochrannými zídkami. V minulých letech jsme navíc provedli v okolí závory průzkum s detektorem kovu a nalezli několik chybějících dílů, které jsou ve fázi rekonstrukce a počítalo se s jejich umístěním zpět na závoru. Nyní je to však již bezpředmětné.
Je otázka, zda se kolegům podaří tuto závoru po odřezání a rozřezání dát na novém stanovišti do takového stavu, aby byla závora funkční a v historicky odpovídajícím stavu. Počkejme si tedy, kde se nakonec závora objeví... Nejsmutnější na této události je, a toto je třeba zdůraznit, že se o několik desítek kilometrů dále válela v lese volně pohozená závora Ippen i s podstavcem, jejíž převoz a rekonstrukce by byla pro ni záchranou před zničením, přesto se však rozhodli kolegové raději rozřezat a na své muzeum odvézt tento unikát. Jaké pohnutky je k tomu vedly, to se asi nedozvíme.
Pozůstatky závory (ochranné zídky, se kterými se jim asi nechtělo tahat) lze shlédnout ve svahu nad řekou Dyjí v těsné blízkosti hraničního kamene VII/49 v prostoru jižně od Uherčic nedaleko Mitrovic a Podhradí nad Dyjí. V místě zničeného objektu zvláštního zařízení je umístěna pamětní cedulka informující návštěvníka o osudech této závory.
Nemyslíte si, že je nejvyšší čas se zamyslet nad tím, kde je hranice mezi zachováním historické hodnoty a touhou ukazovat příslušný exponát na svém muzeu?
Za PM Vranov nad Dyjí
Martin Černý
Ing. Jan Lakosil
---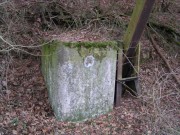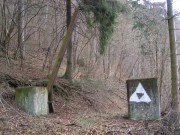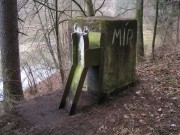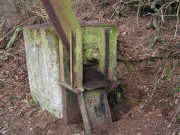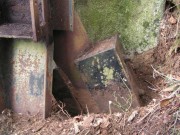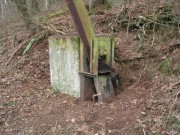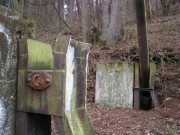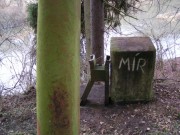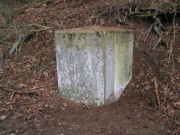 ---
---