Velikonoce 2007 ve VVP Ralsko
---
Fakt, že zatím u bývalém VVP Ralsko nebyly nalezeny žádné podstatnější stavby pevnostního charakteru, mne neodradilo od výpravy do tohoto území. Autobusem jsem dojel z Liberce do Hamru a po 9.00 hodině vyrazil.Počasí slibovalo slušné podmínky pro tento podnik-skoro zataženo a žádné vedro. Po červené turistické značce jsem prošel kolem Hamerského rybníka. První zastávkou byla samozřejmě zřícenina hradu Děvín. Na zdech se zachovaly nápisy po našich bývalých soudruzích ve zbrani. Ti se neopomněli zvěčnit i do kůry stromů. Vrátil jsem se zpět na odbočku ke hradu a terénem a lesní cestou po severozápadním úbočí Hamerského Špičáku sešel k rašeliništím Černého rybníku. Tady už vede asfaltová silnice. Ostře jsem po ní vyrazil, protože můj cíl byl ještě daleko a čas ubíhal. U Sochorova kříže jsem zastavil jen na fotku. Po vyjití z lesa na pláních začalo docela foukat. Před vstupem do Židlovské obory jsou trosky nějakých budov a střelecké okopy. V samotné oboře probíhá těžba dřeva a podél cesty bylo kulatiny na slušný vlak. Na několika místech jsou v okolí cesty patrné nejrůznější okopy.
Po únavné cestě jsem nakonec dorazil na severní okraj Židlovských plání. Rozhodl jsem se pokračovat hned po první-západní-silnici procházející prostorem. Po pár desítkách metrů se u ní nachází trosky nějakého objektu. Stěny jsou cihlové a strop tvořila nepříliš silná železobetonová deska. Vzhledem k důkladnému zničení nelze zrovna účel stavby určit, možná to byla strážnice. Na nedalekém kopečku jsem zahlédl nějaké oplocení. Je to jen řetěz mezi sloupky a podle cedulí se jedná o staré důlní dílo. Pod vrcholem je vyrubaná hluboká průrva a dál asi nějaký lom. Při návratu k silnici jsem opět narazil na několik okopů. Silnice zde tvoří "esíčko" a za ním je už výhled na pláně. Vlevo je opět několik okopů a u jednoho hromádka "trofejí"-telefonní kabel na cívce,rezavá mina a kusy munice. Představa, že na něco takového ve funkčnějším stavu bych narazil v terénu mne nijak nepotěšila. Po pár stech metrech po silnici jsem "něco" zahlédl vpravo a šel se podívat. Pod vrcholem terénní vlny se nalézá zničená stavbička. Nejdřív mne napadl kryt pro elektrorozvaděč, další průzkum ale spíš nasvědčuje na úkryt pro jednu osobu. Stěny jsou hrubě vybetonovány, v rozích byly ponechány dřevěné trámky. Strop tvořily panely pokryté zeminou. Týlová stěna chybí a strop je rozvalen. Stejný objekt v daleko lepším stavu je o něco dál vlevo od silnice. V jeho týlu je rozsáhlý okop a čelní a boční stěny jsou zapuštěny v jeho valu. Vchod v týlové stěně dokumentuje technologii stavby-prkno tvořilo překlad při bednění a zůstalo ve zdi. Uvnitř je také část bednění, jinak vybavení žádné. Mimo vchodu zde není žádný otvor. Provedení je mírně řečeno velice improvizované a je dokladem řemeslné "dovednosti" tvůrců.
Silnice mne dovedla k příčné spojce mezi oběma paralelními cestami, na kterou navazuje doprava silnice k Hvězdovu. Tabulky s výstražnými nápisy vypadají velmi zachovale, vlajka však na stožáru nebyla a tak jsem pokračoval k Přednímu vrchu. Spíš než vrch se jedná o hřeben kolmý na silnici. Vpravo se nachází dobře zachovalá pozorovací věž se stožárem pro zmiňovanou vlajku. Naopak vlevo v kosodřevině pomalu zarůstají trosky odstřeleného alespoň částečně železobetonového objektu. Část je asi zahrnutá a většinou beztvaré kusy betonu a armatury neposkytují dobrou představu o jeho původní podobě. Po návratu na cestu jsem už za chvíli dorazil k prefabrikovanému ruskému objektu SPS-2M. Stojí přímo u silnice bez jakýchkoli terénních úprav a vybavení.Po důkladném nafocení a studiu mapy jsem se rozhodl vyrazit napříč k východní silnici. Podle mapy je zde jakási cesta, tu jsem ale nenašel a kličkoval zarostlým terénem. V zemi se občas objevil mělký výkop s vyčnívajícími kabely, ale nesledoval jsem ho. Kličkování porostem brzo skončilo před mnou se vyloupla silnice a u ní další SPS-2M. Proti předešlému měl rám pancéřové okenice na přední střílně a T-kotvy rámu dvířek s kusem trámku. Ani u jednoho objektu není ve stropě prostup pro periskop.
Začal jsem se po silnici vracet zpět. Na severním úbočí Předního vrchu jsem narazil hned u silnice na střelecké okopy armované cihlami a betonem. Vstup do nich je přímo ze silnice. Přesto, že už začínají zarůstat a částečně se bortit, jsou velice dobře čitelné a fotogenické. Další cesta už probíhala bez významnějších objevů. Severně od odbočky na Jablonecek jsou vedle sebe dva dobře zachované okopy asi pro obrněnou techniku. Odbočení k vyčnívajícím drátům vedlo k objevu jakýchsi vyvrácených patek a totálně sjeté pneumatiky. Na severním okraji prostoru u odbočky na Osečnou jsou trosky mnoha budov. Vzhledem k nálezu překladu s rozbitým stropem ze železobetonu se asi jednalo rovněž o vojenské baráky a garáže.
Protože mne vůbec nelákala představa návratu po stejné cestě do Hamru, zkusil jsem silnici na Osečnou. Mimo pohledu na pěkné meandry potoka Zábrdka se z toho stala únavná dupárna po asfaltu. Jedině naděje na pěnivý závěrečný mok mne hnala dál. Když se vynořila věž kostela, bylo to skutečné vysvobození.
---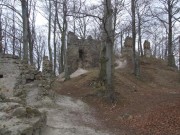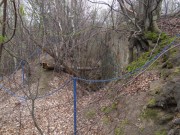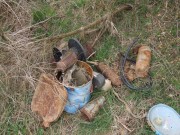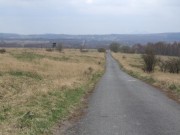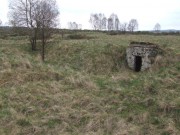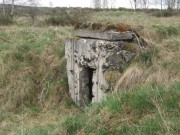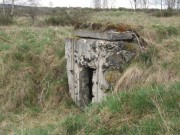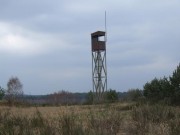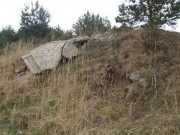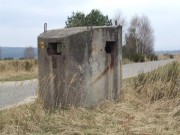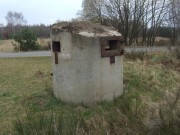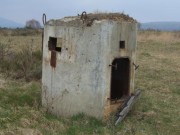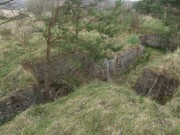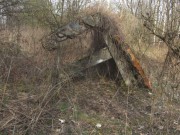 ---
---

Vloženo: 14.4.2007
Autor:
Libor Martinů
---