Nizozemská železniční překážka a její obrana
---
Při přípravě na zájezd do Holandska jsem narazil v databázi nizozemských lehkých objektů nedaleko obce Mill na dochovanou část překážky na železniční trati. V rozmístění okolních objektů jsem ale moc jasno neměl, spíš jsem se klonil k názoru, že je tady nějaká chyba v jejich zaměření.
Během vlastního zájezdu jsem pak měl necelou hodinu na prohlídkou. K překážce je to asi 1,5-2km, takže žádné váhání nebylo na místě. Rozhodně se tedy nejednalo o nějaký detailní průzkum, na druhou stranu objekty zrovna neoplývají různorodostí.
Závod s časem jsem začal u mostu ve městě. Vlevo byl sice udržovaný objekt č.538, o kus výš po proudu č.539, ale vzhledem k návalu dalších účastníků zájezdu jsem vyrazil po dobré cestičce proti proudu. Objekt č. 537 typu B90a, což je obdoba našeho déčka, není přímo na břehu a tak jsem ho minul. Prý je ale dochovaný a zvenku přístupný. Takže jako první bylo na řadě až č.536 typu S(3a). Čelní stěna nese znaky po ostřelování, střílny a vchod jsou zazděny. Rohy u týlové stěny jsou natřeny bíle, aby náhodou do nich někdo nevrazil. A honem dál k č.535. Poškození je tady menší a protože cesta vede před čelní stěnou, jsou bíle natřeny její rohy. Pravá strana a týl jsou zarostlé, zabetonován rovněž důkladně. Prokličkoval jsem zábranou kolem přechodu silnice a už je přede mnou objekt č.534. Proti předchozím jak přes kopírák, jen na týlové stěně je umístěna pamětní deska. Z holandského textu jsem pochopil, že se vztahuje k bojům 10. května 1940 s najíždějícím pancéřovým vlakem. Ale už je přede mnou hlavní cíl-přehrazení trati. Protože protínala kanál pod malým úhlem, tak na něm bylo vytvořeno dvojité skoro pravoúhlé zalomení. V tomto místě je kanál překlenut železným můstkem a nutno podotknout, že pěkně udržovaným. Přes něj vedoucí trať je už zrušená a kolejnic je zde ponechána jen část nutná k dochování původní konfigurace. Můstek jsem přešel a před ním pár desítek metrů už je protitanková (nebo protivlaková?) překážka. Je tvořeno dvěma řadami I-profilů v betonovém prahu. Ty jsou vsazeny šikmo proti směru útoku. V prostoru železničního tělesa byly zřejmě zasunuté do připravených děr, po stranách jsou zabetonovány. Část je upálena, aby byl prostor pro pěšinu. Rychle jsem udělal pár fotek a spěchal na druhou stranu můstku. Tady je podobná překážka orientovaná ale proti útoku z týlu. Betonový práh po stranách je tady zešikmen a i v něm byly I- profily. Ty jsou tady navíc na konci zašpičatělé a některé mají i žebra. Část je rovněž uřezaná a celkově je to tady méně udržované. Překážka je postřelována objektem č. 533 a ten je proto orientován proti ostatním objektům zrcadlově-čelní stěnou do vnitrozemí. Proti všem ostatním objektům je u něj v maximální míře proveden zához a ke vchodu vede lomený široký okop s výdřevou. Vzhledem k jeho provedení se ale jedná spíš o současnou modifikaci umožňující přístup i lidem ne zrovna štíhlým. Okop je dlouhý jen pár metrů a po jeho projití jsem došel k objektu č. 532. Ten je orientován opět na břehu kanálu. Má jen malé poškození týlové! stěny a je na něm další pamětní deska. Vpravo od něho je vidět navazující objekt č. 531. Tím jsem měl poslední dílek skládačky k pochopení tohoto uzlu. Vznikl zde vlastně bod s kruhovou obranou. Objekt č.531 zesiloval levou střílnou palebnou přehradu před č. 532 a do předpolí čelní překážky. Čelní střílna č. 532 pak bránila vzdálenější přístupy a levá prostor čelní překážky a jejího předpolí. Zrcadlově orientované č. 533 pak levou střílnou brání přístupy k překážce z vnitrozemní a čelní samotnou překážku. Vzhledem k tomu, že je stropnice objektu prakticky zároveň s rovinou železničního tělesa a samotný objekt má minimální vzdálenost, byly i palebné možnosti poněkud omezené. Pravá střílna zřejmě mohla postřelovat samotný můstek, ale i v tomto případě palebný vějíř omezoval železniční násep. Posledním objektem uzlu je č. 534. Pravou střílnou postřeloval prostor čelní překážky a snad i můstek a odvrácenou stranu náspu překážky z vnitrozemí, kde byl hluchý prostor objektu č.533. Čelní střílna brání vzdálenější přístupy k čelní překážce a levá již navazuje na linii kolem kanálu.
Místo je zajímavou ukázkou průchodu železniční trati opevněnou linií. Na přímé obraně se podílely 3 objekty a další 2 je podporovaly, tzn. pravděpodobně celkem 15 mužů s pěti lehkými kulomety. Text na pamětní desce se mi zatím nepodařilo zcela přeložit, zdá se ale, že alespoň první útok byl odražen. Jinou otázkou je, proč byl prostor tak komplikovaně bráněn a nebylo přistoupeno k destrukci mostu nebo i trati v předpolí.
Zdroje a literatura:
Vlastní průzkum 7/2007
http://www.forten-brabant.nl/index.html?stellingen/stelling_7/welkom_stelling_7.htm
---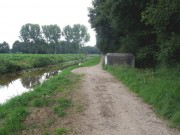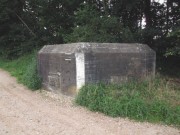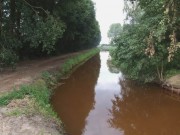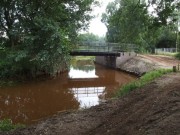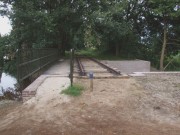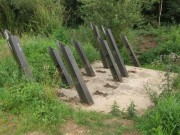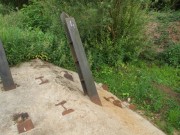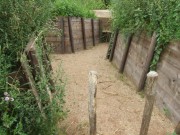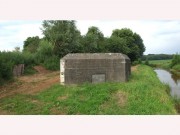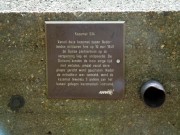 ---
---

Vloženo: 11.8.2007
Autor:
Libor Martinů
---