Kurte, vidíš ho?
---
Připomínky kolegy Tondra k odstínům barev maskování mi nedaly spát a tak jsem se sám chtěl přesvědčit jak bude řopík vidět při pohledu od nepřítele.
Jako nejpříhodnější pozorovatelnu jsem zvolil okraj lesa na SV úbočí hřebenu vybíhajícího z koty 492 "Děd" (cca 1,7 km odtud je na vrcholu sice kamenná rozhledna, ale z té díky stromům bohužel není takřka nic vidět). Z místa od kapličky lze přehlédnout kus linie od Veselé (objekt č.39) po Tetín (objekt č.62). K pozorování jsem zvolil německý válečný dalekohled 6x30 Dienstglas od firmy Busch Rathenow. Pozorování prováděno v době od cca 10:00 do cca 14:30 tj. v protisvětle a bočním osvětlení. Vzdálenost pozorovacího stanoviště od objektu je 2,5km. Pak jsem se začal k pevnůstce postupně přibližovat.
Nejprve jsem terén přehlédl pouhým okem. Oproti pozorovateli jsem měl výhodu znalosti polohy objektu. Při přechodu stínu oblaků (a podmračené obloze) nebyl objekt vůbec lokalizovatelný. Při svitu slunce byla na místě objektu viditelná nažloutlá tečka. Tato tečka sice pozornost trochu poutala ale ne tak aby se pozorovatel ihned dovtípil že se jedná o pevnůstku.
Ani při pohledu dalekohledem nebyla lokalizace snadná a bylo vcelku jedno jestli slunce svítilo nebo ne. Kamuflážní skvrny siluetu objektu úspěšně rozbíjely. Už při maskování mě zaujalo umístění žluté a černé skvrny vedle sebe na levém rohu pevnůstky. Tato kombinace je sama o sobě dosti kontrastní viz. třeba použití na označení nebezpečných hran a rohů. Tahle část pevnůstky také byla v dalekohledu poměrně nápadná. Ale je třeba také říci že tato nápadnost úspěšně odváděla pozornost od zbytku objektu a bylo zcela jedno jestli se pozorování provádělo přímým pohledem na skvrnu nebo periferním viděním. Často kritizovaná "červená" barva nebyla vůbec nápadná a dobře splývala s okolní černou a zelenou barvou. Její výraznost se zvyšovala až při bližším pohledu ze vzdálenosti zhruba 75 metrů.
Resume je takové že "červená" barva se opticky přizpůsobovala svým odstínem okolním polím s černou a zelenou barvou a nebyla nápadná více než bylo potřeba. Rozhodně více byly nápadné žluté skvrny zvláště když svítilo slunce. I to se ale dalo omezit jejich umístěním do zeleného pole, které žlutou opticky ztmavovalo. Jako nevhodné se jevilo použití černé a žluté vedle sebe pokud ovšem nebylo záměrem upoutat pozornost na nějakou část pevnůstky. Dále je třeba upozornit na to, že každá pevnůstka měla být ještě opatřena krycí maskou z okolní vegetace. To se dalo trochu nasimulovat fotografováním pevnůstky přes stromy a keře. Pakliže by bylo i toto použito, tak při pohledu z pozorovacího stanoviště na dědu by byla pevnůstka prakticky nepozorovatelná. Maska by velmi úspěšně ukrývala pevnůstku i proti pozorování ze vzdálenosti větší jak 50-100 metrů a to pravděpodobně i při přímém osvětlení čelní stěny.
Doplnění. Pro představu byla na řopíku ještě provedena jednoduchá maska z opřených stromků. Velké kamuflážní skvrny se tak rozrušily a pod stromky se vytvořila jakási hra různě tmavých stínů. Viditelnost resp. neviditelnost pevnůstky byla ale prověřována jen z blízkosti.
Zdroje a literatura:
Zkušenosti VSD z maskování první pevnůstky úseku B6.
---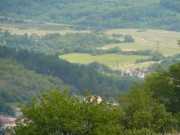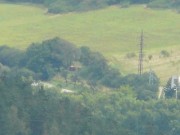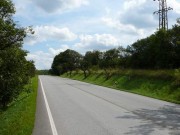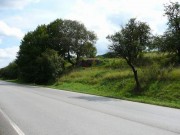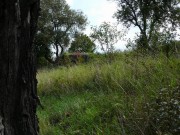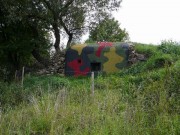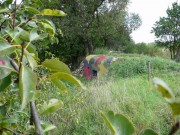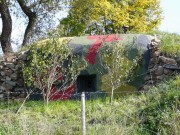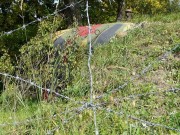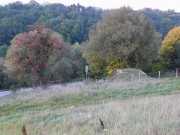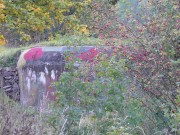 ---
---

Vloženo: 21.8.2007
Autor:
Martin Nič
---