Popis snímku (pohledu) na ocelolitinovou vchodovou střílnu typu I., v objektu LO č. 4/A-140, stavebního úseku E-22 (1937) v prostoru vzdutí hladiny Hracholuské přehrady u Stříbra.
Předběžná zpráva :
V detailním technickém provedení byly mezi střílnami jednotlivých firem rozdíly. Přesto všechna tři prozatím známá řešení ocelolitinových vchodových střílen jsou funkčně shodná.
Příklop prvního řešení typu I. (viz.stejná fotografie v databázi u Lo č. 4 úseku E-22) se fixoval v libovolné poloze pomocí přítlačného křidélka, u druhého typu řešení byl použit čep s páčkou a u třetího řešení aretační šroub.
Popis fotografie : (příloha k E-dp Karla Jandy)
Ocelolitinová střílna pro ochranu vstupu je dodatečně osazena až při poválečných úpravách.
Důvodem k tomuto určení jsou nám tyto poznatky :
1. ocelolitinová deska je na třech stranách (levá, dolní a pravá) přimazávána jemnou cementovou maltou, levá strana je přimazána téměř celá v celé její výšce. Jen v horní části je podmazávka částečně narušena dvěma prasklinami a malému vypadnutí podmazávky. Pravá strana má zhruba 50% délky podmazávku vypadlou a to v dolní části větší a v horní části v menší míře. Navíc je zde i mazanina narušena soudržností cementové malty se železobetonovou stěnou. V dolní části je téměř celá přimazávka odpadlá. Toto by v případě vložení střílny do bednění v r. 1937 nebylo, schází zde totiž vnitřní bednění, které bylo určitě buď v úrovni vnější plochy střílny, nebo by bylo přes úroveň bednění (prkna bednění byla v síle 3,3cm).
2. dva šrouby na pravé straně jsou dodatečně vloženy tak, že do železobetonové stěny jsou vysekány na určitou hloubku. Do uvedeného otvoru je vložen kotevní vrut, který na jednom konci měl závit, a na opačném konci je buď rozštěpení a nebo roztvarování (rozmáčknutí) profilu proti vytažení po utvrdnutí zálivky. Předtím se do otvoru vložila cementová zálivka (výjimečně možná i sírová zálivka) do které, byl vložen zmíněný kotevní šroub a to se ponechalo zatuhnout. Po následném osazení ocelolitinové vchodové střílny se střílna přichytí příslušnými maticemi. Po řádném zatvrdnutí se tyto matky dotáhnou. Nakonec se zbylé otvory po stranách (stěny odbedněny) příslušně vyplní cementovou maltou a uhladí případné přetoky.
3. Pravděpodobně nejsou na ocelolitinové střílně úchytné pracny, ty měly být uloženy spolu se střílnou už v době armování a přichyceny na ocelovou výztuž.V době dodatečného osazování to nebylo možné, protože zde nejsou vynechané a ani vysekané kapsy pro úchytné pracny. S velkou pravděpodobností se ve zdivu nacházejí původní pracny jako pozůstatek původní střílny které nedovolily bez velkého poškození zdiva vysekat nové kapsy pro novou střílnu. Proto bylo nutno vysekat nové kapsy na jiném místě pro zmíněný kotevní trn se závitem.
4. orientace v postupu, tj. zda byly díry ve střílně vrtány ještě před vysekáním nových kapes pro trn a nebo až po jejich usazení se spolehlivě dle fotografie nedá zjistit. Ale vyvrtané díry ve střílně nejsou evidentně ve stejné vzdálenosti od pravé strany střílny, tj. ve svislici nejsou v ose. To dává důvod k úvaze o tom, že byly vrtány až po tom co byly trny uloženy a zality ve vysekaných kapsách. Poté odměřeny osy pro vývrty děr.
Poznámka:
V letních měsících je tento objekt skoro celý zaplavený vodou z Hracholuské přehrady, jediná
možnost navštívit tento objekt je v zimním období, kdy je přehrada v tomto prostoru upuštěna skoro na původní koryto řeky Mže. Při našich zjišťovacích průzkumech pro účel popisu Plzeňské čáry v letech 1994-2001, byl tento objekt navíc zanesen bahnem až tak, že se do vnitřku objektu nedalo vniknout.
Zpracoval dne 15.2.2008 /Josef Poljak - Jaroslav Brož/
Zpracováno k zaslané fotografii Karla Jandy ze Stříbra
v E-dp. J. Frančíkovi ze dne 21. I. 2008.
Dodatečný průzkum lokality se zaměřením i na i ostatní detaily např. inudačních šachtic bude v průběhu r. 2008.
Zdroje a literatura:
Článek společně zpracovali pánové Josef Poljak (Jáchymov) a V. Brož (K. Vary) na základě fotografie pořízené Karlem Jandou ze Stříbra.
---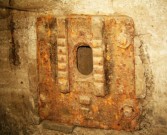 ---
---