Výprava za závorami do kraje rybníků.
---
Je neděle 4:30 ráno a Mira Vrba právě zastavuje u mě před domem. Nakládám svoje věci a vyrážíme směr D1. Cíl nedělní výpravy je hranice a opevnění ve východní části jižních čech.
Ačkoliv v Praze a okolí, navzdory předpovědi, vládne mlha nás to neodrazuje. Tu a tam se však mlha protrhá a ukáže se slunce. V 6:35 přijíždíme k Miličínu a ze zákrut silnice se nám otvírá úchvatný pohled. Slunce nevysoko nad obzorem ozařuje široké údolí pod námi, v němž se převaluje mlžné moře. Neváháme a zastavujeme na odpočívadle abychom se pokochali a já udělal několik snímků.
Další zastávka byla až v Majdaleně. Na první pohled jsme tam shlédli stojící řopík, ale při jeho okukování jsme přišli na to, že je to ve skutečnosti "zodolněné protikočkové ptačí hnízdo". Mira si půjčuje foťák a dělá pár snímků "majitele" právě přebývajícího v obývacím pokoji v pravém výdechu.
Pak již pokračujeme dále. Cestou z Třeboně, která vede podél železniční tratě, obdivujeme dochované mechanické závory některé i se zvonky, předvěst a vjezdová a odjezdová návěstidla. Zkrátka pro milovníka starých mechanik prostě ráj. Zastavujeme až na konci obce Weissenbach. Po několika letech se tu opět vracím na čáru abych shlédl aktuální stav tamního zvláštního zařízení.
Cestou k zařízení Třeboň 7 ještě zastavujeme před jedním přejezdem. Prohlížíme si a fotografujeme mechanické závory a jejich ovládání z místnosti hradla. Následně zastavujeme v obci Františkov a jdeme přes bývalou obec Nová Ves na hranici. Zde nás ale bohužel čeká zklamání. Závora, o které vím že zde ještě v roce 1990 stála, tu již dávno není. Zůstal jen základ s odřízlými stojany a kolejnicemi. Po pořízení nezbytné dokumentace jsme cestou zpět ještě obdivovali kvalitu a fortelnost provedení původní komunikace včetně řady patníků na náspech.
Odtud jsme pokračovali dále směrem na muzeum lo u Kláštera. Cestou jsme se ješte krátce zastavili na několika řopících pod stanicí Hůrky. Pak jsme již zamířili na poslední zastávku – Muzeum lo Klášter II. Zde jsme podebatovali s kolegou Svitákem. Odpoledne jsme pak již definitivně zamířili zpět.
Celkově jsme tento výlet hodnotili jak zdařilý.
---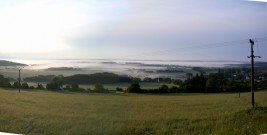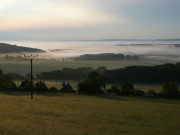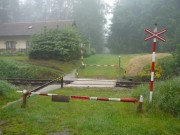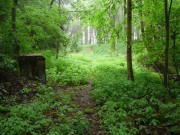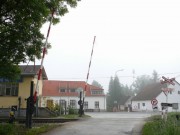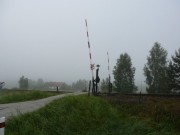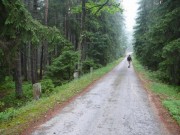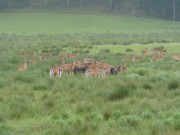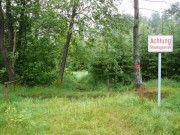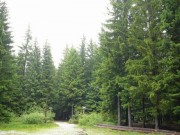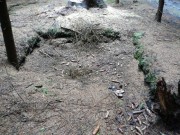 ---
---

Vloženo: 2.6.2009
Autor:
Martin Nič
---