Za mlžného rána jsme se sešli před nádražím v Liberci-Zdeněk Hanáček, Vláďa Sýkora a a já-a vyrazili vlakem směr Zdislava. Tady jsme vyrazili nejdříve směrem vlevo. Prvním cílem bylo ověření dříve nalezených výkopů v I. linii č. 44-46. První bylo na řadě předpokládané stanoviště A-160N ll č.46 na výrazném hřebínku. Na vrcholu jsme našli pouze nevýraznou prohlubeninu, její umístění by ale odpovídalo. Sešli jsme ještě trochu do týlu k dalšímu podezřelému místu. Tady jsou terénní úpravy většího rozsahu, ale poloha neodpovídá. Před mokrou trávou a křovinami jsme dali přednost blátivé cestě a po ní dorazili do blízkosti výkopu pro A-140N č. 45. Výkop je výrazný, ale nedokončený, což svádí k domněnce o lomeném objektu. Při dalším průzkumu jsme rojnicí prohledali okolní les, ale bez výsledku. Další výkop pro A160N č. 44 se nalézá nad zářezem železniční trati a na něm jsme se shodli jednomyslně. Ještě jsme přešli trať a pročesali předpokládaný prostor objektu č. 43, ale bez výsledku. Protože předchozí pokusy o nalezení druhosledového č.238 byly neúspěšné, vrátili jsme se zpět k silnici.
U silnice jsme nejdříve pátrali po místě přehrazení dvojitou řadou rozsocháčů. Poblíž můstku je odpovídající místo, ale stopy nepříliš průkazné. Abychom nemuseli obcházet louku, vyrazili jsme lesní cestou směrem k k č. 49. Tady jsme na hřebínku s výhledem na silnici našli krátký okop. V tomto prostoru se jedná pravděpodobně o první takový nález. Prolezli jsme smrčím a kolem č. 49 došli k výkopu pro objekt č. 51 A-140N, který nedávno nalezl Zdeněk Hanáček. A od tohoto bodu vlastně začala hlavní část naší výpravy-pátrání po stopách výstavby objektů č. 52-55 a 246-248.
Směrem nahoru jsme postupovali po I. linii. Po překonání potoka a zarostlé bažiny jsme začali pátrat po objektu č. 52 A-160N. Prostor mezi bažinou a zarostlou lesní cestou pokrývají křoviny a právě zde by se tento objekt měl nalézat. Několik marných pokusů o proniknutí ale naše nadšení značně zchladilo. Tady se dá něco nalézt jen v době vegetačního klidu a tak jsme se shodli na odložení pátrání a pokračovali dál. Za chvíli se lesem už nesl pokřik téměř indiánský Vládi Sýkory. A byl oprávněný, neboť našel pěknou skořápku č. 53 A-140N šl. s dobře zachovanými distančními betonovými pilířky. Všechno jsme řádně nafotili a zaměřili a s nadšením, které nezchladil ani začínající déšť, jsme vyrazili dál. Za chvíli se Vláďa radoval podruhé, tentokrát u lomené skořápky č. 54 A-180Z ll. Její spodní-levá-část je sice rozpadlá, ale horní část se dobře zachovala i s vysoko čnícími betonovými pilířky. Po zdokumentování jsme začali stoupat průsekem začínajícím pár metrů od výkopu. Možná to je střelecký průsek, ale není zcela průkazný. Na jeho konci jsme poněkud vpravo už relativně zdálky viděli mohutný val vykopané zeminy. Zajímavé je, že tento připravený zához je na vrstevnici a za ním se nalézající výkop se skořápkou je kolmo. Jedná se o skořápku č. 55 A-160N. Levá strana je dost vysoká, čelní stěna by musela být prodloužená kvůli podstřelení. I když se jedná o šikmý objekt, lze předpokládat použití velkých střílen. O připravenosti staveniště vypovídá i asi půlmetrový kus periskopové roury.
Pršelo už docela vytrvale a tak přišly ke slovu pláštěnky. Po krátkém váhání jsme vystoupali až k asfaltové cestě a začali během sestupu hledat ve II. sledu. Objekt č. 248 A-160N ll měl být rozdělen na dvě "déčka". Ve smrčině jsme našli sice prudký zlom, který by takovému řešení odpovídal, ale stopy žádné. Pokud ale došlo ke změně dispozic během stavby, není to nic překvapujícího. Úspěch jsme ale neměli ani s dalšími druhosledovými objekty. "Podezřelé" prostory nejsou moc průkazné. Poslední navštívená skořápka tak byla až pro č. 245 A-120N. Poloha následujícího č. 244 A-160N je diskutabilní, možná byl až v louce a dnes není jeho stanoviště patrné-pokud byl vůbec rozpracován.
Poznatky o rozpracovanosti úseku navádějí k novému pohledu na stavební firmu František Šíma. Zřejmá je snaha stavebního dozoru o uzavření silnice Zdislava-Jitrava a potom navázání souvislé příčky od napojení na úsek K-3. Ve složitém terénu tak musela firma dělit svoje kapacity dle požadavků stavebního dozoru a přesto dokázala alespoň připravit souvislou linii až k železniční trati.
PODZIMNÍ POKRAČOVÁNÍ
Jarní výprava mnoho odhalila, ale pod listím zůstalo přeco možná něco skryto. Proto jsem 28. října vyrazil na další průzkum. Předchozí sněhová kalamita již pominula a doufal jsem, že v prostoru nebude moc polámaných stromů, což se i potvrdilo. Nejdřív jsem důkladně propátral okraj lesa, kde se teoreticky mohl nacházet objekt č.244. Prokřižoval jsem dost velký prostor, ale žádné stopy stavebních prací jsem nenalezl. Nadějnější byl druhý cíl-prvosledové č.52 A-160N. Začal jsem směrem z týlu pátrat po okraji bažiny. Mnoho listí už opadalo, takže jsem měl aspoň nějaký přehled. Zato bažina byla evidentně oblíbeným rejdištěm zvěře ze širokého okolí. Pachtil jsem se blátem a vzpomínal na Krále Šumavy. Netrvalo to ale moc dlouho a narazil jsem na "něco". Do bažiny se vklínil výběžek pevnější půdy a v ní se zdá být kus upravený. Velikost je tak pro pravé krycí ucho a největší hloubka asi 30cm. Navézt dvě kolečka hlíny a vše zmizí. Jestli bylo něco vykopáno dál, tak to mazlavé bláto spolehlivě zakrylo. Kusem klacku jsem se ještě prorýpal asi 20 cm do hloubky, ale bez výsledku. V okolí se nenachází ani žádné kamení na rovnaninu. Místo jsem přesto trochu vyčistil, nafotil a zaměřil a vyrazil hledat něco průkaznějšího. Výsledkem byly ale pouze boty obalené bahnem. Nakonec jsem to vzdal. Prvotní nález tedy zůstal jediným efektem. Prostorově by mohl odpovídat a nic lepšího jsem nenašel. Případným pochybovačům mohu jen popřát více štěstí a : Blátu zdar
---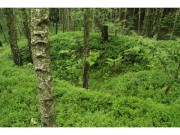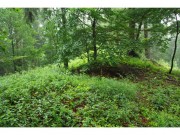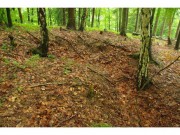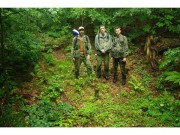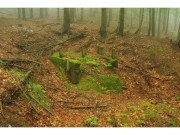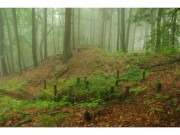 ---
---